Formula DRIFT Introduces Miss Formula DRIFT 2009, Miki Taka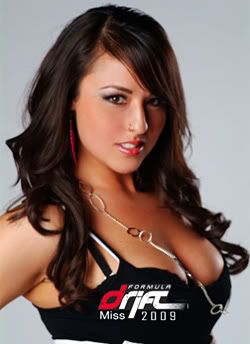 Long Beach, Calif. – June 16, 2009 – Formula DRIFT introduces the 2009 Miss Formula DRIFT, Miki Taka. Taka is an experienced model, TV host, and DJ has been chosen as the official spokesmodel for Formula DRIFT and will be at the remaining 4 events of the season.
Originally from Nagoya, Japan, Taka is a Japanese-American that currently resides in Columbus, OH. She is pursuing her degree in Criminal Law, while establishing herself as an import model with Prestigious Models. She has been featured in other events including NHRA, Goodguys, Hot Import Nights, Professional Bull Riders Tour (PBR), Tuaca Body Art Ball and now adds to her resume the title of Miss Formula DRIFT.
"Being chosen as Miss Formula DRIFT is a real honor," says Miki Taka, 2009 Miss Formula DRIFT. "I am a huge fan of motorsports and look forward to this experience of a lifetime."
Aside from modeling Taka has appeared in numerous television and film productions such as on VERSUS, Driftstyle on SPEED, and on Nickelodeon, where she interviewed celebrities. Taka is also a featured DJ at the hottest clubs around the country.
Miki is an avid automotive enthusiast and can be found wrenching on her own personal cars, a Lexus IS300 and Acura Integra.
"Miki is the perfect fit to be the 2009 Miss Formula DRIFT," says Ryan Sage, vice-president of marketing and co-founder of Formula DRIFT. "Her passion for cars and motorsports makes her a great representative for the series."
Fans can meet Miss Formula DRIFT all season long during the events with her next appearance at Round 4: All In at Las Vegas Motor Speedway in Las Vegas, NV on July 10-11.