Formula DRIFT Tickets On-Sale for Round 7: Title Fight;
2010 Championship to be Determined at Final Round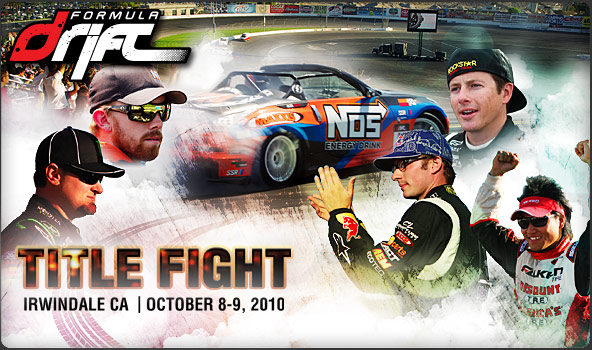 Long Beach, Calif. – September 10, 2010 – Formula DRIFT Round 7: Title Fight tickets are on-sale now. Tickets can be purchased online with both general admission and VIP tickets available.
"Tickets are now available to purchase for what will be the biggest drifting event of the year," said Ryan Sage, executive vice president and co-founder of Formula DRIFT. "We expect another sell-out event in Irwindale and recommend fans to purchase their tickets in advance."
The 2010 season will come to a close on October 9 and a new Formula DRIFT champion will be crowned. 13 nations will be represented on the competition field at the famous Toyota Speedway at Irwindale also known as the "House of Drift." Formula DRIFT has become the focal point and center of international drifting showcasing the best drifters from around the globe. With the merger of the FD ProAm Nationals into the Formula DRIFT Pro Championship series finale, the rising stars of the sport will share center stage and have the chance to showcase their talent at the biggest drifting event of the season.
"Less than 100 points separate the top drivers from the championship and its still anyone's for the taking," said Jim Liaw, president and co-founder of Formula DRIFT. "With the Formula DRIFT championship on the line and the Tires.com Triple Crown winner to be determined at this event the level of competition is at all all-time high and the action on track will be exciting as it has ever been. This will be one drifting event not to miss."
The event will also feature the Fatlace One of One Showcase car show, driver autographs, open pits, huge vendor village, free giveaways from sponsors, and more. Round 7: Title Fight tickets are available via the Formula DRIFT website at www.formuladrift.com. Ticket prices start at $27 online with reserved tickets available for Saturday's competition day. 2-day packages are also available along with VIP ticket packages.