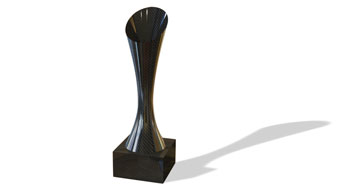 Long Beach, Calif. – March 26, 2014 – Formula DRIFT will introduce a newly designed carbon fiber trophy by APR Performance at the first event of the season on April 4 on the Streets of Long Beach.
"As we enter a new decade of Formula DRIFT, it is only fitting that we introduce a progressive and custom designed carbon fiber trophy for the drivers to compete for," said Jim Liaw, President and Co-Founder of Formula DRIFT. "We worked hand in hand with aerodynamic composite parts manufacturer, APR Performance to create this amazing new prize which will be awarded to all drivers that reach the podium."
Formula DRIFT first introduced a carbon fiber trophy to the Series in 2009. Carbon fiber is significant to motor sports for its strength to weight ratio and now represents victory and accomplishment.
Follow APR Performance on:
Facebook:
www.facebook.com/aprperformance
Instagram:
www.instagram.com/aprperformance