Vaughn Gittin Jr. and Bosch team-up to create a one-of-kind masterpiece on the streets on L.A.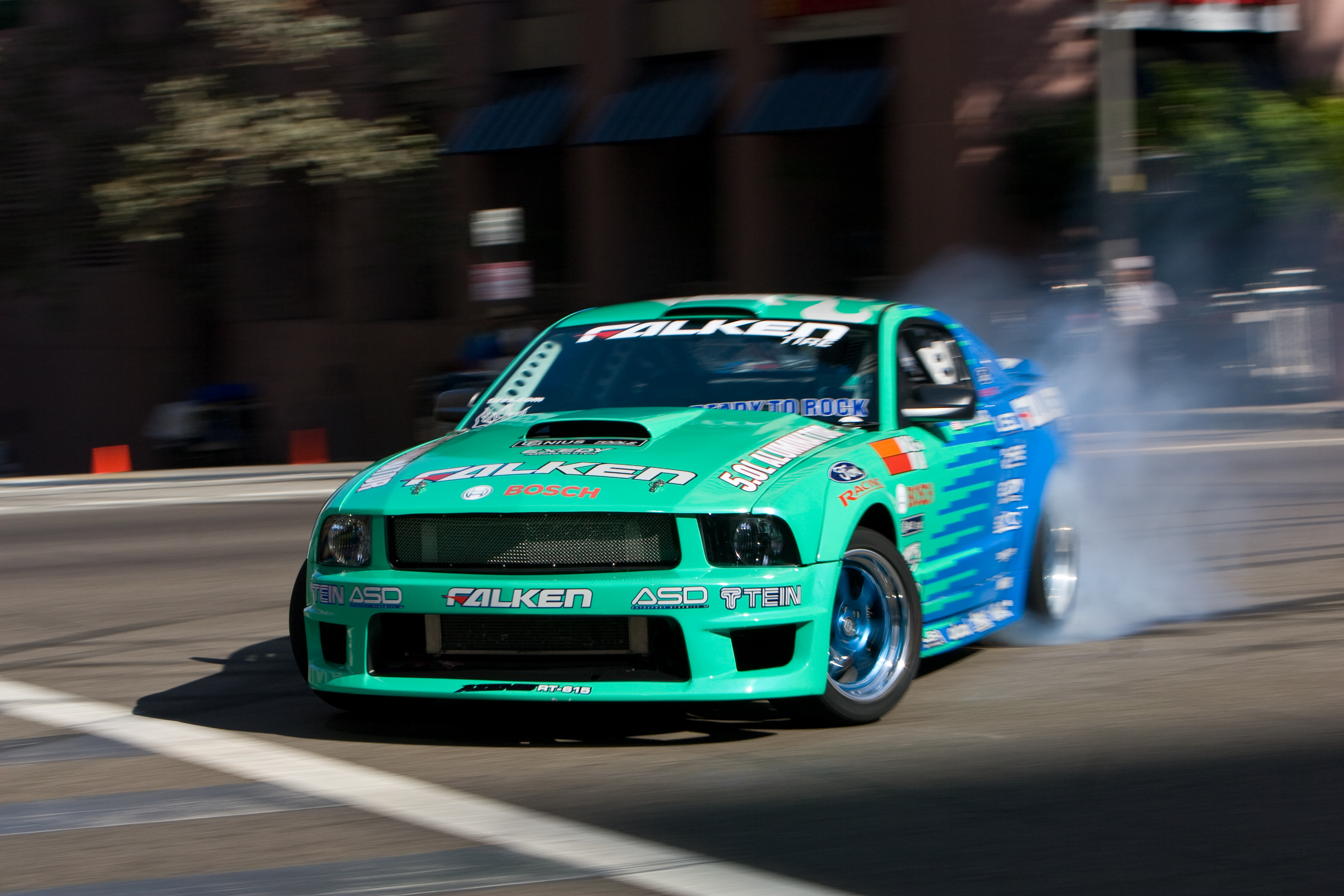 After being to a couple of Formula Drift events, one starts to not only appreciate the extreme talent of professional drifters, but also the artistic aspect of the sport. These amazing drivers can control a car so precisely, with such thought and expertise, that they can literally paint the pavement with a smooth, intending swipe.
Professional drifter Vaughn Gittin Jr. set out last Saturday to prove that not only is he one of the top drifters in the world, but that he is a seasoned artist as well. His paintbrush: his Bosch-powered Falken Tire Ford Racing Mustang. His paint: his Falken Azenis RT615s. His canvas: the intersection of 3rd and Grand in busy downtown Los Angeles. The result: creating Performance Art, powered by Bosch.
For Full Coverage click here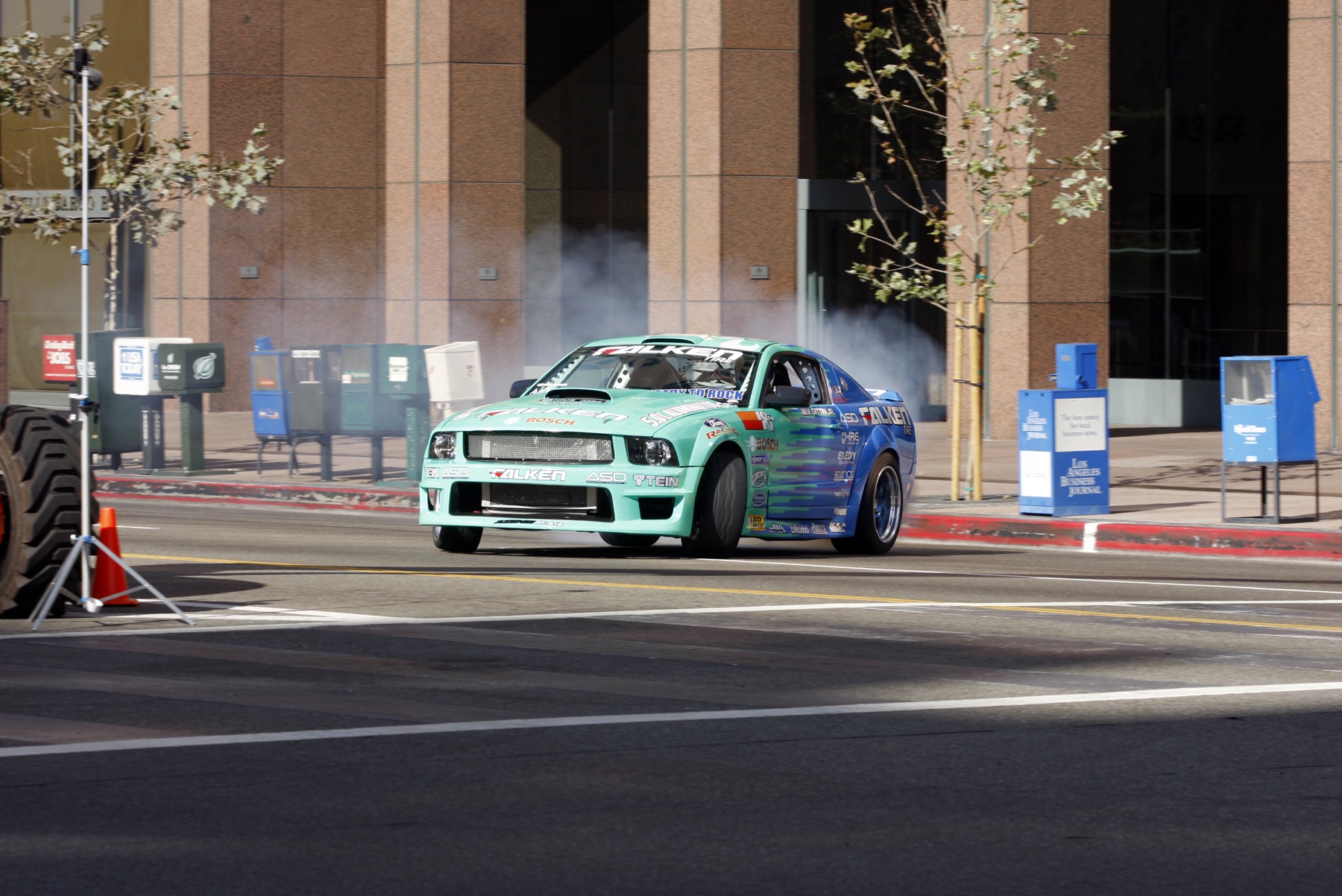 "Normally on competition weekends I'm all out with my foot to the floor," says Vaughn. "It was a very fun change of pace to do something creative and out-of the box such as this."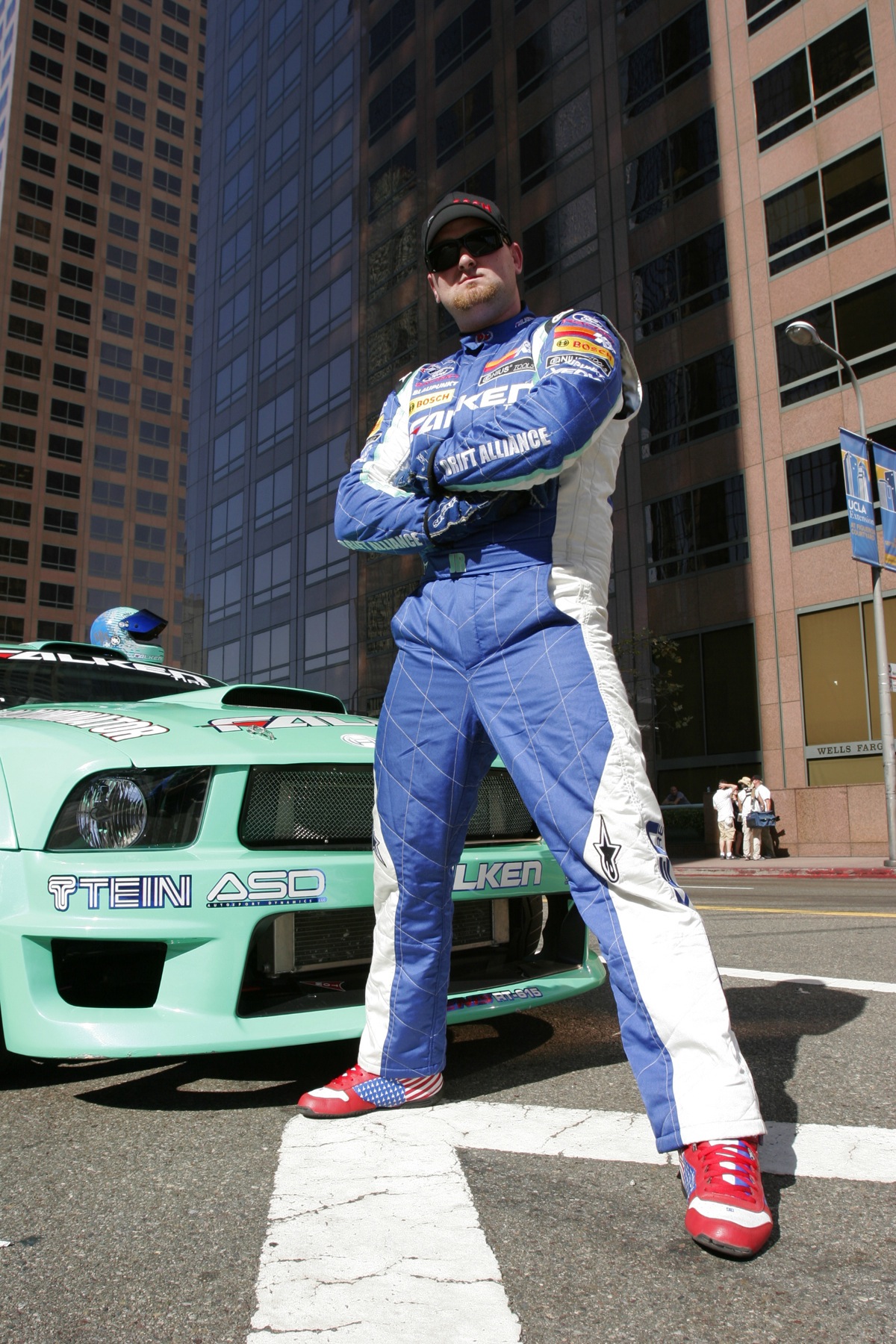 This display of abstract performance art was part of a new campaign for Bosch Spark Plugs, one of Vaughn's main supporters. Many have compared Vaughn's style of art to the likes of abstract artist Jackson Pollack, whose art was described in a famous 1952 article by Harold Rosenberg as "action painting." Rosenberg wrote that "what was to go on the canvas was not a picture but an event." This perfectly describes Vaughn's finished product; viewers can't help but to wonder what went on during the masterpiece's creation.
"Leave it to Bosch to be so innovative and put on such a momunmental event in order to share with everyone within a few blocks, as well as the rest of the world, the amazing power of their spark plugs," says Vaughn.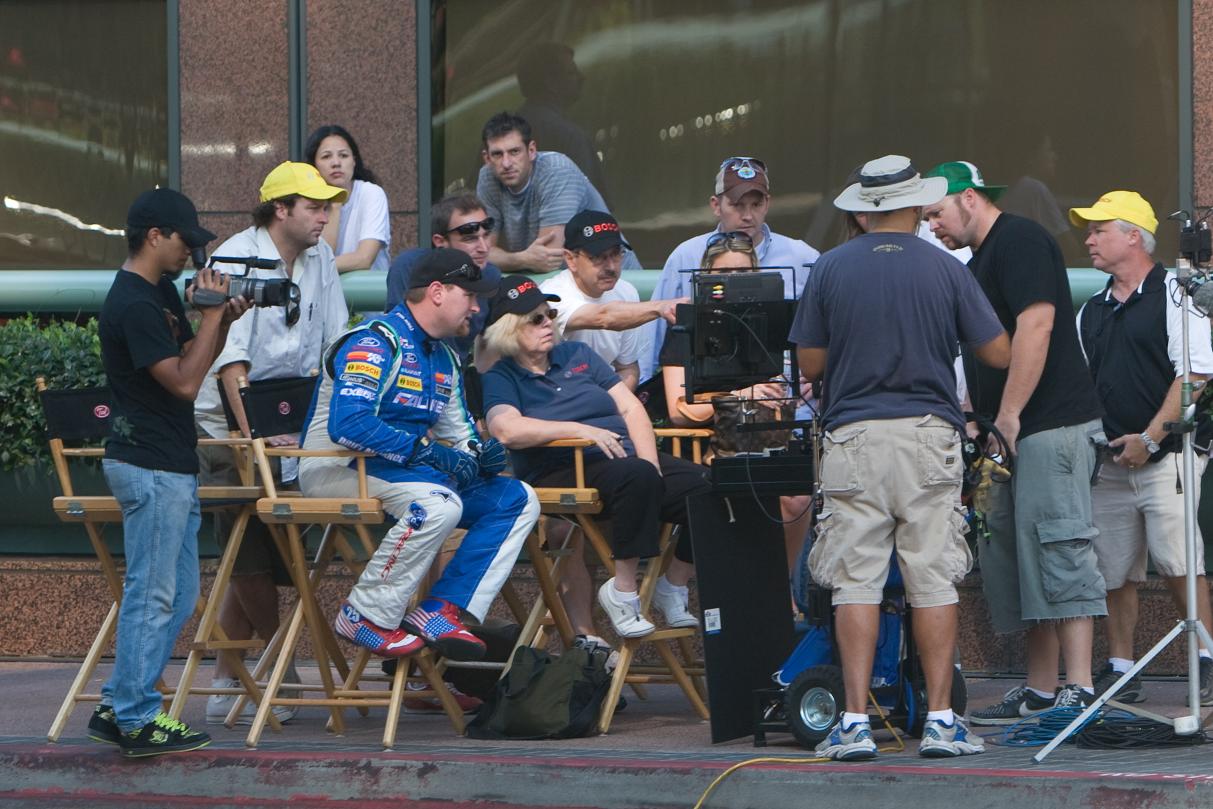 The intersection of 3rd and Grand was not shy of lucky onlookers who got the chance to see Vaughn and his Ford Mustang drift through the streets, coming within inches of street signs, light poles, and sidewalks in order to create his work of art. The traffic was stopped every three minutes for Vaughn to do his thing, so some lucky L.A commuters even got a chance to sit in the comfort of their air-conditioned vehicles and have front row seats to this amazing production.
"Some people might think I just did a bunch of burnouts on the asphalt," says Vaughn. "However, when I got to the site, I studied the street and visualized some lines I wanted to take. After every couple of passes, I got out of my Ford Mustang to strategically choose my next pass."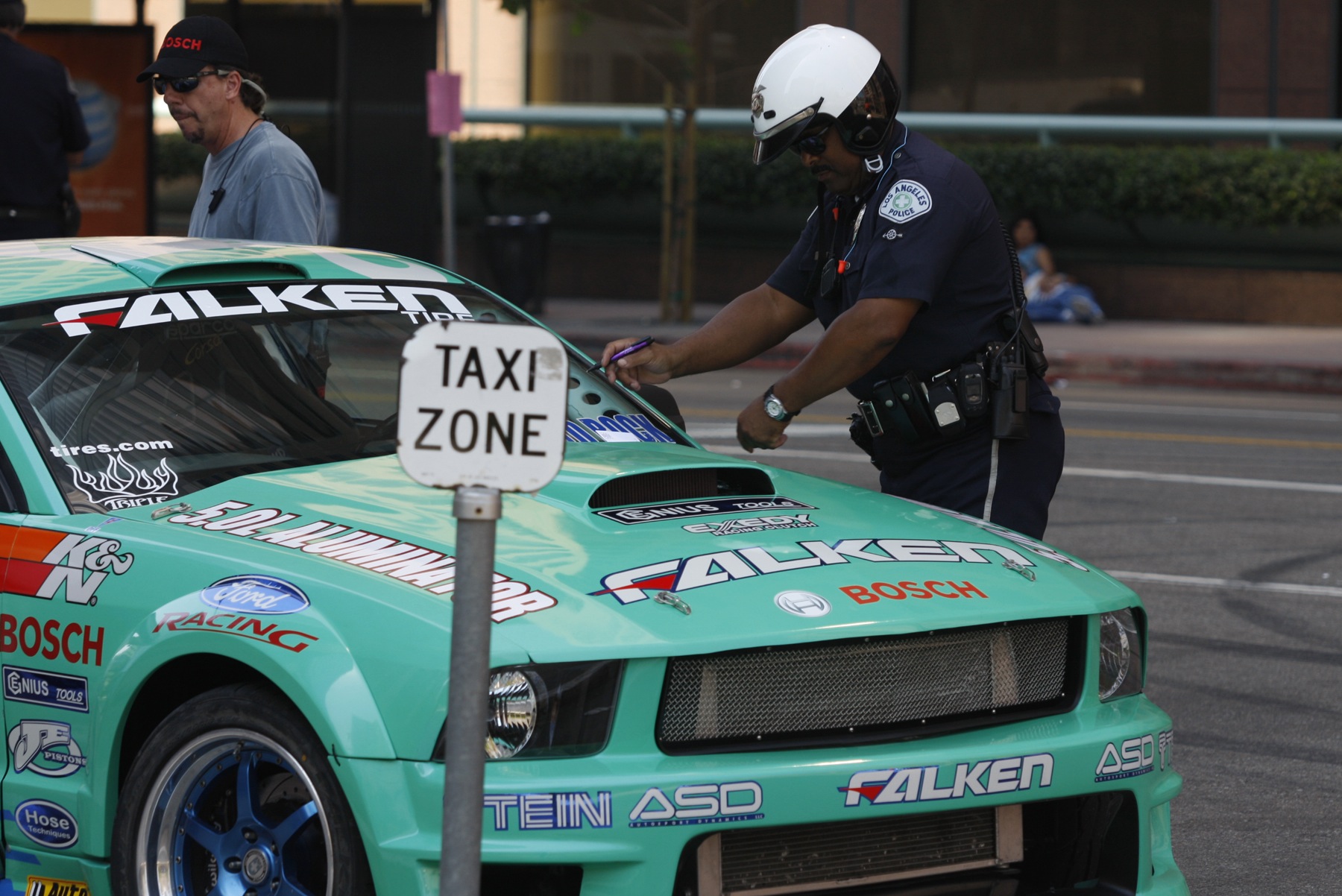 And strategically choose his next pass he did, time and time again, until he was satisfied with the final product and felt comfortable calling it his "masterpiece."
Stay tuned for the launch of the microsite that will feature this unique event. This incredible Bosch campaign will be sure to keep you entertained. Look for the final artwork, video, making of video, and one of a kind promotions on BoschPerformanceArt.com in the near future.