Tim Marshall – EDC
Hometown – Leicestershire England
Car – Nissan Skyline R33 with small block Chevy V8 race engine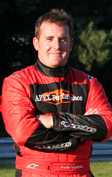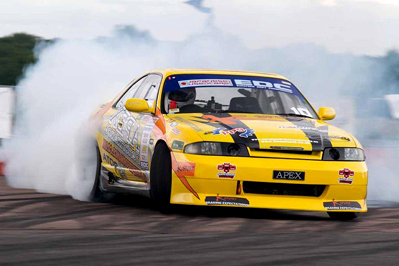 I've been a race instructor for ten years and have been involved with racing from a young age starting as everyone does in karts. I became interested in drifting having seen a few clips on the internet of the Japanese guys on the streets and in competition. Having always been fascinated with driving cars sideways I was desperate to find out how to get involved. It was lucky for me that when I was working on the Nissan 350Z face lift launch in 2006 they had none other than Yasayuki Kazama giving passenger rides to members of the press. I managed to get a ride with him and in return he wanted to sit in and watch me drive. After his in car ride with me Kazama suggested to Andy Barnes, team manager of Sumo Power, that I drive his car in the 2006 D1GB championship. I did so and finished 5th in my first year of drifting.
For 2007 I would change teams and started my relationship with Apex Performance and their R33 Skyline. It was to be a development year for the team and a good job too as we now have a grave yard of RB25 engines. We managed 10th in the championship that year having attended only two of the rounds. Reliability with the RB was a big problem as we were pushing big power, 592bhp at one point.
2008 saw big changes. Gone was the RB25, replaced with a small block Chevy V8 race engine giving me the torque and reliability that I've always wanted. With the V8 we managed 3 wins and a third to finish 2nd in the championship, not bad for a developing year with a completely new engine. I'm now looking forward to the 2008 Red Bull World Championships in California.