Formula DRIFT Prepares for Sixth Professional Championship Season;
Round 1: Streets of Long Beach Tickets On-Sale Thursday, February 26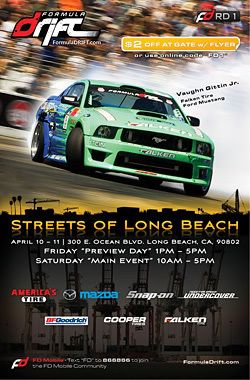 Long Beach, Calif. – February 24, 2009 – Formula DRIFT prepares to begin the sixth professional championship season. Reserved tickets will be available online starting Thursday, February 26 for Round 1: Streets of Long Beach on April 10 and 11. The season opener will feature the world debut of new drift cars, new and returning drivers, and lots more.
"Formula DRIFT is excited to enter its sixth season of competition and we have a lot of new things in store for the fans," said Jim Liaw, co-founder and president of Formula DRIFT. "We are proud to present the world debut of new competition vehicles at Long Beach including the 2010 Ford Mustang driven by Vaughn Gittin, Jr., the 2010 Dodge Challenger driven by 2-time Formula DRIFT champion, Samuel Hubinette, and the 2010 Hyundai Genesis Coupe driven by World Champion and Formula DRIFT champion, Rhys Millen. In these tough economic times it is great to see that auto manufacturers have chosen Formula DRIFT as one of their main motorsports platforms."
Round 1: Streets of Long Beach tickets will be available beginning February 26 via the Formula DRIFT website at www.formuladrift.com. Ticket prices start at $28 online with reserved tickets available for Saturday's competition day. Friday, April 10th has been opened to the public as a "Preview Day," and will feature practice and qualifying at a minimal cost with purchase of a Saturday "Main Event" ticket. Grandstands 16 and 18 have been expanded this season to give more fans the best view of the action.
Round 1: Streets of Long Beach April 10-11 Ticket Pricing
Saturday, April 11- Reserved Seating
Saturday, April 11 – Reserved Seating + Friday, April 10 – GA
Online / Pre-Sale
$28.00
$32.00
"Even in this tough economy we have managed to keep ticket prices low, while still expanding to a two day format," said Ryan Sage, co-founder and vice president of marketing for Formula DRIFT. "Reserved tickets allow our fans to never lose their seat so they can walk around at leisure and enjoy what has become one of the most anticipated events of the year in and around Southern California."
The action begins on April 10th in Long Beach, California and will be held on a section of the famous Toyota Grand Prix of Long Beach street course. New cars and drivers will be entering the Series and will make for another exciting season. The addition of Top 32 tandem battle will be sure to challenge the drivers and add to the action. Current back-to-back Formula DRIFT Champion, Tanner Foust and World Champion Rhys Millen make their return on different vehicle platforms and will battle against the best drifters for the Formula DRIFT championship.