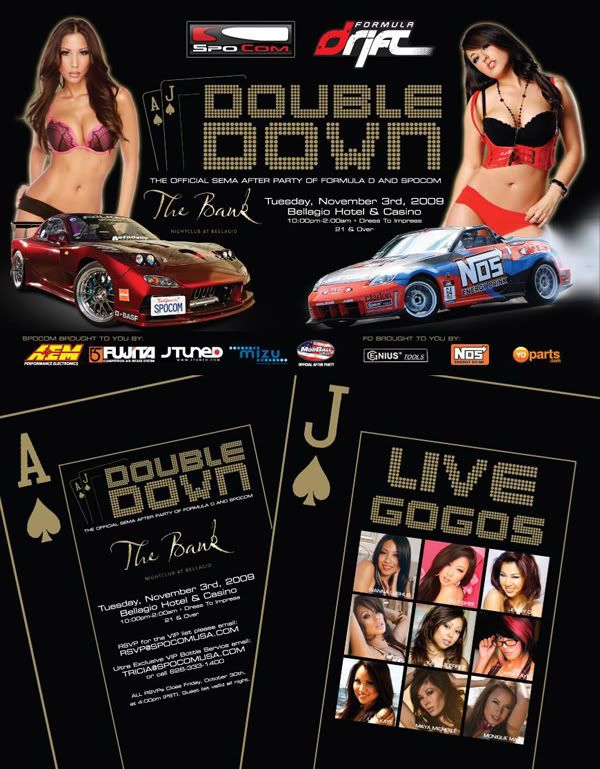 Two of the Largest names in the industry team up for one night of insane partying. Status and prestige await guests that cross the velvet rope.
DOUBLE DOWN presented by SpoCom & Formula D is dropping on:
Tuesday, November 3rd, 2009
9:30pm-2:00am.
The Bank Night Club
Inside The Bellagio Resort & Casino
Las Vegas, Nevada
+21 and over event
As a huge year end thank you from both Formula D and SpoCom this event is entirely FREE!  That is right no strings attached. No gimmicks. No wondering if you are really on the list.  All you need to do is email [email protected] and you are in.  It is that simple.  Just shoot over the email and you will get a confirmation reply.
Thank you again for supporting both SpoCom and FD.  We both look forward to seeing you in 2010!
Interested in Ultra Exclusive Bottle Service?  Email [email protected] or call (626) 333-1400.
Brought to you by:
AEM Electronics, Fujita, JTuned, Mizu Cooling Products, ModBall USA, Genius Tools, NOS Energy Drink, YoParts.com, and StreetFire.net
– ceso