Monster Energy, Vaughn Gittin Jr, and Falken Tire form an epic partnership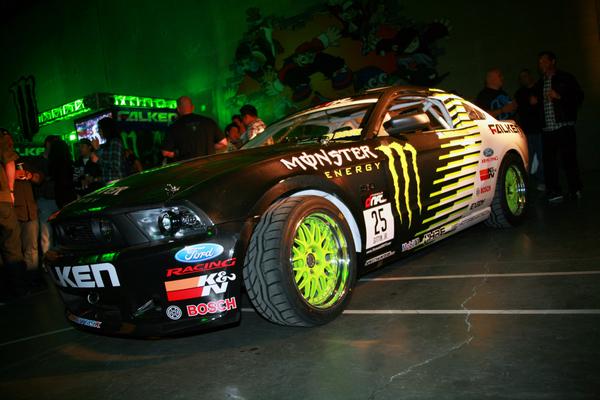 MOORESVILLE, NC (April 8, 2010) – Professional Drifter Vaughn Gittin Jr. announced
today a multi-year partnership with Monster Energy to serve as co-primary sponsor on
Gittin's 2011 Monster Energy/Falken Tire Ford Mustang that competes on the Formula
Drift series. Gittin, a former world champion, is entering his seventh season on the
popular Formula Drift series.
"Monster Energy is a leading supporter of motorsports across the globe, so to bring
them into Drifting in a big way is huge for the sport," said Gittin, Jr., 29, of
Joppa, Md. "It is an honor to join the long list of elite athletes that represent
Monster Energy. Between Monster Energy, Team Falken Tire, and our Ford Racing 5.0L
2011 Mustang, we have everything we need be a competitive force in the Formula Drift
Championship this season."
Gittin Jr., known as "JR" in the sport, has become one of drifting's most iconic
figures and his machine, the 680HP Ford Mustang GT, one of the sport's most
identifiable cars. Gittin is known best by his aggressive, foot-to-the-floor,
big-smoke driving style. Being such a fierce competitor, Gittin is known as the only
American to beat the Japanese at their own game in winning a D1 Grand Prix
competition, not once – but twice. In 2005, Gittin stunned the world when he won the
D1GP USA vs. Japan event. In 2007, he brought America home the gold once more by
winning the D1GP World Championship. Gittin has earned five career podiums in the
Formula Drift series, which has cemented itself as the premier Drifting series in
the world.
"Vaughn's talent, passion, and drive make him one of the most unique and charismatic
personalities in all of Drifting," said Mike Vicente, Monster Energy's Motorsports
Marketing Director. "For these reasons, Vaughn is a perfect ambassador to help
Monster Energy make an immediate impact on the sport. Vaughn goes above and beyond
by pushing the limits of traditional sponsorship by creating unique concepts and
programs, yet still retaining his grassroots connection to the sport."
The Formula Drift series kicks off the 2010 season with Round One on the streets of
Long Beach, Calif. on April 9-10 and continues with six more rounds in Road Atlanta
(Braselton, Ga.), Wall Speedway (Wall, NJ), Evergreen Speedway (Monroe, Wash.), Las
Vegas Motor Speedway (Las Vegas, NV), Infineon Raceway (Sonoma, Calif.), and Toyota
Speedway at Irwindale (Irwindale, Calif.). TV coverage is provided by Versus. For
more information, visit www.FormulaD.com.
The partnership was secured and is managed by Gittin's management firm, Motorsports
Management International, located in Mooresville, NC.