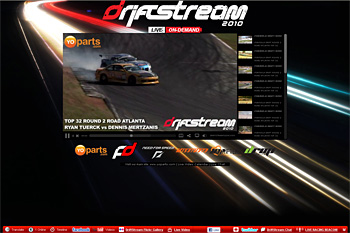 Long Beach, Calif. – May 26, 2010 – Formula DRIFT launches DriftStream2010.com as a hub for all content of the Live Stream.
"Driftstream2010.com is the next step of development for our live stream partnership," said Ryan Sage, co-founder of Formula DRIFT. "This will be the central place where all things pertaining to the live stream will be centrally located. Our approach is to make the viewing experience of the live stream as easy, seamless, and fun as possible.
The new DriftSteam2010.com site has been created to specifically house both Live Coverage and On-Demand footage of the 2010 Formula DRIFT Schedule as well as the following elements:
* Live Interactive Hub for all DriftStream 2010 action
* On-Demand section with all DriftStream 2010 coverage
* Integrated Toolbar Section
* Flickr Gallery
* YouTube Gallery
* LiveFeed Beacon
* Twitter Integration
* Facebook Integration
* Formula DRIFT Blog Timeline
* DriftStream 2010 Schedule
* Built-in Chat Feature
* Language Translation Feature
* iPhone App link
The new site features a user-friendly interface, while providing new and archived content pertaining to Formula DRIFT. The dynamic features of the site will engage fans to interact with one another and become socially active.
"The main goal for the development of this site was to create an easy to navigate experience while still providing all relevant streams of content for the FD fanbase," said Tom Masiero, co-founder of YoParts.com.
The Drift Stream will continue at Round 3: The Gauntlet on June 4-5 in Wall, NJ when Formula DRIFT returns to Wall Speedway.