Formula DRIFT 2010 Round 4: Throwdown Results;
Tanner Foust Takes the Victory and the Lead in the Tires.com Triple Crown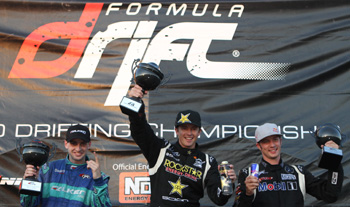 Long Beach, Calif. – July 10, 2010 – Formula DRIFT entered Evergreen Speedway for Round 4: Throwdown in Monroe, Washington. Tanner Foust takes the victory and moves into second place overall in the Pro Championship standings, while taking the lead in the chase for the Tires.com Triple Crown.
Evergreen Speedway hosted Round 4: Throwdown to a packed stadium. Fans gathered to watch the exciting competition under the clear skies and warm sun. Attendance increased from past seasons proving the growth and popularity of the sport in the Pacific Northwest is as strong as ever.
"The drifting fans in the Pacific Northwest prove to be some of the most diehard and enthusiastic in the nation," said Jim Liaw, president and co-founder of Formula DRIFT. "The drifting market is thriving in the area as was evident by the increased attendance from last season, despite two major sporting events occurring simultaneously."
Round 4: Throwdown brought exciting drifting action back to the Pacific Northwest with Tanner Foust in the Rockstar Energy Scion TC taking his first victory of the season moving him into second place overall in the Pro Championship standings. Foust also takes the lead in the second event of the Tires.com Triple Crown with the win. The final battle paired Foust with Ryan Tuerck in the Mobil 1 / Maxxis Tires Pontiac Solstice, Tuerck crashed into the wall coming off the banking on the second run giving Foust the victory. The consolation run showcased Darren McNamara in the Falken Tire Saturn Sky against Michihiro Takatori piloting the Drift Emporium / BF Goodrich Nissan S13. McNamara edged out Takatori to take third place.
"This was an epic event and took a lot of work to get this victory," said Tanner Foust, winner of Round 4: Throwdown. "After running multiple "One More Time" battles we almost ran out of Hankook tires, but to advance against competitors that put on such clean tandem battles made this victory even more sweet."