Formula DRIFT Releases Codes and Applications for This Weekend's Live Stream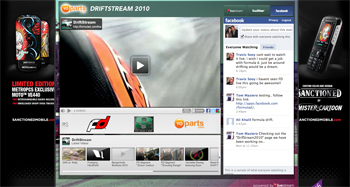 Long Beach, Calif. – April 7, 2010 – Formula DRIFT has released the codes and applications for the YoParts live stream that will go live this weekend at Round 1: Streets of Long Beach on April 9-10.
Last month Formula DRIFT announced a ground breaking relationship with YoParts to live stream the Formula DRIFT events in entirety from the first driver to qualify to the last tandem battle on Saturday. The first round of Formula DRIFT takes place this weekend April 9-10 on the historic Long Beach Grand Prix Street Course. Formula DRIFT and YoParts have invested in cutting-edge technology, different avenues, and social applications to view the live stream. The following are different ways fans, media, webmasters, teams and just about everyone can view the live stream.
1. Live on the Formula DRIFT Website home page and on the landing page www.formulad.com/live
2. Facebook Application
3. Mobile Application– Just load the URL into your applicable mobile phone's browser or Text "yo" to 53000
4. Direct landing page on Live Stream host website: Live Stream Website
Any webmasters that are interested in the Direct Iframe Embed and custom sizing for their particular website can contact [email protected]
Coverage commences on Friday, April 9th at 12pm for the first session of qualifying during Round 1: Streets of Long Beach on April 9-10 on www.formuladrift.com.