Formula DRIFT Round 5: After Dark Results;
Tyler McQuarrie Takes the Victory and Team Falken Tire Sweep the Podium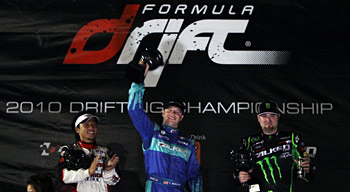 Long Beach, Calif. – August 22, 2010 – Formula DRIFT returned to the Las Vegas Motor Speedway for Round 5: After Dark. Tyler McQuarrie piloting the Falken Tire Nissan 350Z found the top of the podium alongside his Falken Tire teammates for their 2nd ever sweep.
The Las Vegas Motor Speedway hosted the event to a sell out crowd under the stars and lights in the Nevada desert. Round 5: After Dark featured the Vegas Pro Am finals, Fatlace One of One Showcase car show, Monster truck demonstration, Drag Races, and was highlighted with the Formula DRIFT championship competition. The competition heats up with only two events remaining in the 2010 Championship season.
"This event in Las Vegas is challenging for everyone involved with Formula DRIFT including the staff, teams, and sponsors, but at the end of the day the event exceeded all expectations with a sell-out crowd, amazing competition, and a tightening chase for the Championship heading into Sonoma," said Jim Liaw, president and co-founder of Formula DRIFT. "The level of competition is at an all-time high and teams are setting the bar for the sport of drifting worldwide."
The action filled weekend came down to a battle of the V8's. Making the Top 4 for his first time, Tony Brakohiapa in the Cooper Tire / BSP Tuskegee Airmen Mustang went against point leader, Vaughn Gittin Jr. in the Monster Energy / Falken Tire Ford Mustang for third place. Gittin gained the victory and maintains the championship points lead. The final battle pitted Falken teammates Daijiro Yoshihara in the Discount Tire / Falken Tire Nissan S13 against Tyler McQuarrie in the Falken Tire Nissan 350Z. Mechanical problems forced Yoshihara to forfeit from the competition giving McQuarrie his first ever victory and moves him up the rankings into 9th place overall.
"The Falken Tire Nissan 350Z was unreal in every practice and through qualifying. It was one of those events where I could just feel it," said Tyler McQuarrie, winner of Round 5: After Dark. "To get my first career victory here in Las Vegas feels incredible and for the Falken Tire team to get the second ever sweep in history is a milestone for the team."
McQuarrie will carry the momentum of the victory to the next stop of the Formula DRIFT championship at his hometown track for Round 6: Point of Impact on September 10-11. This is the last event before the Finals in October and the drivers will be sure to put it all on the line for a chance at the title. Tickets are available on-line.
Formula DRIFT Professional Championship 2010 Point Standings – Top 16
1. Gittin, Vaughn Monster Energy / Falken Tire Ford Mustang 439 Points
2. Yoshihara, Daijiro Discount Tire / Falken Tire Nissan S13 417 Points
3. Foust, Tanner Rockstar Energy Scion TC 386 Points
4. Tuerck, Ryan Mobil 1 / Maxxis Tire / Gardella Racing Pontiac Solstice 361 Points
5. McNamara, Darren Falken Tire Saturn Sky 342 Points
6. Hubinette, Samuel SHR-Dodge / BF Goodrich Dodge Challenger 304 Points
7. Forsberg, Chris NOS Energy Drink / CFR Nissan 350Z 296 Points
8. Millen, Rhys RMR / Red Bull Hyundai Genesis Coupe 291.75 Points
9. McQuarrie, Tyler Falken Tire Nissan 350Z 275.50 Points
10. Pawlak, Justin Ford Racing / Falken Tire Ford Mustang 267.50 Points
11. Takatori, Michihiro BF Goodrich / Exedy Nissan S13 239.50 Points
12. Ng, Charles Charles Ng Racing Mazda RX-7 228.50 Points
13. Grunewald, Conrad Hankook Tire Chevy Camaro 213 Points
14. Gushi, Ken Scion Racing / RS*R Scion TC 203.50 Points
15. Maeng, Joon Full Tilt Poker / Nitto Tire Mazda RX-8 190.25 Points
16. Petty, Ross Falken Tire / Garage Boso Nissan S15 186 Points
Round 5: After Dark Event Results
1. McQuarrie, Tyler Falken Tire Nissan 350Z 1st Place
2. Yoshihara, Daijiro Discount Tire / Falken Tire Nissan S13 2nd Place
3. Gittin, Vaughn Monster Energy / Falken Tire Ford Mustang 3rd Place
Tires.com Triple Crown – Event 2 of 3
1. Foust, Tanner Rockstar Energy Scion TC 169 Points
2. Tuerck, Ryan Mobil 1 / Maxxis Tire / Gardella Racing Pontiac Solstice 167 Points
3. Yoshihara, Daijiro Discount Tire / Falken Tire Nissan S13 162 Points