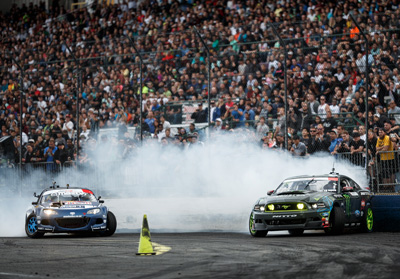 By Della Domingo
Formula DRIFT, the leading international drifting organization, will conduct live drift demonstrations at the2015 SEMA Ignited event, taking place Friday, November 6, 3:00 p.m.–10:00 p.m., at the Las Vegas Convention Center Gold Lot.
SEMA Ignited is the official SEMA Show after-party, where consumers are invited to connect with Showgoers and vehicles from the premier automotive trade show in the world. While the four-day SEMA Show is a business event that is not open to the public, SEMA Ignited makes it possible for auto enthusiasts, fans and families to be a part of the SEMA Show excitement. The inaugural SEMA Ignited event that took place in 2014 featured nearly 500 one-of-a-kind, customized cars and trucks, as well as nationwide television taping, celebrities, entertainment, music, food and fun.
"We're thrilled to partner with Formula D to bring SEMA Ignited attendees with first-class drifting demonstrations," said Peter MacGillivray, SEMA vice president of communications and events. "Formula Drift brings a new and exciting element to an already great schedule of events."
Seating will be available for spectators to view the drifting demonstrations, which will begin at 3:00 p.m. and continue until the close of the event at 10:00 p.m. Other activities and entertainment at SEMA Ignited include a unique collection of vehicles from the SEMA Show, celebrity appearances, music and more.
To learn more about the event or to purchase consumer tickets, visit www.semaignited.com.