Formula DRIFT Round 7: AutoZone Showdown Results;
James Deane Increases His Chances for a Championship with the Win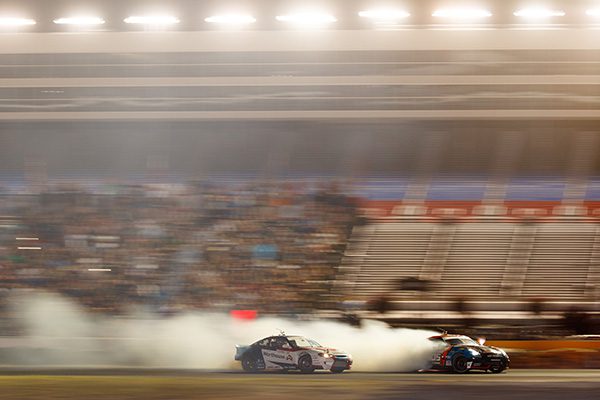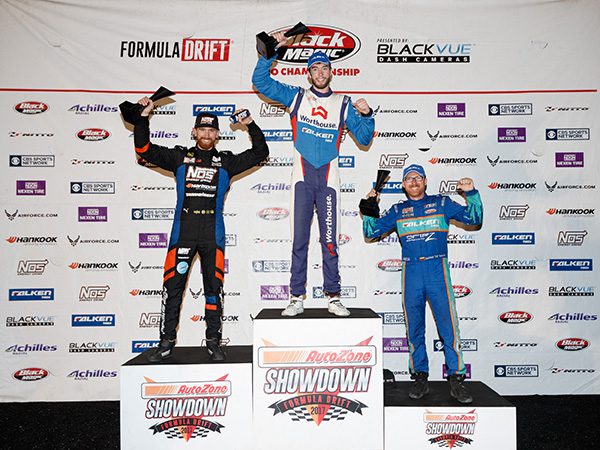 Long Beach, Calif. – September 9, 2017 – Formula DRIFT Black Magic Pro Championship presented by BlackVue Dash Cameras returned to Texas Motor Speedway for Round 7: AutoZone Showdown. James Deane in the Worthhouse / Falken Tire Nissan S15 had a perfect weekend as the number one qualifier and with his second consecutive event victory.
Irish driver James Deane has tied a Formula DRIFT record with his fourth event victory in a single season to increase his lead in the Pro Championship standings with only one event remaining. The capacity crowd was entertained throughout the event weekend, while the Livestream drew over 1 million views over the course of the event.
"This was quite the weekend here in Texas," said Jim Liaw, President of Formula DRIFT. "With so much on the line, it made for an intense competition that I hope the fans enjoyed."
In the Top 4, number one qualifier and current points leader, James Deane in the Worthouse Drift Team / Falken Tire Nissan 240 faced off against former champion and second in points, Fredric Aasbo in the Rockstar Energy / Nexen Tire Toyota Corolla iM. Deane was able to edge past his opponent to move into the Finals. On the other side of the Top 4 bracket, former champion Chris Forsberg in the NOS Energy / Hankook Nissan 370Z faced Aurimas Bakchis in the Falken Tires / Drifz Wheels Nissan 240. A mistake by Bakchis on his chase run gave Forsberg the win. In the Finals, Deane's consistent driving proved to be too much as Forsberg fell back and took a shallow line on his chase run, which ultimately lead to his win and a considerable lead heading into the Finals.
"I've drifted plenty of tracks in my time, but I've never drifted coming out of the first corner with a straight so long where you're sitting behind the lead car just filled with smoke," said James Deane, winner of Round 7: Showdown. "It worked out for me this time. I'm just super happy for everyone that supports me and everyone back home."
The action continues to Round 8: Title Fight on October 13-14 at Irwindale Speedway. For more information visit, www.formulad.com and find Formula DRIFT on Instagram @formulad, Facebook www.facebook.com/formuladrift, Twitter @FormulaDrift, and Snapchat – formula_drift. Tune into Formula DRIFT on CBS Sports and check your local listings for airtimes.
Round 7: Showdown Results
1. Deane, James
Worthouse Drift Team / Falken Tire Nissan S15
Winner
2. Forsberg, Chris
NOS Energy Drink / Hankook Nissan 370Z
2nd Place
3. Bakchis, Aurimas "Odi"
Falken Tires / Drifz Wheels / ARK Performance Nissan 240SX
3rd Place
4. Aasbo, Fredric
Rockstar Energy / Nexen Tire Toyota Corolla iM
4th Place
5. Denofa, Chelsea
BC Racing / Nitto Tire Ford Mustang RTR
5th Place
6. Yoshihara, Dai
Falken Tire / Turn 14 Distribution Subaru BRZ
6th Place
7. Gushi, Ken
GReddy Racing / Nexen Tire Toyota 86
7th Place
8. Gittin, Vaughn
Monster Energy / Nitto Tire Ford Mustang RTR
8th Place
9. Coffman, Matt
Nexen Tire / Coffman Racing Nissan 240
9th Place
10. Tuerck, Ryan
Gumout / Nameless Performance / Hankook Toyota 86
10th Place
11. Wiecek, Piotr
Worthouse Drift Team / Falken Tire Nissan S15
11th Place
12. Essa, Michael
Achilles Tire / Essa Autosport BMW E46
12th Place
13. Bluss, Kristaps
HGK / Mast / Motul / Wisefab BMW E46
13th Place
14. Pawlak, Justin
Roush Performance Ford Mustang
14th Place
15. Hohnadell, Alec
Urban Air / Hoonigan / Nexen Tire Nissan 240
15th Place
16. Castro, Jhonnattan
Gerdau Metaldom / Nexen Toyota GT86
16th Place
2017 Formula DRIFT Black Magic Championship Presented by BlackVue Standings After 7 Events
1. Deane, James
Worthouse Drift Team / Falken Tire Nissan 240
582.00 Points
2. Aasbo, Fredric
Rockstar Energy / Nexen Tire Toyota Corolla iM
486.00 Points
3. Bakchis, Aurimas "Odi"
Falken Tires / Drifz Wheels / ARK Performance Nissan 240SX
367.00 Points
2017 Manufacturer Championship Standings After 7 Events
1. Toyota
837.00 Points
2. Ford
632.00 Points
3. BMW
331.00 Points
4. Dodge
275.00 Points
4. Nissan
275.00 Points
6. Infiniti
156.00 Points
2017 Tire Championship Standings After 7 Events
1. Falken
1065.00 Points
2. Nexen
892.00 Points
3. Achilles
807.00 Points
4. Nitto
664.00 Points
5. Hankook
645.00 Points