Formula DRIFT Round 8: O'Reilly Auto Parts "Title Fight" Results;
Piotr Wiecek Takes the Event Victory and James Deane is Crowned Champion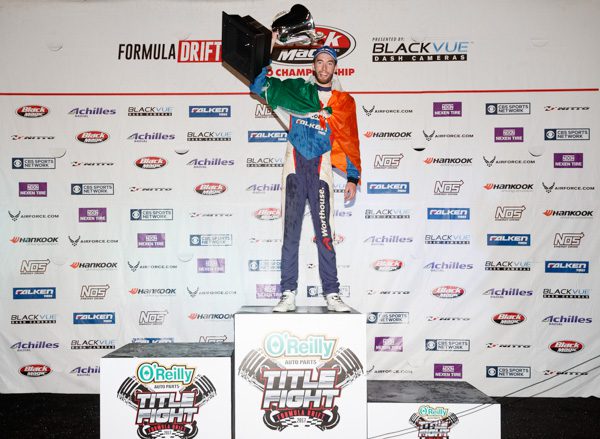 Long Beach, Calif. – October 14, 2017 – Formula DRIFT Black Magic Pro Championship presented by BlackVue Dash Cameras returned to Irwindale Speedway for Round 8: O'Reilly Auto Parts "Title Fight". Piotr Wiecek in the Worthhouse / Falken Tire Nissan 240 takes home his first Formula DRIFT victory and clinches Rookie of the Year honors, while his teammate James Deane in the Worthhouse / Falken Tire Nissan 240 clinches his first Formula DRIFT Championship.
Deane completed an impressive season with four event victories and a third place finish at tonight's finale to secure the championship. His sponsor Falken Tire swept the podium and won the Tire Manufacturer championship for their second consecutive time. Toyota wins their fourth consecutive Manufacturer championship.
"It's been such an intense weekend at the biggest event I've ever competed in with the championship on the line at one of the craziest tracks I've ever driven," said James Deane, 2017 Formula DRIFT champion. "It is also my birthday today so there was just so many emotions and with so many fans coming in from Ireland and Poland, I just wanted to put on a good show. It's just been a dream season."
The sold out crowd came for one last Formula DRIFT finale at Irwindale Speedway, which is often referred as the birthplace of US drifting. The Livestream drew over 1 millionviews over the course of the event.
"This was an incredible season that saw the rise of two exceptional international drivers. It's a testament of the talent in the Series having the best drifters in the world choosing Formula DRIFT to compete," said Jim Liaw, President of Formula DRIFT. "We look forward to our 15th season and have some exciting things planned for next year."
In the Top 4, Vaughn Gittin in the Monster Energy / Nitto Tire Ford Mustang RTR faced off against Daijiro Yoshihara in the Falken Tire / Turn 14 Distribution Subaru BRZ. In his chase run, Gittin made contact with the wall giving the win to Yoshihara to move him into the Finals. While in the Great 8, Deane and Aurimas Bakchis, made contact, which Bakchis was deemed at fault. Deane failed to get his car fixed in the allotted time giving his Worthouse teammate the win to put him into the Finals. In the Finals, Yoshihara and Wiecek had a very close battle, but the speed and proximity of Wiecek was too much to overcome. Wiecek takes his first Formula DRIFT victory and secured his Rookie of the Year honors
"I feel amazing," said Piotr Wiecek, winner of Round 8: Title Fight. "It's such a great atmosphere and such a great sport. I'd like to thank my whole crew and teammate James. What an unbelievable season."
For more information visit, www.formulad.com and find Formula DRIFT on Instagram @formulad, Facebook www.facebook.com/formuladrift, Twitter @FormulaDrift, and Snapchat – formula_drift. Tune into Formula DRIFT on CBS Sports and check your local listings for airtimes.
Round 8: O'Reilly Auto Parts "Title Fight"
1. Wiecek, Piotr
Worthouse Drift Team / Falken Tire Nissan S15
Winner
2. Yoshihara, Dai
Falken Tire / Turn 14 Distribution Subaru BRZ
2nd Place
3. Deane, James
Worthouse Drift Team / Falken Tire Nissan S15
3rd Place
4. Gittin, Vaughn
Monster Energy / Nitto Tire Ford Mustang RTR
4th Place
5. Aasbo, Fredric
Rockstar Energy / Nexen Tire Toyota Corolla iM
5th Place
6. Pawlak, Justin
Roush Performance Ford Mustang
6th Place
7. Bakchis, Aurimas "Odi"
Falken Tires / Drifz Wheels / ARK Performance Nissan 240SX
7th Place
8. Heilbrunn, Alec
Monster BMW E46
8th Place
9. Denofa, Chelsea
BC Racing / Nitto Tire Ford Mustang RTR
9th Place
10. Forsberg, Chris
NOS Energy Drink / Hankook Nissan 370Z
10th Place
11. Essa, Michael
Achilles Tire / Essa Autosport BMW E46
11th Place
12. Field, Matt
Falken Tire / Vapetasia / ARK Performance Nissan 240SX
12th Place
13. Hohnadell, Alec
Urban Air / Hoonigan / Nexen Tire Nissan 240
13th Place
14. Bluss, Kristaps
HGK / Mast / Motul / Wisefab BMW E92
14th Place
15. Gushi, Ken
GReddy Racing / Nexen Tire Toyota 86
15th Place
16. Castro, Jhonnattan
Gerdau Metaldom / Nexen Toyota GT86
16th Place
2017 Formula DRIFT Black Magic Championship Presented by BlackVue Final Standings
1. Deane, James
Worthouse Drift Team / Falken Tire Nissan 240
651.00 Points
2. Aasbo, Fredric
Rockstar Energy / Nexen Tire Toyota Corolla iM
538.00 Points
3. Bakchis, Aurimas "Odi"
Falken Tires / Drifz Wheels / ARK Performance Nissan 240SX
418.00 Points
2017 Manufacturer Championship Final Standings
1. Toyota
923.00 Points
2. Ford
751.00 Points
3. BMW
367.00 Points
4. Dodge
311.00 Points
4. Nissan
294.00 Points
6. Infiniti
174.00 Points
2017 Tire Championship Final Standings
1. Falken
1255.00 Points
2. Nexen
979.00 Points
3. Achilles
877.00 Points
4. Nitto
781.00 Points
5. Hankook
705.00 Points