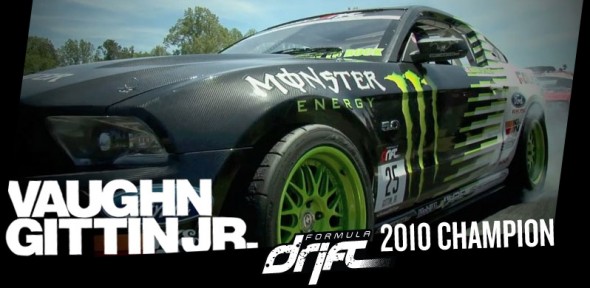 Vaughn Gittin Jr. main character in NFS SHIFT 2 UNLEASHED, with Monster Energy Falken Tire Ford Mustang and NFS RTR-X as boss cars
BALTIMORE, Md. (February 23, 2011) – The most successful racing video game series in the world, Electronic Art's Need for Speed, is releasing the highly-anticipated SHIFT 2 UNLEASHED to the public March 29th, and 2010 Formula Drift Champion, Vaughn Gittin Jr., is excited to announce his huge involvement with the most realistic and immersive racing game on the market.
The Monster Energy Falken Tire 2011 Ford Mustang that Vaughn piloted to win the 2010 Formula Drift Championship will be the "boss car" for the Drift element of UNLEASHED. All players have the opportunity to have Vaughn's competition car in their garage and drift it at famous tracks such as Irwindale Speedway and Ebisu Circuit. "Not only does it look the part," says Vaughn, "but it's handling and throttle response are as much crazy in-game as it is in real life."
The Team Need for Speed '69 Mustang RTR-X is the "boss car" in the Muscle element of the game and every player will have the opportunity to get behind the wheel of this amazing vehicle. "Just don't scratch the paint!" Vaughn says jokingly.
Besides his vehicles being in-game and his personal contributions to the physics and other elements of SHIFT 2 UNLEASHED, Vaughn is honored that he is also the main character in the game. "I am each players' friend and coach in the game," Vaughn explains. "I am the guy that gives the player confidence before and during the races, I applaud players when they are killing it, and I yell at them when they are making mistakes."
Not only is Vaughn in the player's corner throughout the game, but he also works with them to teach them how to drift during the drift tutorial. "Being the frequent Sim player that I am, I truly believe that having a proper virtual driving experience translates to a shorter learning curve when the opportunity arrives to hit the track in real life," says Vaughn Gittin Jr.
"Working on SHIFT 2 UNLEASHED has been a true project of passion for me," Vaughn continues. "I am very excited for the world to have the opportunity to get behind the wheel of my cars virtually. Who knows, it could turn into reality for a few gamers one day! I sincerely hope everyone enjoys SHIFT 2 UNLEASHED. The team has put a lot of passion behind each element of the game to offer in my opinion what is the best console driving experience to date!"
Read Vaughn's blog on Speedhunters.com for more details and pictures. Stay tuned to VaughnGittin.com for updated news, pictures, and videos.