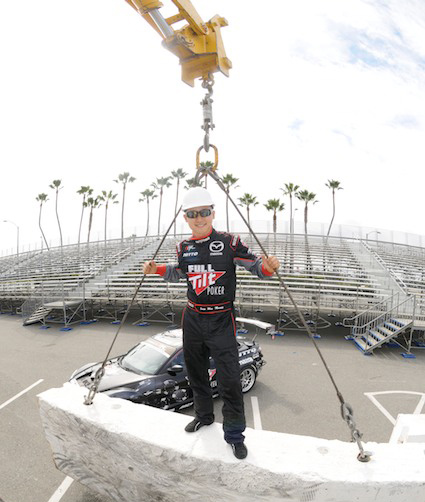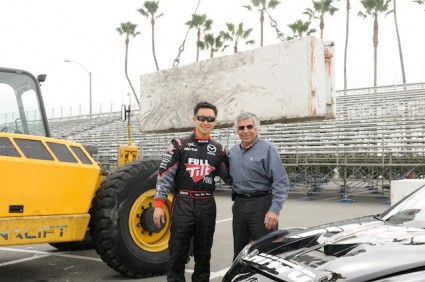 LONG BEACH, Calif. (Feb. 15, 2011) — The 37th Annual Toyota Grand Prix of Long Beach, set to take place April 15-17, took its first step toward the green flag when construction began this morning on Shoreline Drive, the famed racing circuit's front straightaway.
The construction got underway with an assist from Formula Drift driver Joon Maeng who appeared at the track for a kickoff photo shoot with his Team Bergenholtz Full Tilt Poker Mazda RX-8. Maeng is preparing to contest the upcoming Formula Drift season which gets underway the weekend before the Grand Prix on Turns 9, 10 and 11 of the 1.97-mile circuit in downtown Long Beach.
The setting of the first of more than 14 million pounds of concrete blocks that line the track marks the beginning of two months of work preparing for the 175,000 fans expected during race weekend.
Grand Prix Association of Long Beach Director of Operations Dwight Tanaka and his staff will put in more than 30,000 working hours installing concrete blocks, three miles of fencing and 16,000 bolted-together tires, along with 16 huge spectator grandstands, seven pedestrian bridges and giant-vision boards for full-circuit TV coverage.
"We also install porta-johns, hospitality suites, tents, trash containers, electrical equipment, phones and a hundred other little things up until race weekend," said Tanaka. "Then Sunday night, when the last race car has left the track, we start taking everything down, inspecting it and getting it ready for 2012."
"We want to keep the circuit exciting for our fans and, of course, competitive and safe for the drivers," said Jim Michaelian, president and CEO of the Grand Prix Association of Long Beach. "While Dwight and his staff do a terrific job, we couldn't do it without the help of many Long Beach city departments and a host of private entities.
"That phenomenal support is what helps us make the Toyota Grand Prix of Long Beach America's number one street race."
All businesses along the race circuit, which includes Shoreline Drive, Aquarium Way and Pine Ave., will remain open during construction of the racetrack.
Tickets for the Toyota Grand Prix of Long Beach, featuring six racing events including the IZOD IndyCar Series, can be purchased from the Grand Prix ticket office by calling toll-free at (888) 82-SPEED, or you can select your seat online by visiting gplb.com. A handy ticket brochure – which includes circuit map, grandstand and parking locations, ticket prices and order form – can be obtained online or by calling the ticket hotline.
Ticket prices range from $26 for Friday general admission up to $130 for a three-day ticket that includes Saturday and Sunday reserved seats in upper levels of the grandstands. Pre-paid parking packages are also available when ordering through the Grand Prix Ticket Office. Handicapped seating, IZOD IndyCar Paddock access, super photo tickets and a variety of hospitality club packages are also available.