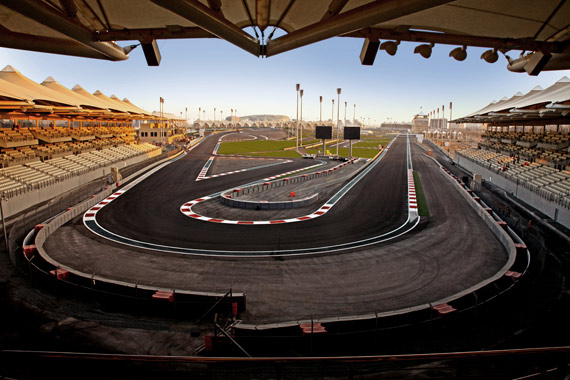 Long Beach, Calif. – January 19, 2011 – Formula DRIFT has announced the official entry list for the Inaugural Formula Drift UAE Invitational Competition at the Yas Marina Circuit in Abu Dhabi, United Arab Emirates on February 25, 2011.
A diverse selection of the top drivers from around the globe will showcase world-class drifting to the Middle East. The official roster of drivers include: past Scandinavian champion, Fredric Aasbo, 2009 Formula DRIFT champion, Chris Forsberg, 2-time Formula DRIFT champion and 3-time X-Games Gold Medalist Tanner Foust, top ranking driver, Ryan Tuerck, past New Zealand champion and Formula DRIFT USA & Asia competitor, Mike Whiddett, Formula DRIFT veteran Daijiro Yoshihara and Formula Drift regulars Ken Gushi, and Michael Essa along with Tony Brakohiapa as the alternate driver.
"Formula DRIFT is dedicated to providing the best drifting action to fans everywhere," said Jim Liaw, president and co-founder of Formula DRIFT. "We are proud to showcase the best drivers from around the world to an international audience in Abu Dhabi at what is probably the most spectacular racing facility in the world."
In addition, the event will be streaming live via the DriftStream on www.formuladrift.com. Fans will be able to catch all of the exciting action from the comfort of their own home. The live stream will air on February 25, 2011. For broadcast times visit the Formula DRIFT website .
For those that are interested in attending the live event, online tickets will go on-sale soon and can be purchased through this link – Event Tickets Tickets can also be purchased through the Yas Marina Call Centre at: 800-YAS-(927) or international number at +971 (0) 2 446 0384, which is open 7 days a week from 9 AM – 6 PM, local time. Tickets can be purchased directly at the Yas Marina Circuit at the East and West Entrance Gate Welcome Centre, Yas Hotel, and Ferrari World Abu Dhabi Yas Marina Circuit Kiosk. In addition, tickets may also be purchased at select Virgin Megastores within the UAE beginning January 25, 2011.
As the premier professional drifting championship in the world, Formula DRIFT has helped modernize and globalize drifting, bringing it to places like Singapore, Malaysia, Thailand, Panama, Mexico and now, the United Arab Emirates. For more information visit: www.formuladrift.com