Formula DRIFT Round 2: Road to the Championship;
Daijiro Yoshihara Takes the Victory and Lead in the Point Standings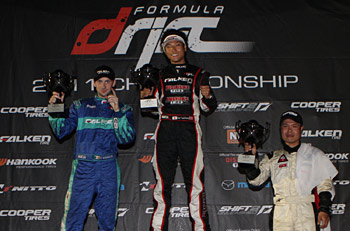 Long Beach, Calif. – May 9, 2011 – Daijiro Yoshihara in the Discount Tire / Falken Tire Nissan S13 takes the victory and leads the points standings in the Pro Championship and Tires.com Triple Crown. Darren McNamara in the Falken Tire Saturn Sky places second and Toshiki Yoshioka rounds out the podium in third in the Retaks Nissan S13.
Round 2: Road to the Championship brought fans from all across the South East region together to watch an exciting round of competition. Road Atlanta hosted the event for the 8th consecutive year of Formula DRIFT.
"The championship chase heats up at Road Atlanta," says Jim Liaw, president and co-founder of Formula DRIFT. "Over the past 8 seasons the crowd has grown each year and because of that we are proud to announce a 3-year extension at this venue. We started here 8 years ago and look forward to continuing through 2013 where we will celebrate our 10th season."
Toshiki Yoshioka found the podium again after a one year hiatus and placed in 3rd beating John Russakoff in the consolation round. The finals pitted Falken Tire teammates Daijiro Yoshihara and Darren McNamara. With consistent driving Yoshihara again found the podium this season and won his second consecutive victory at Road Atlanta. With this victory Yoshihara moves into 1st place overall in the Pro Championship standings and takes the lead in the chase for the Tires.com Triple Crown.
"The crowd was so crazy. I love this place," said Daijiro Yoshihara, winner of Round 2: Road to the Championship. "I'm so happy to win at one of my favorite tracks in front of such a great crowd."
The 2011 Pro Championship season continues for the first time in Florida for Round 3: Invasion at Palm Beach International Raceway on June 3-4. Tickets are available to purchase online now.
For more information visit: www.formuladrift.com