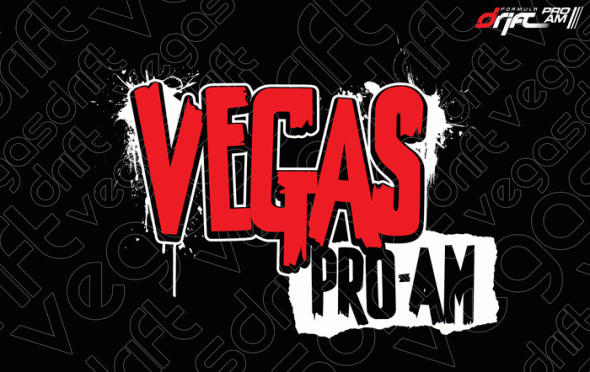 Vegasdrift LLC proudly presents VegasProAm 2012 – Formula Drift's Southwest Official ProAm licensing series. VegasProAm will consist of three events at LVMS and the fourth and final event will be hosted at Formula Drift round 6 on The Las Vegas Motor Speedway's Custom built FD Course.
This year's judging panel includes Ernie Fixmer (Formula Drift Judge/Pro Driver), Mike Bolanos ("Exotics Racing" instructor and FD license holder), Odi Bakchis (Fd Driver and 2011 Fd Rookie of the Year) and Tommy Suell (FD Driver). VegasProAM will utilize the 2010 Formula Drift standard scoring system judging "Speed" "Line" and "Angle." with each judge awarding style points.
The competition format consists of 3 judged qualifying runs, followed by either a "Top 8" or "Top 16" tandem battle. Drivers that finish "Top 4″ in the series will earn a 2013 Formula Drift Professional License, and an invite to the "ProAm Cup" All-Star Invitational at the Toyota Speedway in Irwindale, California in conjunction with the Formula DRIFT Championship Finale.
VegasProAm Rules and Regulations will be similar to last year's series; minor adjustments will be made and announced on the Vegasdrift Forum and on the VegasProAm Website. Sponsors and Prizes will be announced shortly.
VegasProAm Round 1
February 18th
VegasProAm Round 2
April 28th
VegasProAm Round 2
May 5th or 6th (Tentative)
VegasProAm Round 3
June 16th
VegasProAm Round 4 / Formula Drift Rd 6
August 24-25th
Best of Vegas
November 17th
Drivers Register

Here
Current Drivers List Click

Here