Justin Pawlak Takes the Victory at Round 2: Road to the Championship;
Pawlak Remains on Top of the Standings and Becomes the Tires.com Triple Crown Leader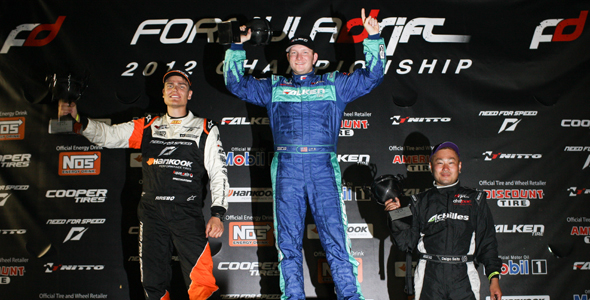 Long Beach, Calif. – May 12, 2012 – Formula DRIFT returned to Road Atlanta for Round 2: Road to the Championship. Justin Pawlak takes the victory in the Falken Tire Mustang increasing his point lead in the Pro Championship Points Standings.
Round 2: Road to the Championship brought the Formula DRIFT Pro Championship back to the Series birthplace nine years ago. Fans came in droves seeing an increase in attendance at Road Atlanta. This marks another consecutive season of growth.
"It's very satisfying that Road Atlanta and Formula DRIFT have formed a partnership nine years ago to help grow drifting in this region," said Jim Liaw, president and co-founder of Formula DRIFT. "We look forward to our ten year anniversary at this venue next season."
Justin Pawlak takes his second consecutive victory to increase his points lead. Additionally, Pawlak is now the points leader in the Tires.com Triple Crown bonus prize. Pawlak faced Fredric Aasbo in the Need for Speed / Hankook Scion TC and edged out the 2010 Rookie of the Year to take the victory. Walker Wilkerson in the Falken / Fatlace / Garage Autohero Nissan 240SX battled Formula DRIFT rookie, Daigo Saito in the Achilles Tire / Bridges Racing Lexus SC430 in the consolation round. After a one more time battle Saito beat out Wilkerson to take his second third place finish of the season.
"The boys at ASD and Falken gave me what I need to help me get to that number 1 spot," said Justin Pawlak, winner of Round 2: Road to the Championship. "Next round is West Palm Beach and with a great car and great team we were able to take the win there last year and plan to remain focused and keep this momentum going."
The Formula DRIFT Pro Championship continues with Round 3: Invasion at West Palm Beach International Raceway on June 1-2, 2012.