Round 1: Streets of Long Beach Kicked Off the Tenth Season of Formula DRIFT Presented by GoPro to a Sold Out Crowd;
Daijiro Yoshihara Takes the Victory and Leads the Championship Points Chase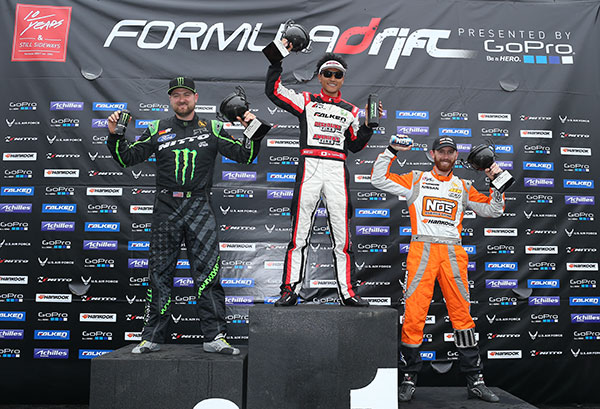 Long Beach, Calif. – April 13, 2013 – Formula DRIFT presented by GoPro begins the tenth season of competition with Round 1: Streets of Long Beach. Daijiro Yoshihara in the America's Tire / Falken Tire Nissan S13 takes the victory and leads the championship points chase.
Round 1: Streets of Long Beach started off the tenth season of Formula DRIFT presented by GoPro to a sell out crowd. Fans were treated to a vendor village, Slammed Society car show, a display of vehicles from the Targa Trophy and a skateboard demo from the Action Sports Kids Foundation of Long Beach.
"To start our ten year anniversary season in front of a sell out crowd sets a great tone for the season to come," stated Jim Liaw, president and co-founder of Formula DRIFT. "We owe it all to our drivers, sponsors and the fans for helping to make the Series what it is today. We look forward to another exciting season."
Experience became the deciding factor with all three spots on the podium being found by ten-year veterans who also are past champions of the Series. The 2009 Champion Chris Forsberg in the NOS Energy Drink / Hankook Nissan 370Z was too much for Chelsea DeNofa and earned third place. The final battle pitted 2010 Formula DRIFT champion Vaughn Gittin, Jr in the Monster Energy / Nitto Tire Ford Mustang against the 2011 champion Daijiro Yoshihara who also was the number one qualifier. On their first run Gittin made a small mistake at the hairpin giving Yoshihara the edge. A consistent second run by Yoshihara secured his victory giving him the first victory of the season.
"This was my first time to win in Long Beach. I've been on the podium a few times, but winning here was one of my goals and I was able to achieve that today, "said Daijiro Yoshihara, winner of Round 1: Streets of Long Beach. "I also qualified first so this was the best way to start off the season, but it is still a long way to another Championship. I hope to win another Championship this season." Formula DRIFT presented by GoPro continues at Round 2: Road to the Championship at Road Atlanta on May 10-11, 2013.
For more information visit: www.formuladrift.com
Formula DRIFT Professional Championship Presented by GoPro 2013 Standings After One Event
1. Yoshihara, Daijiro America's Tire / Falken Tire Nissan S13 112 Points
2. Gittin Jr., Vaughn Monster Energy / Nitto Tire Ford Mustang 92 Points
3. Forsberg, Chris NOS Energy Drink / Hankook Nissan 370Z 79 Points
4. DeNofa, Chelsea BC Racing BMW 3 Series 75 Points
5. McNamara, Darren Falken Tire Nissan S14 64 Points
6. Tuerck, Ryan Team Retaks Scion FR-S 64 Points
7. Gushi, Ken Greddy / Hankook Scion FR-S 62 Points
8. Essa, Michael GSR Autosport / Yokohama BMW M3 62 Points
9. Moen, Kenneth Nexen Tire Nissan 240SX 58 Points
10. Saito, Daigo Achilles Tire / Bridges Racing Lexus SC430 57 Points
11. Aasbo, Fredric Hankook Tire Scion Racing tC 56 Points
12. Bakchis, Aurimas Nexen Tire Nissan S14 56 Points
13. Kado, Ryan DNA Motoring / Nexen Tire Nissan 350Z 55 Points
14. Powers, Matt Nitto Tire / Fatlace Nissan S14 55 Points
15. Mordaunt, Patrick Apexi / PM Racing / Diamond Lexus SC430 54.50 Points
16. Pawlak, Justin Falken Tire Ford Mustang 54.50 Points
Round 1: Streets of Long Beach Event Results
1. Yoshihara, Daijiro America's Tire / Falken Tire Nissan S13 Winner
2. Gittin Jr., Vaughn Monster Energy / Nitto Ford Mustang Second Place
3. Forsberg, Chris NOS Energy Drink / Hankook Nissan 370Z Third Place
Manufacturers Championship Standings After One Event
1. Ford 146.5 Points
2. Nissan 137 Points
2. BMW 137 Points
4. Scion 126 Points
5. Lexus 111 Points
Tire Championship Standings After One Event
1. Falken 176 Points
2. Nitto 167 Points
3. Hankook 141 Points
4. Yokohama 116.5 Points