Texas Motor Speedway was the 3rd stop on the Formula Drift Pro 2 schedule this past weekend. With one more round to go in the Formula Drift season after Texas, the results of Pro 2 Round 3 were bound to mix up the points just enough to make for an exciting race for the championship. Geoff Stoneback is currently on top of the points, with 6 drivers nipping at his heels for the title.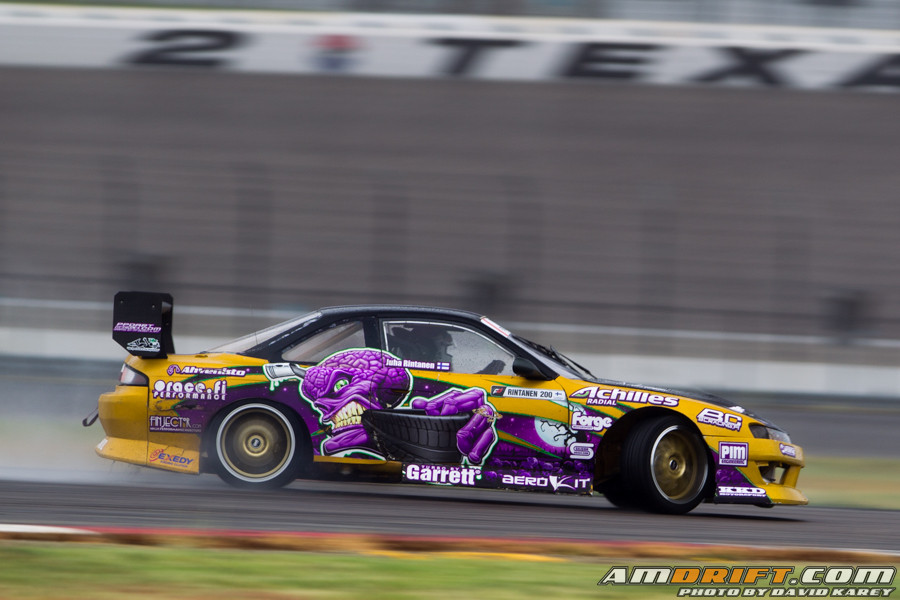 With unpredictable weather leading up to the Top 16 show, the track was a mix of all sorts of driving surfaces, never being consistent due to a rainstorm that rolled in hours before, and the continuous spitting from the clouds as the night moved on. What worked in dry qualifying the night before, was obviously not going to work in competition. We know that most of our readers don't want to sit through a 2 hour long replay full of commercials and track delays, so we break down all the action Cliff Note's style, or "TLDR – Too Long Didn't Read" style, for our attention span challenged friends. We have something in common.
TOP 16
Matt Coffman vs. Ryan Litteral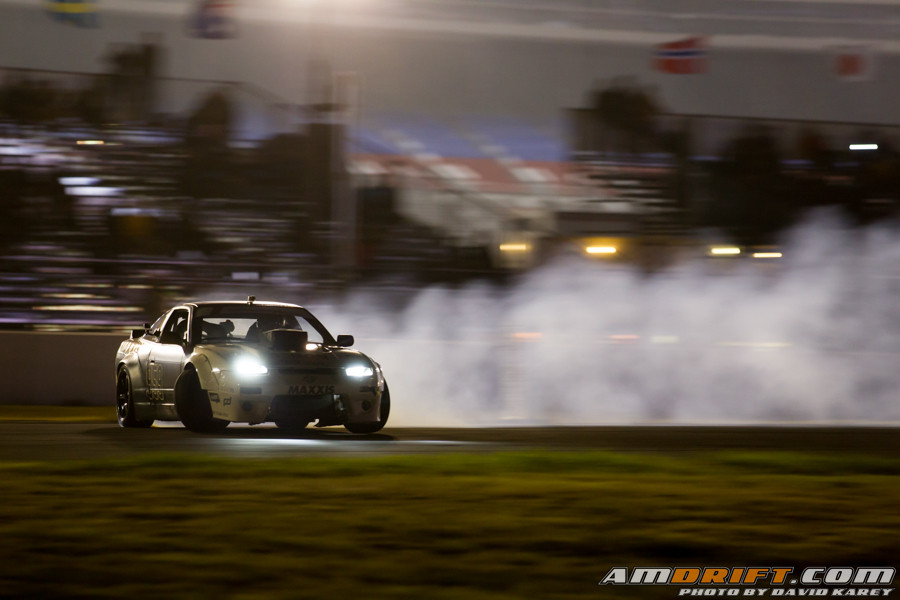 This event's first place qualifier, Matt Coffman, went up against a very stylistic and smooth Ryan Litteral for the first battle of the night. Matt Coffman lead first, creating a gap between himself and Litteral after an insane entry, running away with the advantage. Coffman nearly slid to a sideways stop coming into the last turn, but recovered and was able to keep drifting all the way through the finish.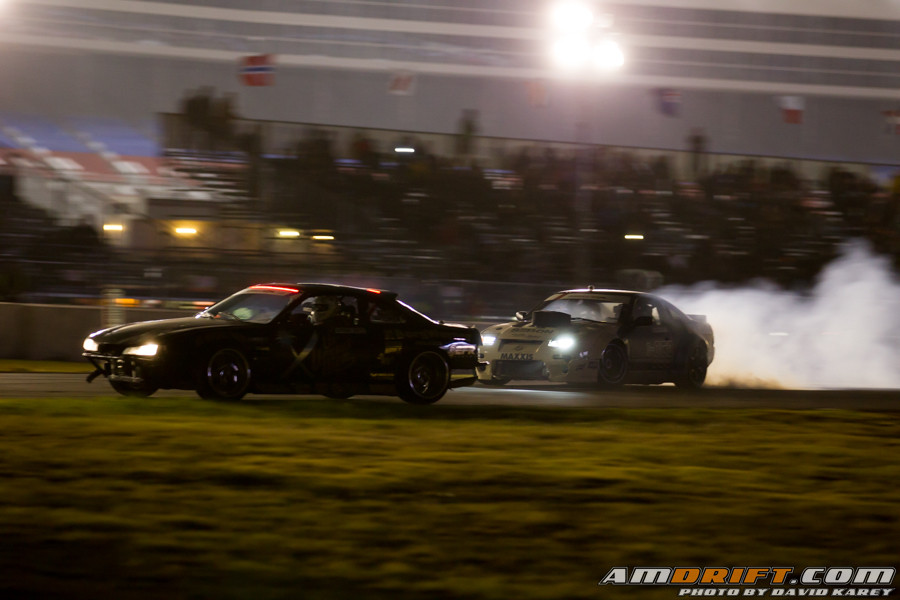 Unfortunately, Litteral would take out the first clipping point on his lead run, shattering his front bumper and losing to Coffman after shutting it down halfway through the course.
 Nate Hamilton vs. Will Parsons
In an all Texan battle, Nate Hamilton created a gap a few cars in length between him and Parsons after a lackluster entry, and nearly drifted the middle of the track all the way around. Parsons remained in drift a distance behind, very slightly closing the gap through the finish.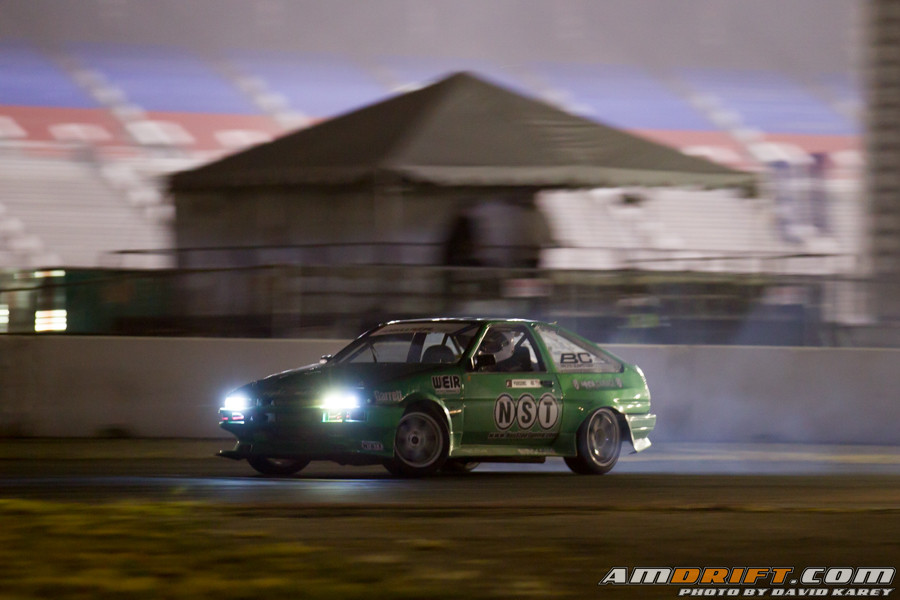 Will Parsons took his lead and pulled away from Hamilton after the entry, very slightly improving on Hamilton's line. Comparing Hamilton's run away lead lap with less than ideal proximity to the clipping zones, and no noticable improvement on Parsons' lead, judges decided they would go One More Time.
Dan Savage vs. Jeremy Lowe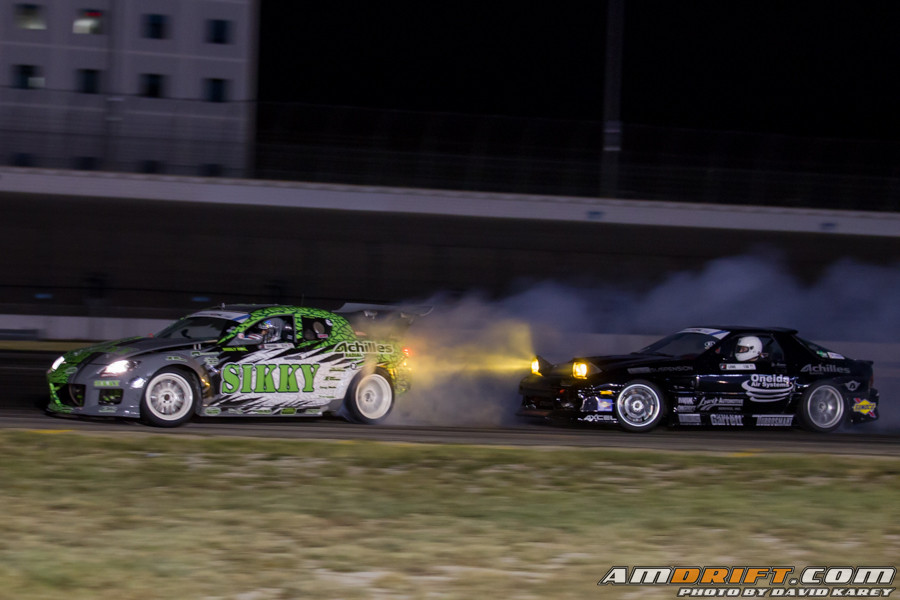 Dan Savage driving a V8 RX8 would lead a rotary RX7 driven by Jeremy Lowe. Savage had a great entry, Lowe right on his butt at point of initiation. Savage's line toward outer clipping zone 1 was shallow, which set him up to hit a cone in front of the judges at zone 2, all while Lowe brought himself nice and close to Savage in the sweeper.
Jeremy Lowe took his lead with a very fast race to the entry and a nice initiation with Savage right on his rear. While Lowe was not impressing anybody with his proximity to the clipping zones, Savage made an error by dipping in too shallow toward zone 2, entering the sweeper far off Lowe's line. Judges decide Jeremy Lowe, 2-1.
Nate Hamilton vs. Will Parsons – OMT

Coming back to the Texan boys, Hamilton enters drift with Parsons behind him, much closer this time than the previous battle. Coming into the sweeper, Hamilton gets too much angle, abruptly slows down, and Parsons has nowhere to go and makes hard contact sending Hamilton into the dirt. Both drivers temporarily retire to the hot pits to fix their vehicles while Eric Hill and Tony Cisneros run their battle, later to have the judges rule Will Parsons at fault.The replay clearly shows Hamilton slowing and causing Parsons to contact. Parsons retires. But, the show must go on with the win going to Nate Hamilton.
Eric Hill vs. Tony Cisneros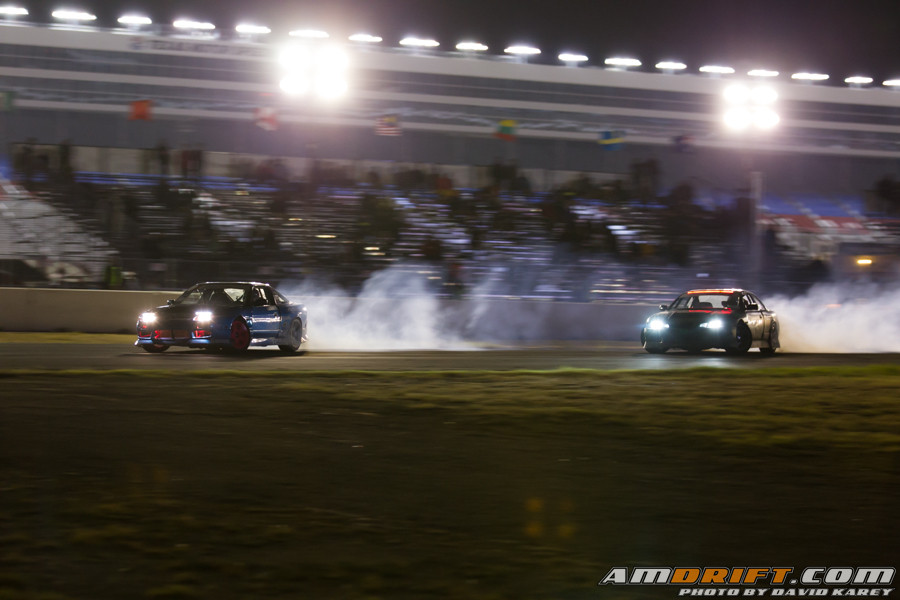 In this battle of S-chassis vehicles from Southern California, Eric Hill plays leader on run 1. Hill nearly walks away on entry, completing a decent run while Cisneros plays catch up, but still follows Hill's line.
Trading spots, Cisneros has a nice, fast entry with Hill right behind him, but Hill finds some unwanted grip coming into the 2nd zone and lunges close to the inside of the track and has no choice but to run shallow to keep drift. Cisneros finished unhindered, and Hill would be done for the night.
 Juha Rintanen vs. Brandon Wicknick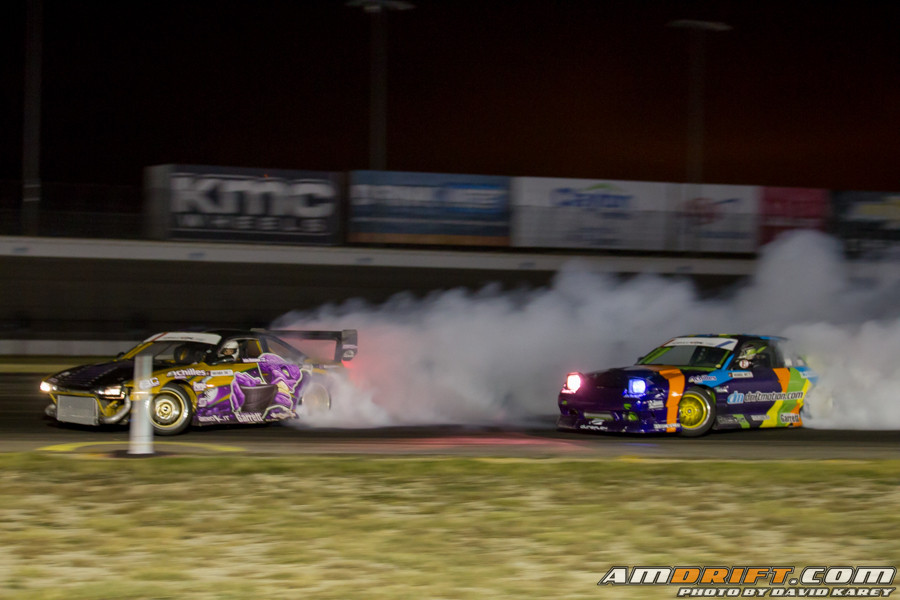 This battle was a favorite of ours the moment we saw the bracket after qualifying. Juha Rintanen throws his car into the entry with great angle, Brandon Wicknick looking like hes playing catchup behind him on a slightly shallower line. Overall, a good pound for pound run with no major errors from either driver.
Wicknick out front, Rintanen is determined to stick as close as possible. Coming into the zone in front of the judges stand, it seemed like Wicknick may have bobbled slightly, Juha hitting him shortly after, passing on the inside while Wicknick slid to the outside of the track. Upon review, it was hard to decide if the correction by Wicknick caused the contact, or if Rintanen was just running too hot and went too hard. The judges rule Juha Rintanen at fault for the contact, and Wicknick advanced.
 James Evans vs. Ron Ewerth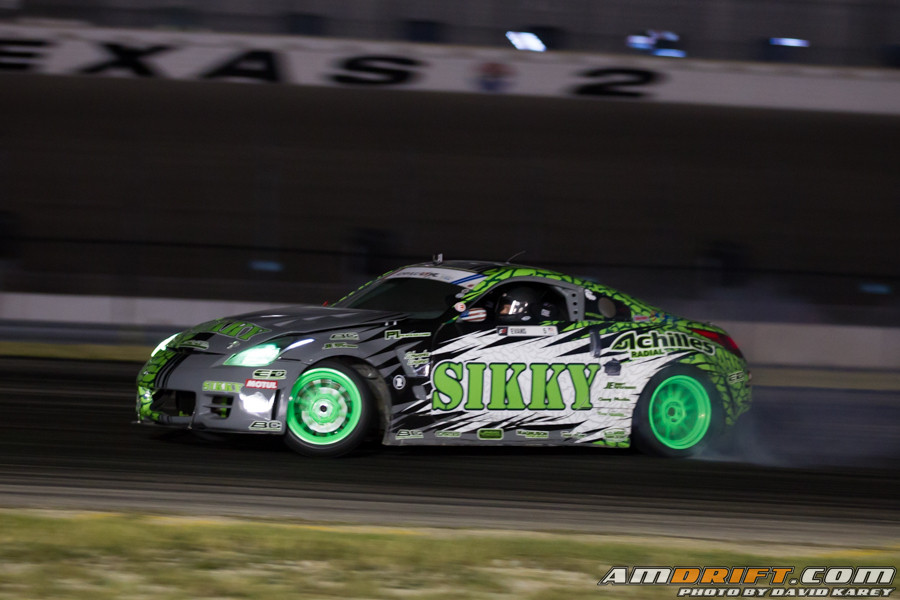 Ron Ewerth is unable to make it to the line due to damage in practice. James Evans takes a solo run.
Jeff Jones vs. Carl Rydquist

Jeff Jones leads a good run, with Carl Rydquist all over the track behind him seeming to struggle with too much grip. Rydquist straightens behind Jones at the 2nd zone, driving straight to the outside of the track while Jones continues through to the finish.
With a chance to redeem himself, Rydquist lays down an overall shallow, but decent run. Jones falls far enough behind to bring up mention of "inactive chase" by the judges. Judges call for One More Time.
Geoff Stoneback vs. Dennis Mertzanis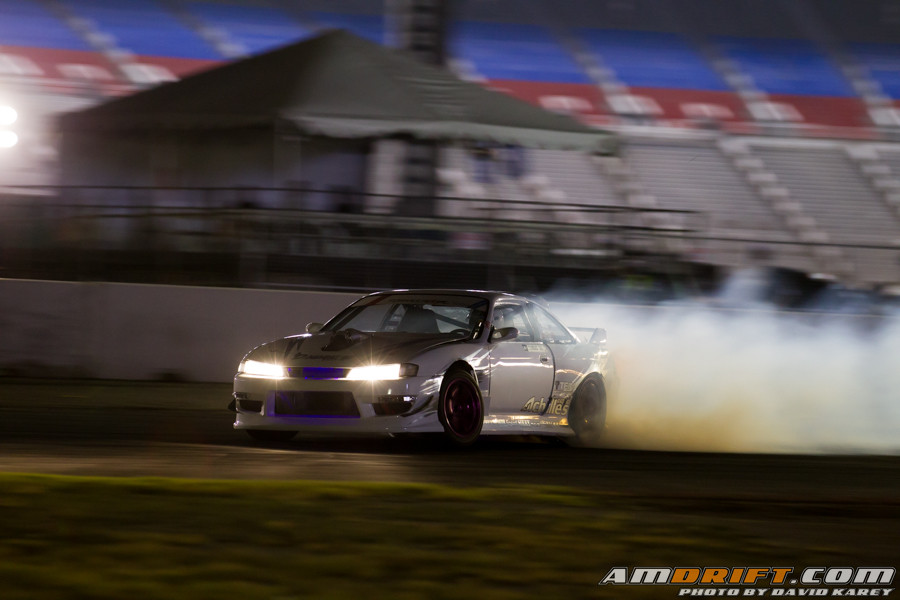 Right off the bat, Mertzanis drove off course into the grass outside of the entry while following Stoneback on the first run.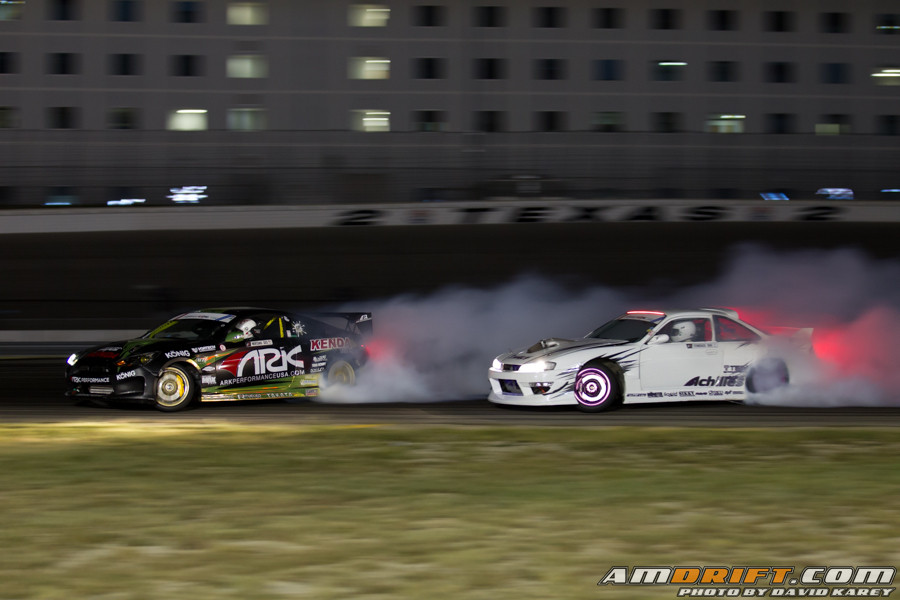 Mertzanis with a chance to pull it together on his lead run, looks a little shaky while a hard charging Stoneback plays no games on the follow. All 3 judges give the win to Stoneback.
Jeff Jones vs. Carl Rydquist – OMT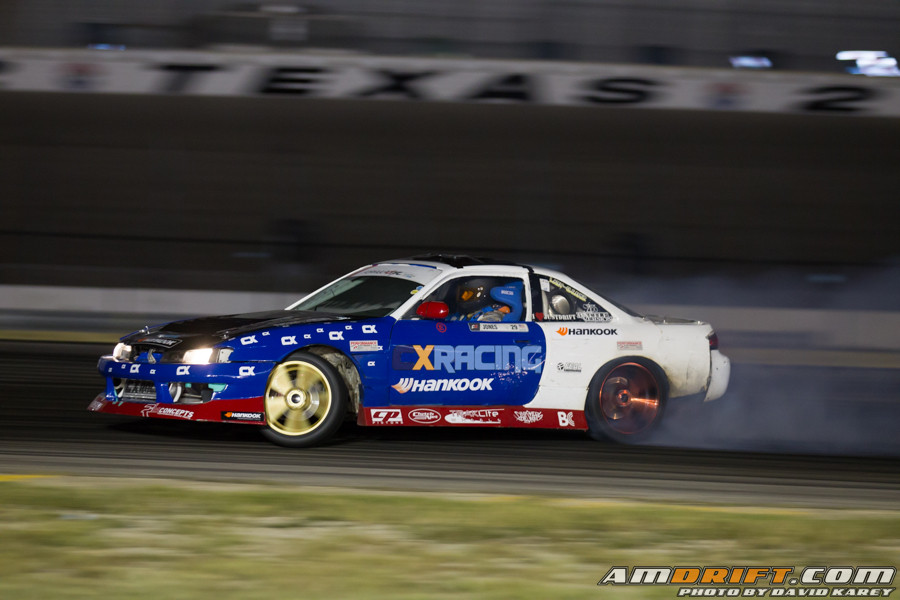 Revisiting this pair in a One More Time battle, Jeff Jones leads Carl Rydquist down the straight and creates a huge gap with Rydquist "nowhere to be found", as commented by Jarod DeAnda. Ryan Sage calls Jeff's run "pretty flawless". Carl Rydquist finishes his follow run on a less than ideal line.
Flipping it around, Carl takes the lead with a big correction on entry, causing difficulty maintaining angle through the the first and second clipping zones. Jones pushing hard to follow, overshoots the entry to the sweeper and goes wide, creating a large gap between him and Rydquist through the finish. Judges add up mistakes by both drivers, and decide that Jeff Jones outperformed Rydquist.
GREAT 8
Matt Coffman vs. Nate Hamilton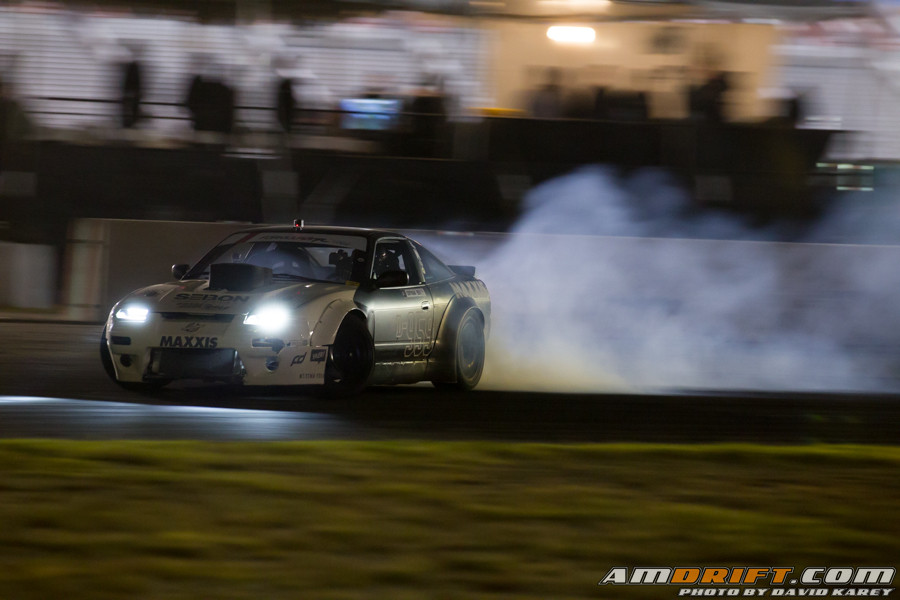 V8 powered S-chassis vs V8 powered S-chassis, Matt Coffman leads Nate Hamilton down the straight into the entry just as the rain starts to fall again. Coffman has a strong entry, impressively filling the first outer clipping zone as he enters the mid portion of the track, but fails to get close to the second outer zone. Hamilton does a decent job following, closing the gap as Coffman makes a few mistakes.
Hamilton leading with the track slightly wetter than the previous run a few minutes before, surprisingly has great speed and decent angle up until the second clipping zone, where he runs shallow and confuses a closely following Coffman who is running a deeper line. Coffman pulls in close to Hamiltons back bumper, but pushes too hard and spins out. Because of Coffman's follow spin, he takes himself out and gives Hamilton the win.
James Evans vs. Jeremy Lowe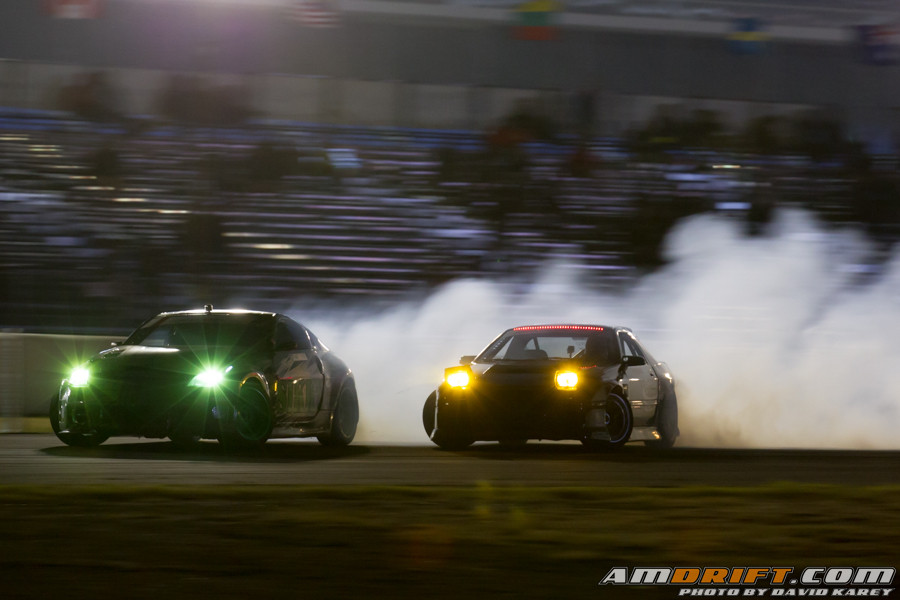 James Evans leads a determined Jeremy Lowe. Evans runs a great line, amazing angle and close to the clipping zones, but Lowe turns on the heat and lays down a textbook follow up until the sweeper, where he pushes too hard and catches a little bit of grass on the inside of the turn.
Lowe having one chance to turn the tables, runs shallow on the first outer zone, but super deep on the second. Evans, behind quite a distance, seems to have trouble connecting the dots on this run, runs shallow and spins trying to catch up to Lowe on the sweeper. All 3 judges call One More Time.
Brandon Wicknick vs. Tony Cisneros

Smoking tires all the way down the straight, Wicknick leads Cisneros toward the first outer zone. Cisneros determined to get close, pushes too hard and goes off course into a rough portion of runoff that has a history of causing carnage. Cisneros catches air and slams back down, sparks flying, and slides off course into the dirt where he comes to a rest. Wicknick finishes his run. After being towed back to the pits, Cisneros bows out due to damage, and Wicknick moves on to the finals.
James Evans vs. Jeremy Lowe (OMT)

Both drivers looking to one up each other on this OMT battle, Evans leads Lowe into a mildly impressive run by both drivers, with majority of mistakes made by Lowe. Evans wasn't deep, yet not too shallow on both clipping zones with a slight bobble transitioning between the two. Lowe threw too much angle toward the first outer zone and straightened, completely bypassing the second zone and re-initiating into the sweeper. Jarod DeAnda comments "way too late for Lowe as Evans is off to the races".
Lowe leading, Evans swings super wide on entry almost going off course, falling way behind. Immediately, talk of "inactive chase" is heard from the announcers booth. Due to errors from both drivers on both runs, 2 judges call One More Time, one favoring James Evans.
Jeff Jones vs Geoff Stoneback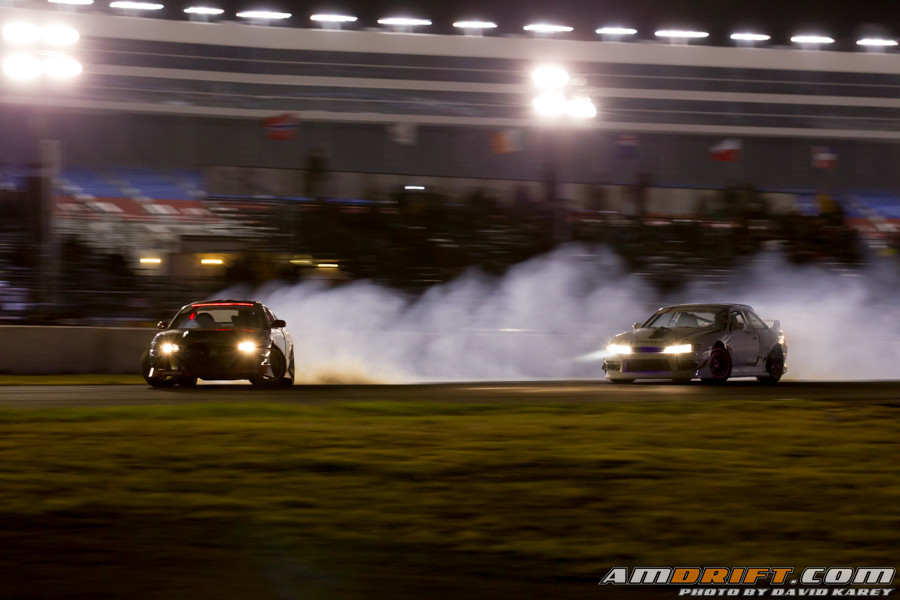 Jones and Stoneback battled it out in Seattle Pro 2 during the finals. Jones won, so Stoneback was most definitely looking for a win here for obvious reason. Jones leads first with Stoneback in close tow. Jones misses the first outer zone, but Stoneback is close on the follow regardless. Following Jones into the sweeper, Stoneback cuts in really shallow and drops a front tire in the dirt. Ryan Sage comments "a couple mistakes by both drivers".
Stoneback takes the lead, gets off the line quicker than Jones and pulls a gap. Jones follows, but gets lost in Stonebacks smoke around the sweeper, forcing him to make a couple of mistakes. Judges all in favor for Stoneback.
James Evans vs. Jeremy Lowe (OMT)

Both of these drivers were clearly enjoying the seat time they were getting, taking this battle 2 One More Times. Evans leads Lowe into the first outer zone with lots of angle, but Lowe falling into a shallower line, straightens out and cruises the rest of the course while Evans goes hard until the finish. All Evans has to do is be safe at this point.
Lowe leaves the line with Evans in chase, but is unable to shake Evans who is running an impressive line behind him. Judges rule unanimously in James Evans' favor, guaranteeing him a spot on the podium.
FINAL 4
 James Evans vs. Nate Hamilton
Only breaking shortly for a set of tires, James Evans jumps into battle with Nate Hamilton. Evans takes off putting a gap between him and Hamilton after entry, tries to shoot out wide on the first outer zone, has no problem filling the second zone. Hamilton on the follow, dives in too hard before the sweeper, causing him to slow in the same fashion as he did in the Parsons battle. Evans stays in drift around the entirety of the sweeper, Hamilton corrects from his previous mistake and bobbles again around the sweeper clipping point.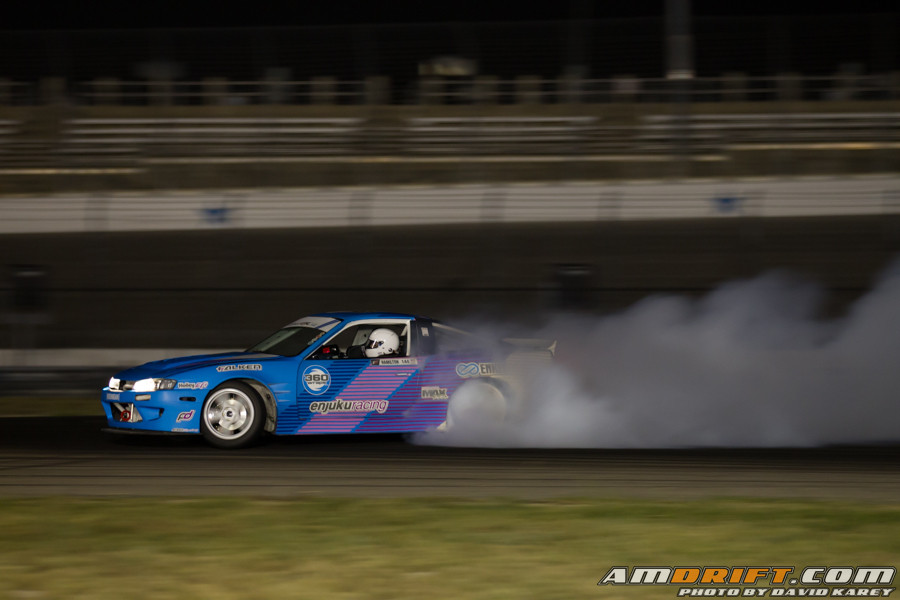 Hamilton having one chance to take Evans out of the mix, leads the pair through the first outer zone with a great line and great angle. Evans following, he totally overruns himself, swings wide and bobbles, straightening and shutting it down while Hamilton finishes the course. Judges call yet another One More Time.
Brandon Wicknick vs Geoff Stoneback

With great speed, Stoneback charges down the straight with a slower Wicknick in tow. Stoneback out front, he isn't able to hit the first outer zone and misses the second, but pulls a pretty big gap on struggling Wicknick. All Stoneback has to do to make podium is drive safe.
Wicknick takes lead and goes shallow on the first zone, lays down a crazy thick smoke screen, fills the second zone beautifully. Stoneback had fallen back out of the first zone area, pushes too hard coming out of the second zone into the sweeper, and spins out. Wicknick finishes the course. Judges give Wicknick the win.
 James Evans vs. Nate Hamilton (OMT)
Evans takes lead on this One More Time battle with decent proximity to both mid course clipping zones. Hamilton runs shallow right out of the first outer zone, leaving him no choice but to miss the second zone and run the rest of the course shallow while Evans finishes.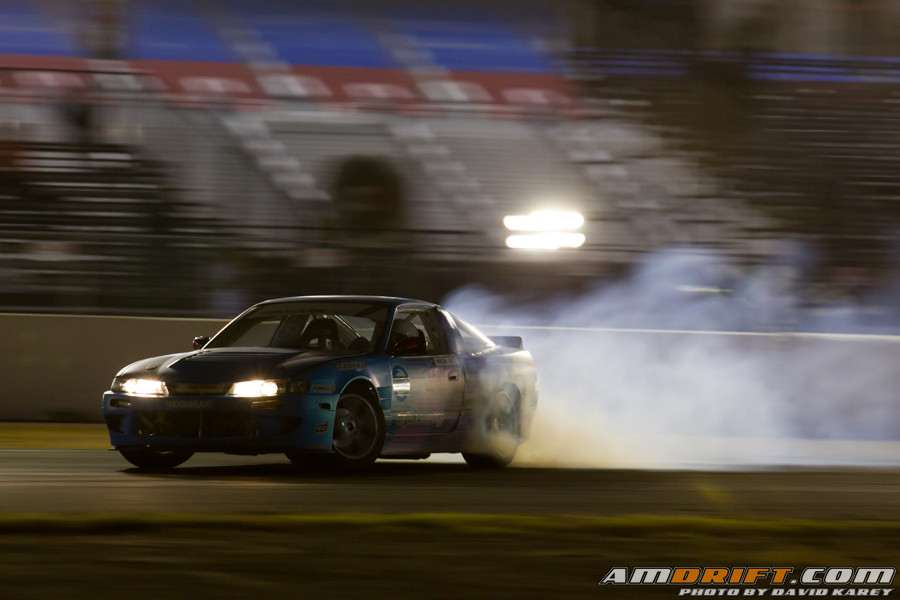 Hamilton stepping it up on his lead, has a nice entry and fills the first zone nearly perfectly. Evans has slight trouble keeping up with Hamilton, cuts the first zone shallow, but fills the second zone close enough to the cones to kick up a little dirt, much closer than Hamilton did. Hamilton transitions into the sweeper smoothly, while Evans runs wide. All 3 judges chose Hamilton as the winner.
Battle for 1st
 Brandon Wicknick vs. Nate Hamilton
Wicknick called a competition time out before this battle started. Both cars make their way to the start line, Hamilton takes the chicane lane for the lead car, but calls a competition timeout himself for transmission issues. Hamilton is unable to return to the line after his timeout expires, and Brandon Wicknick gets his first podium in Formula Drift history.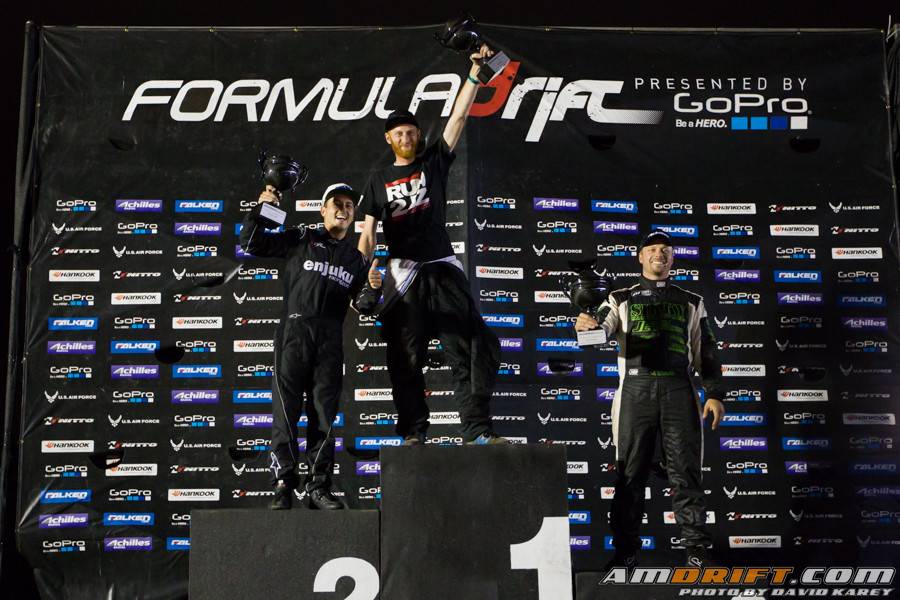 2014 Formula Drift Texas Pro 2 podium.
1st place – Brandon Wicknick
2nd place – Nate Hamilton
3rd place – James Evans
This website was created with the intention of giving our grassroots and up and coming friends the spotlight they deserve for staying true and dedicated to the sport of drifting. Brandon Wicknick has been a supporter and great friend of ours since before AmDrift was even an idea. We remember every single struggle in his team's journey throughout the years, being on the road for months at a time, sleeping in the same trailer that hauls the drift car, so many things that would kill the spirit of most people.
We are very proud of all these guys for coming out and giving it their all. Next stop, Irwindale.
Thanks for having us, Texas.
-David Karey