Formula DRIFT PRO 2 Round 3 at Texas Motor Speedway Results;
Brandon Wicknick Takes the Victory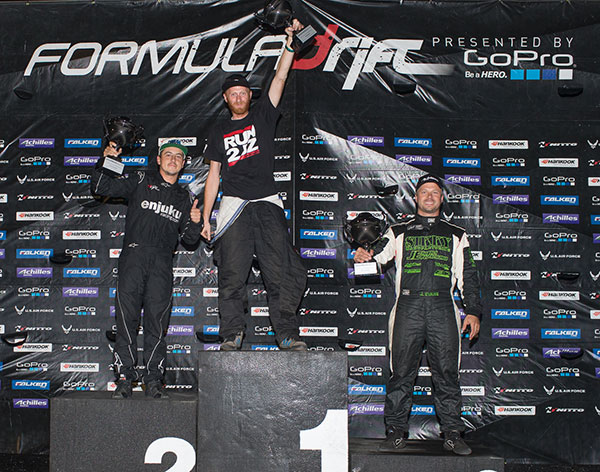 Long Beach, Calif. – September 12, 2014 – Formula DRIFT PRO 2 continued the season at Texas Motor Speedway with the third of four rounds of competition. Brandon Wicknick in the Driftmotion D-Spare Nissan 2JZ S13 takes the victory.
PRO 2 continued today at Texas Motor Speedway. PRO 2 was introduced as an intermediary series between the Formula DRIFT Pro-Am and Pro Championship to help drivers get acclimated to the competition level and venues, while gaining valuable experience. As the first year of the PRO 2, drivers that are eligible include both licensed Pro-Am and Pro Championship drivers. Drivers were also given the option to compete in both PRO 2 and the Pro Championship.
The finals pitted Nate Hamilton in the One44 Motorsports / Enkei Nissan 240SX against Wicknick. Unfortunately, Hamilton's vehicle had mechanical issues and was not able to make it to the line giving the victory to Wicknick. James Evans in the Sikky Manufacturing Nissan 350Z rounded out the podium in third place.
"I'm really happy about winning. It's been a long time coming," said Brandon Wicknick, winner of Round 3 of PRO 2. "Obviously there were circumstances that lead up to the finals that weren't ideal as I would of liked to fight harder for the win, but I can't complain. I'm super happy and I'm proud of our team."
With one event remaining in the inaugural PRO 2 season, less than 60 points separate the top five drivers in the chase for the PRO 2 championship. Currently, Geoff Stoneback is in the lead as the series heads into Irwindale Speedway for the finale.
"PRO 2 has added a new level of excitement to the event weekend," says Jim Liaw, President of Formula DRIFT. "The PRO 2 championship chase is and still up for grabs and Irwindale Speedway will be a true test for the drivers for the final event of the season."
The 2014 Formula DRIFT PRO 2 season continues with Round 4 on October 9-10 at Irwindale Speedway. For more information visit: www.formuladrift.com and find Formula DRIFT on Instagram @formulad, Facebook www.facebook.com/formuladrift and Twitter @FormulaDrift.
Formula DRIFT PRO 2 Standings After Three Rounds
1. Stoneback, Geoff GSR Nissan S14 – 228.50 Points
2. Savage, Dan Sikky Manufacturing Mazda RX-8 – 196.50 Points
3. Lowe, Jeremy Enjuku Racing Mazda RX-7 – 192.00 Points
4. Evans, James Sikky Manufacturing Nissan 350Z – 173.50 Points
5. Hamilton, Nate ONE44 Motorsports / Enkei Wheels Nissan 240SX – 169.00 Points
6. Coffman, Matt Coffman Racing / PSI Nissan S13 – 145.50 Points
7. Jones, Jeff CX Racing Nissan S14 – 138.50 Points
8. Parsons, Will NonStop Tuning AutoComp Racing Toyota AE86 – 122.50 Points
9. Rydquist, Carl Road Race Engineering / Berk Nissan 350Z – 109.00 Points
10. Wicknick, Brandon Driftmotion D-Spare Nissan 2JZ S13 – 103.00 Points
11. Hateley, Andy Hately Motorsports BMW E30 325i – 87.50 Points
12. Wolfson, Tyler GT Radial SAE Motorsport Mazda RX-7 – 86.00 Points
13. Cisneros, Tony 116 Motorsports Nissan 240SX – 86.00 Points
14. Hill, Eric Achilles Radial Fueled Racing 240SX – 74.50 Points
15. Rintanen, Juha Juha Rintanen Motorsport Nissan S14 – 73.00 Points
16. Mertzanis, Dannis ARK Performance Hyundai Genesis Legato AR1 FR-S – 71.50 Points
PRO 2 Round 3 Event Results
1. Wicknick, Brandon Driftmotion D-Spare Nissan 2JZ S13 – Winner
2. Hamilton, Nate ONE44 Motorsports / Enkei Wheels Nissan 240SX – 2nd Place
3. Evans, James Sikky Manufacturing Nissan 350Z – 3rd Place