Formula DRIFT Round 6: Showdown Results;
Fredric Aasbo is Victorious at Texas Motor Speedway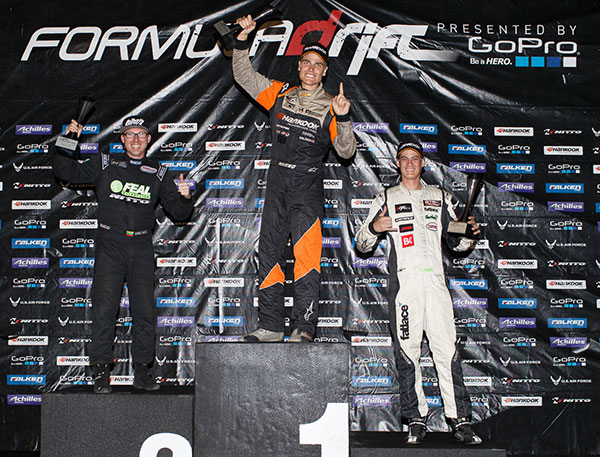 Long Beach, Calif. – September 14, 2014 – Formula DRIFT for the second consecutive year returned to Texas Motor Speedway for Round 6: Showdown. Fredric Aasbo in the Hankook Tire / Scion Racing tC takes his second victory of the season.
Round 6: Showdown held at Texas Motor Speedway brought professional drifting to Texas for the second consecutive year. The event featured the Round 2 of the PRO 2 series, Offset Kings car show, and action from the Pro Championship. The weather held up on the main event day providing clear skies and cool temperatures.
"The dramatic finish to this event has set-up a close battle between Fredric Aasbo and Chris Forsberg for the championship as we head into Round 7 at Irwindale Speedway," says Jim Liaw, President of Formula DRIFT. "The finale has always been an action packed event with drivers leaving it all on the line and we are excited to see how the championship chase unfolds."
The final four pitted number one qualifier, Forrest Wang in the Get Nuts Lab / Hankook / STR Racing Nissan S14 against Odi Bakchis in the Feal Suspension / Nitto Tire Nissan 240SX. After a One More Time battle, Wang out drove Bakchis to secure his second career podium to finish in third place. Point leader, Chris Forsberg in the Hankook Tire Nissan 370Z faced Hankook Tire teammate, Fredric Aasbo. Forsberg contacted Aasbo on his chase run to give Aasbo the advantage and ultimately the win moving him into the Finals. The Finals pitted Aasbo and Bakchis. In the second run, Bakchis spun out giving Aasbo the event victory. Aasbo closed the point gap heading into the final event of the season with 26 points separating him from Forsberg as they head into the final event of the 2014 season.
"This victory is for my team, for Scion, and for Hankook. This might feel like the weirdest victory ever as people took themselves out, but I'll take it and will see everyone in Irwindale," said Fredric Aasbo, winner of Round 6: Showdown. "My Hankook Tire teammate, Chris Forsberg and I have been battling it out all year and we are right where we want to be. We are right behind him and he has all the pressure on him. Irwindale is going to be a killer event."
The 2014 Formula DRIFT Championship season continues to Round 7: Final Fight at Irwindale Speedway on October 10-11. For more information visit: www.formuladrift.com and find Formula DRIFT on Instagram @formulad, Facebook www.facebook.com/formuladrift and Twitter @FormulaDrift.
Formula DRIFT Professional Championship Presented by GoPro 2014 Standings After Six Rounds
1. Forsberg, Chris Hankook Tire Nissan 370Z 493.00 Points
2. Aasbo, Fredric Hankook Tire Scion Racing tC 467.00 Points
3. Gittin Jr., Vaughn Monster Energy / Nitto Tire Ford Mustang RTR 359.50 Points
4. Bakchis, Aurimas "Odi" Feal Suspension / Nitto Tire Nissan 240SX 328.00 Points
5. Moen, Kenneth Bridges Racing Nissan 240SX 293.00 Points
6. McNamara, Darren Falken Tire Nissan S14 280.50 Points
7. Pawlak, Justin Falken Tire Ford Mustang 259.50 Points
8. Wang, Forrest Get Nuts Lab / Hankook Tire / STR Racing Nissan S14 257.50 Points
9. Kearney, Dean Oracle Lighting Dodge Viper SRT 252.00 Points
10. Tuerck, Ryan Retaks Maxxis Tires Air Force PSI Scion FR-S 213.00 Points
11. Grunewald, Conrad Megan Racing / Top 1 Oil / BRE Chevrolet Camaro 211.50 Points
12. Nishida, Robbie Achilles Radial / Bridges Racing Lexus SC300 208.50 Points
13. Gushi, Ken GReddy Performance / Scion Racing Drift FR-S 192.50 Points
14. McQuarrie, Tyler GoPro / Mobil 1 Chevrolet Camaro 188.50 Points
15. Essa, Michael Essa Autosport / Yokohama BMW M3 183.50 Points
16. DeNofa, Chelsea BC Racing / Nitto Tire BMW 3-Series 172.50 Points
Round 6: Showdown Event Results
1. Aasbo, Fredric Hankook Tire Scion Racing tC Winner
2. Bakchis, Aurimas "Odi" Feal Suspension / Nitto Tire Nissan 240SX 2nd Place
3. Wang, Forrest Get Nuts Lab / Hankook Tire / STR Racing Nissan S14 3rd Place
Manufacturers Championship Standings After Six Rounds
1. Scion 725.00 Points
2. Nissan 636.00 Points
3. Ford 619.00 Points
4. Chevy 400.00 Points
5. BMW 356.00 Points
Tire Championship Standings After Six Rounds
1. Hankook 962.50 Points
2. Nitto 748.50 Points
3. Achilles 647.00 Points
4. Falken 592.50 Points
5. Maxxis 347.00 Points