Ready to Drift: Scion Racing Prepares For Season's Final Formula DRIFT Showdowns
Last High-Powered Events in Fort Worth, Texas, and Irwindale, California, to Bring Out Thousands of Fans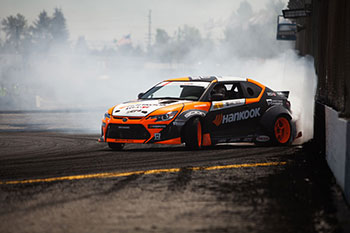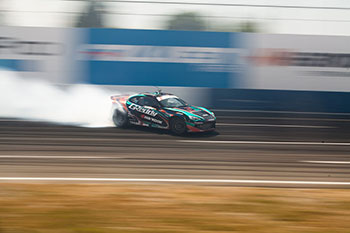 Long Beach, Calif. – September 9, 2014 – With the Formula DRIFT podium in reach for Scion Racing, drivers Fredric Aasbo and Ken Gushi are revving up their engines for the final two rounds. Round 6 will take place Sept. 12-13 at Texas Motor Speedway in Fort Worth, Texas, and Round 7 on Oct. 10-11 at Irwindale Speedway in Irwindale, California.
In the highly competitive Formula DRIFT field, 2014 Hankook tC driver Aasbo emerged as a fierce competitor this year, currently holding second place. In addition, 2014 GReddy FR-S driver Gushi ranks in 14th place, after both drivers fought to overcome challenges on the track throughout the season.
"With a little luck, a very competitive tC vehicle and a lot of hard work from the team, it's been a really successful ride this season," Aasbo said. "For the final event at Irwindale Speedway, we will increase the power and really push the limits to end the season strong. Hopefully with a win!"
The Irwindale Speedway holds the title "House of Drift" for its role popularizing the racing style. The event is expected to draw more than 15,000 fans from around the region. Both in Texas and California, drivers will face demanding tracks and hot temperatures that require vehicle adjustments.
"There's nothing quite like the challenge and adrenaline of these final two races, and I'm looking forward to giving fans a show," Gushi said. "Every race this season has put our team to the test, and I can't wait to take the FR-S out to finish it right." Fans attending the final Formula DRIFT rounds can anticipate Scion Racing on-site. The limited edition FR-S Release Series 1.0 vehicle will be at Irwindale Speedway to showcase its unique racing-inspired features, including a custom-designed aero kit with a rear spoiler.
"These final two Formula DRIFT rounds will challenge Frederic Aasbo and Ken Gushi while capping off an extremely successful Scion Racing season," said Landy Joe, Scion auto shows and special events manager. "Anyone who wants to witness the capabilities of the Scion tC and FR-S in a new light should be in the crowd at Texas Motor Speedway or Irwindale Speedway."
For more details about Scion Racing, visit www.ScionRacing.com for blog entries, photos and video content.