Formula DRIFT Round 2: Road to the Championship Results;
Aurimas "Odi" Bakchis Takes His First Victory Moves into First Place in the Standings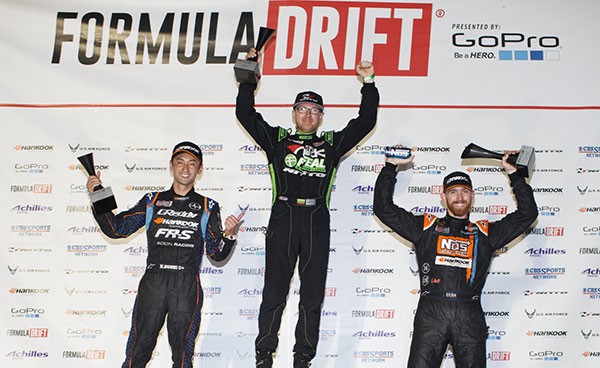 Long Beach, Calif. – May 9, 2015 – Formula DRIFT presented by GoPro returned to Road Atlanta for Round 2: Road to the Championship. Aurimas "Odi" Bakchis in the Feal Suspension / ARK Performance / Nitto Tire Nissan 240 SX takes the victory for his first Formula DRIFT win of his career and rises to the top of the standings.
Round 2: Road to the Championship was a night of upsets as the top qualifiers failed to move past the early rounds of the competition. The action packed event provided the fans with a competitive atmosphere that kept them on their feet throughout the night. 240,000 fans tuned in to watch the competition unfold on the Livestream broadcast during the event weekend.
"This season thus far has been very competitive," says Jim Liaw, President of Formula DRIFT. "The competition is as tough as ever as can be proven by all the upsets tonight. It will be exciting to watch how the season unfolds especially as we head into a brand new venue at Orlando Speedworld for the next round."
The semi-finals were a challenge for both defending champion, Chris Forsberg in the NOS Energy Drink / Hankook Tire Nissan 370Z and Ken Gushi in the GReddy Racing / Hankook Tire Scion Racing FR-S as their battles were too close to determine a definitive winner by the judges, leading to multiple one more time battles. During their third battle, Gushi edged out Forsberg with his close proximity on his chase run giving him the win, while Forsberg inches his way up the rankings to third place. The Finals pitted Gushi and Bakchis. Bakchis' speed was too much for Gushi as he took an early lead in his lead run, which lead to his first Formula DRIFT victory and moves him into first place in the standings. Gushi found the podium for the first time since the 2009 season and moves into fifth place overall. "It feels great to get my first win," said Aurimas Bakchis, winner of Round 2: Road to the Championship. "Road Atlanta is my favorite venue and I'm super stoked to continue the momentum I set in Long Beach. Currently sitting in first for the Championship and it feels amazing!"
The 2015 Formula DRIFT season will continue to Round 3: Uncharted Territory on June 5-6 and for the first time be held at Orlando Speedworld. For more information visit: www.formuladrift.com and find Formula DRIFT on Instagram, Facebook and Twitter.
Round 2: Road to the Championship Event Results
1. Bakchis, Aurimas Feal Suspension / ARK Performance / Nitto Nissan 240SX Winner
2. Gushi, Ken GReddy Racing / Hankook Tire Scion Racing FR-S 2nd Place
3. Forsberg, Chris NOS Energy Drink / Hankook Tire Nissan 370Z 3rd Place
4. Wang, Forrest Get Nuts Lab Nissan S15 4th Place
5. Moen, Kenny Bridges Racing / Achilles / Gatebil Nissan S14 5th Place
6. Ng, Charles Maxxis / Sparkplugs.com Infiniti G37 6th Place
7. Goodin, Pat Enjuku Racing / Falken Tire Nissan S13 7th Place
8. Stoneback, Geoff Geoff Stoneback Racing Nissan S14 8th Place
9. Pawlak, Justin Roush Performance Car Crafters Ford Mustang 9th Place
10. Aasbo, Fredric Rockstar Energy Drink / Hankook Tire Scion tC 10th Place
11. Grunewald, Conrad Always Evolving / Replay / GT Radial Chevy Camaro 11th Place
12. Gittin, Vaughn Monster Energy / Nitto Tire Ford Mustang RTR 12th Place
13. Whiddett, Mike Red Bull Mazda MX-5 13th Place
14. Tuerck, Ryan Ryan Tuerck Racing / Retaks / Maxxis Scion FR-S 14th Place
15. Hohnadell, Alec 11 Racing Nissan S14 15th Place
16. Yokoi, Masashi D-Max Nissan S15 16th Place
2015 Formula DRIFT Championship Presented by GoPro Top 3 Standings After Two Events
1. Bakchis, Aurimas Feal Suspension / ARK Performance / Nitto Nissan 240SX 187.00 Points
2. Aasbo, Fredric Rockstar Energy Drink / Hankook Tire Scion tC 143.00 Points
3. Forsberg, Chris NOS Energy Drink / Hankook Tire Nissan 370Z 106.00 Points
Manufacturers Championship Standings After Two Rounds
1. Scion 295.00 Points
2. Ford 163.00 Points
3. Nissan 143.00 Points
4. Chevrolet 125.00 Points
5. Toyota 87.00 Points
6. Infiniti 85.00 Points
7. Mazda 72.00 Points
8. Dodge 36.00 Points
9. BMW 34.00 Points
Tire Championship Standings After Two Rounds
1. Hankook 295.00 Points
2. Nitto 275.00 Points
3. Falken 190.00 Points
4. Maxxis 188.00 Points
5. Achilles 187.00 Points
6. Yokohama 139.00 Points
7. GT Radial 107.00 Points