Formula DRIFT Round 2: Advance Auto Parts Road to the Championship Results;
Vaughn Gittin Wins the Event and Takes Over Lead in the Standings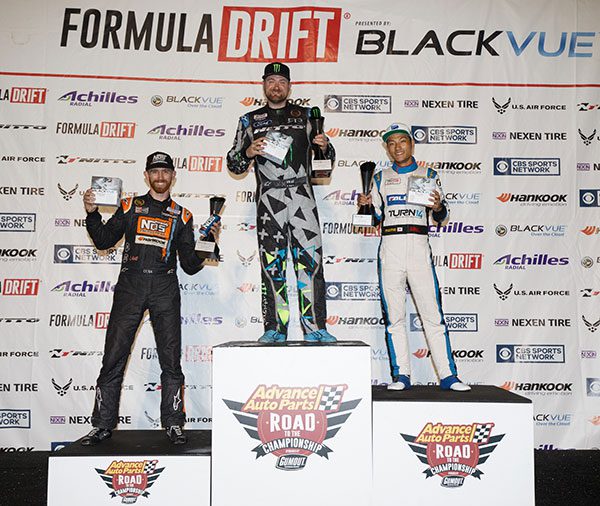 Long Beach, Calif. – May 7, 2016 – Formula DRIFT presented by BlackVue returned to Atlanta for Round 2: Advance Auto Parts Road to the Championship sponsored by Gumout. Vaughn Gittin in the Monster Energy / Nitto Tire Ford Mustang RTR takes the victory to move into the lead in the Pro Championship standings.
The Advance Auto Parts Road to the Championship sponsored by Gumout returned to the home of the inaugural Formula DRIFT event. The event weekend featured both the PRO 2 championship and Pro Championship with a full schedule of on-track action.
"Road Atlanta is not only the first track to host Formula DRIFT, 13 years ago, but also a driver favorite course," said Jim Liaw, President of Formula DRIFT. "The action is always exciting and the crowd's energy help make this one of the best events on the circuit."
The Pro Championship point standings were shaken up with the top three point leaders being knocked out in the Top 32 competition. Experience proved to be a factor with the Top 4 including three past champions, who also have competed at every Formula DRIFT event at Road Atlanta since the beginning. Two-time champion, Chris Forsberg in the NOS Energy Drink / Hankook Nissan 370Z faced off against 2010 champion and the number one qualifier, Vaughn Gittin. Gittin outperformed his close friend, Forsberg, in a close battle to move into the Finals. 2011 champion, Dai Yoshihara in the Falken Tire / Turn 14 Subaru BRZ faced against the young gun, Alec Hohnadell in the Hohnadell / Enjuku / Get Nuts Lab Nissan S14. Yoshihara advanced to meet Gittin in the Finals. Gittin was no match for Yoshihara and completed the perfect weekend, earning both the top qualifying spot and the victory, while moving into the Pro Championship points lead. Yoshihara notably saw his first podium since 2013, while Forsberg finished in third place.
"To have a perfect event with our brand new Ford Mustang RTR that my team has been working their butts off during the off-season to get ready I'm just pumped." said Vaughn Gittin, winner of Round 2: Road to the Championship. "It doesn't get any better than this. I'm just looking forward to the rest of the year."
The 2016 Formula DRIFT Pro Championship will continue to Round 3: Unchartered Territory on June 3-4 at Orlando Speedworld. For more information visit, www.formulad.com and find Formula DRIFT on Instagram @formulad, Facebook www.facebook.com/formuladrift, Twitter @FormulaD, and snapchat formula_drift. Tune into Formula DRIFT on CBS Sports and check your local listings for airtimes.
Round 2: Road to the Championship Event Results
1. Gittin, Vaughn Monster Energy / Nitto Tire Ford Mustang RTR Winner
2. Yoshihara, Dai Falken Tire / Turn 14 Subaru BRZ 2nd Place
3. Forsberg, Chris NOS Energy Drink / Hankook Tire Nissan 370Z 3rd Place
4. Hohnadell, Alec Hohnadell / Enjuku / Get Nuts Lab Nissan S14 4th Place
5. Bakchis, Aurimas Ark Performance / Feal Suspension / Falken Hyundai Genesis 5th Place
6. Foust, Tanner Rockstar Energy Drink / Nexen Tire VW Passat 6th Place
7. McQuarrie, Tyler Mobil 1 Chevrolet Camaro 7th Place
8. Essa, Michael Loudmouth Exhaust / Achilles Tire BMW M3 8th Place
9. Whiddett, Mike Red Bull / Nitto Tire Mazda MX5 9th Place
10. Wang, Forrest Get Nuts Lab / Hankook S15 10th Place
11. Stoneback, Geoff CFR / Hankook Nissan 370Z 11th Place
12. Mordaunt, Patrick Drift Paddock Nissan 350Z 12th Place
13. Moen, Kenny Team Boost Lock BMW E46 13th Place
14. Rintanen, Juha PP Design and Art Nissan S15 14th Place
15. Kugay, Faruk Raze'til! MFR Nisssan S14 15th Place
16. Jones, Jeff DOC Racing Nissan S14 16th Place
2016 Formula DRIFT Championship Presented by BlackVue Standings After 2 Events
1. Gittin, Vaughn Monster Energy / Nitto Tire Ford Mustang RTR 155.00 Points
2. Denofa, Chelsea BC Racing / GT Radial BMW 119.00 Points
3. Bakchis, Aurimas Ark Performance / Feal Suspension / Falken Hyundai Genesis 116.00 Points
2016 Manufacturer Championship Standings After 2 Events
1. BMW 202.00 Points
2. Ford 191.00 Points
3. SR by Toyota 185.00 Points
4. Nissan 151.00 Points
5. Mazda 101.00 Points
6. Chevrolet 83.00 Points
7. Dodge 51.00 Points
8. Infiniti 48.00 Points
9. Lexus 34.00 Points
2016 Tire Championship Standings After 2 Events
1. Nexen 262.00 Points
2. Falken 248.00 Points
3. Nitto 222.00 Points
4. Hankook 199.00 Points
5. GT Radial 153.00 Points
7. Achilles 149.00 Points