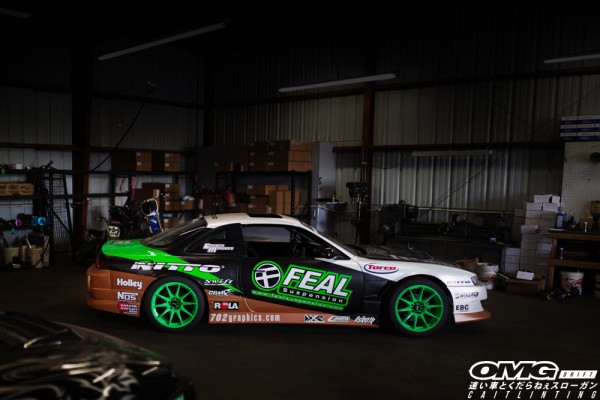 For immediate release (Ontario, CA) – Aurimas Bakchis ("Odi") has announced new partnerships for the 2014 drifting season including the team title and tire sponsors.  This will be Bakchis' fourth season competing in the Formula Drift USA series after finishing tenth overall in the 2013 season.   He will use his Nissan 240SX S14 chassis with a newly-built LS3 engine platform for 2014.
Feal Suspension, Inc. will be the title sponsor for 2014 and Bakchis will continue to utilize Feal 441 coilovers on the competition vehicle.  The company has been involved with Bakchis' professional drift program since his rookie season in 2011.
Additionally, Nitto Tire U.S.A. Inc. will be the official tire sponsor for Bakchis' upcoming season.  Bakchis has stated that he is excited to be a part of the Nitto Tire team which has been a well-known and successful tire program in the Formula Drift series.
The 2014 Formula Drift series kicks off in Long Beach, California on April 4-5 where the team will debut the updated vehicle set up.  With support from these new and continued partnerships including Torco Advanced Lubricants, 702 Graphics.com, Clutch Masters, Dstroyr, EBC Brakes, CBM, Holley Performance, Hooker Headers, Nitrous Oxide Systems, Rola A/V, XXR Wheels, Weir Performance, McCune Deign & Mfg, Canton Racing, Extreme Dimensions, and Wisefab, the 2014 drift season promises to be exciting.  Bakchis looks forward to employing the valuable resources of his current partners and applying his knowledge gained over the past three years of competition. Additional information can be found at www.bakchismotorsports.com.   
For more information and photos, click here.