Formula DRIFT Round 3: Unchartered Territory Results;
Ryan Tuerck Takes the Victory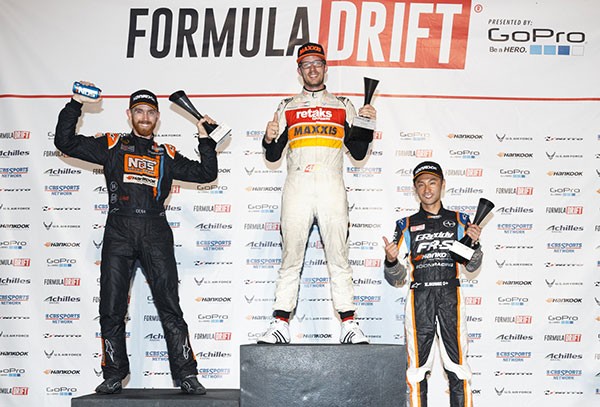 Long Beach, Calif. – June 6, 2015 – Formula DRIFT presented by GoPro entered Orlando Speed World for the first time for Round 3: Unchartered Territory. Ryan Tuerck in the Retaks / Maxxis Scion FR-S takes the event victory and moves into second place in the standings.
Round 3: Unchartered Territory lived up to its moniker as the Series entered Orlando Speed World for the first time. 637,000 viewers tuned into the Driftstream during the weekend and were not disappointed. Despite the inclement weather, the action on track was very competitive. The new track would prove to be challenging even for the most seasoned of veterans.
"We were happily surprised with the at capacity crowd attendance for our first time at Orlando Speed World," says Jim Liaw, President of Formula DRIFT. "Florida has always been a key demographic for the Series and now I think we have found a sweet spot in Central Florida."
The event was full of upsets and surprises. The semi-finals was a rematch from the last event with defending champion, Chris Forsberg in the NOS Energy Drink / Hankook Tire Nissan 370Z and Ken Gushi in the GReddy Racing / Hankook Tire Scion Racing FR-S going head to head. On Forsberg's lead run contact was made that was ruled to be Gushi's fault giving him a zero. During the same run, but unrelated to the cars' contact, Forsberg's vehicle caught on fire which forced Forsberg to utilize his fire suppression system. That then led to his car being non-operational from that point forward. Forsberg was awarded the win over Gushi and was set to meet Tuerck in the Finals, but unable to continue through the competition due to the complications with his car, Forsberg was forced to bow out giving Tuerck the victory to move him into second place in the standings. Gushi moves up to fourth place and Forsberg into third place overall while securing both their second consecutive podium finishes.
"The weekend had its ups and downs. We barely moved on in the Top 32 and then moved on against Yokoi when his car caught on fire. The only battle we then had was in the semi-finals against Matt Field. Then against Forsberg's car caught on fire and he couldn't continue and I got the win on a technicality," said Ryan Tuerck, winner of Round 3: Unchartered Territory. "A wins a win. Thanks to my team they worked hard regardless and it feels good to secure a little bit of a points gap."
The 2015 Formula DRIFT season will continue to Round 4: The Gauntlet on June 26-27 at Wall Speedway in New Jersey. For more information visit: www.formuladrift.com and find Formula DRIFT on Instagram, Facebook and Twitter. Tune into Formula DRIFT on CBS Sports and check your local listings for airtimes.
Round 3: Unchartered Territory Event Results
1. Tuerck, Ryan
Ryan Tuerck Racing / Retaks / Maxxis Scion FR-S
Winner
2. Forsberg, Chris
NOS Energy Drink / Hankook Tire Nissan 370Z
2nd Place
3. Gushi, Ken
GReddy Racing / Hankook Tire Scion Racing FR-S
3rd Place
4. Field, Matt
CX Racing / Yokohama Tire Nissan S14
4th Place
5. Mordaunt, Pat
DriftPaddock.com / Falken Tire Nissan 350Z
5th Place
6. Gittin, Vaughn
Monster Energy / Nitto Tire Ford Mustang RTR
6th Place
7. Yokoi, Masashi
D-Max Nissan S15
7th Place
8. Hohnadell, Alec
11 Racing Nissan S14
8th Place
9. McQuarrie, Tyler
GoPro / Mobil 1 Chevrolet Camaro
9th Place
10. Bakchis, Aurimas
Feal Suspension / ARK Performance / Nitto Nissan 240SX
10th Place
11. Whiddett, Mike
Red Bull Mazda MX-5
11th Place
12. Nishida, Robbie
Achilles Radial Infiniti G37S
12th Place
13. Evans, James
SIKKY Racing Nissan 350Z
13th Place
14. Moen, Kenny
Bridges Racing / Achilles / Gatebil Nissan S14
14th Place
15. Kearney, Dean
Oracle Lighting / Achilles Motorsports Dodge Viper
15th Place
16. Castro, Jhonnattan
E3 / Hankook / Progreso Nissan 370Z
16th Place
2015 Formula DRIFT Championship Presented by GoPro Top 3 Standings After Three Events
1. Bakchis, Aurimas
Feal Suspension / ARK Performance / Nitto Nissan 240SX
223.00 Points
2. Tuerck, Ryan
Ryan Tuerck Racing / Retaks / Maxxis Scion FR-S
208.00 Points
3. Forsberg, Chris
NOS Energy Drink / Hankook Tire Nissan 370Z
189.00 Points
Manufacturers Championship Standings After Three Rounds
1. Scion
471.00 Points
2. Nissan
261.00 Points
3. Ford
234.00 Points
4. Chevrolet
179.00 Points
5. Mazda
125.00 Points
6. Toyota
87.00 Points
7. Infiniti
85.00 Points
8. Dodge
70.00 Points
9. BMW
52.00 Points
Tire Championship Standings After Three Rounds
1. Hankook
449.00 Points
2. Nitto
362.00 Points
3. Maxxis
188.00 Points
4. Falken
278.00 Points
5. Achilles
272.00 Points
6. Yokohama
259.00 Points
7. GT Radial
143.00 Points