Formula DRIFT PRO 2 Orlando Speed World Results;
Alex Heilbrunn Takes the Victory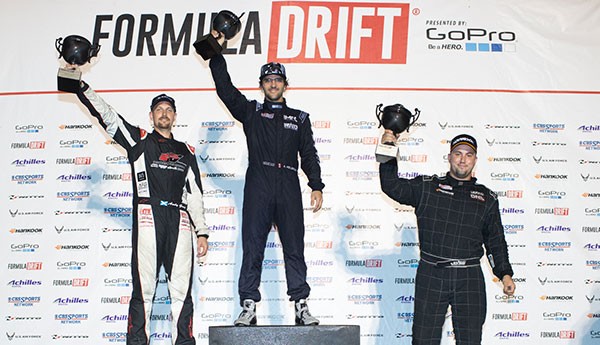 Long Beach, Calif. – June 5, 2015 – Formula DRIFT PRO 2 began the season at Orlando Speed World with the first of four rounds of competition. Alex Heilbrunn in the IMR BMW 3-Series takes the victory and the lead in the standings.
PRO 2 kicked off the season with the first event at Orlando Speed World. This marks the first PRO 2 event to be held at the venue.
"In its second year, PRO 2 has proven to be a great way for drivers to get acclimated to the tracks and the level of competition," says Jim Liaw, President of Formula DRIFT. "Alex Heilbrunn is a great example of an international driver, hailing from Lima, Peru, who made his way through the Pro-AM Series and now has found success in PRO 2."
Heilbrunn met Andy Gray in the DriftEbisu.com / Achilles Tire Toyota Chaser, a regular of Formula DRIFT Japan, in the Finals. Heilbrunn remained consistent throughout the night and out drove his opponents to gain his first victory in Formula DRIFT PRO 2 and gain the lead in the standings in the first of four events for the season. Rounding out the podium was Jeff Jones in third place in the DNA Motoring Nissan S14.
"We are super excited to be here at Formula DRIFT PRO 2 for the first time," said Alex Heilbrunn, winner of Round 1 of 4 events of PRO 2 Championship. "We qualified first and got the win, so it was a perfect weekend for me. I want to thank my team and everyone that made it possible."
The 2015 Formula DRIFT season will continue to Round 4: The Gauntlet on June 26-27 at Wall Speedway in New Jersey. For more information visit: www.formuladrift.com and find Formula DRIFT on Instagram, Facebook and Twitter. Tune into Formula DRIFT on CBS Sports and check your local listings for airtimes.
PRO 2 – Round 1 of 4 – Orlando Speed World Event Results

1. Heilbrunn, Alex
IMR BMW 3-Series
Winner
2. Gray, Andy
DriftEbisu.com / Achilles Tire Toyota Chaser
2nd Place
3. Jones, Jeff
DNA Motoring Nissan S15
3rd Place
4. Briggs, Dave
Briggs Racing Nissan S14
4th Place
5. Wolfson, Jeff
Scion FR-S
5th Place
6. Wicknick, Brandon
Chase Bays / RUN2JZ Nissan S13
6th Place
7. Patterson, Brandon
Damascus Apparel Nissan S14
7th Place
8. Rintanen, Juha
Nissan S14
8th Place
9. Evans, James
Sikky Racing Nissan 350Z
9th Place
10. Lawrence, Kevin
Nissan S13
10th Place
11. Cleef, Tommy Van
Van Cleef Motorsports Toyota Supra
11th Place
12. Goble, Brody
Indy Speed Shop V8 Nissan 240SX
12th Place
13. Hull, Taylor
Nissan S14
13th Place
14. Kugay, Faruk
Nissan S14
14th Place
15. Litteral, Ryan
Nissan S14
15th Place
16. Rowlings, Kelsey
Nissan S14
16th Place

2015 Formula DRIFT PRO 2 Top 3 Standings After One Event

1. Heilbrunn, Alex
IMR BMW 3-Series
107.00 Points
2. Gray, Andy
DriftEbisu.com / Achilles Tire Toyota Chaser
83.00 Points
3. Jones, Jeff
DNA Motoring Nissan S15
67.00 Points