Formula DRIFT Round 4 The Gauntlet Results;
Fredric Aasbo is Victorious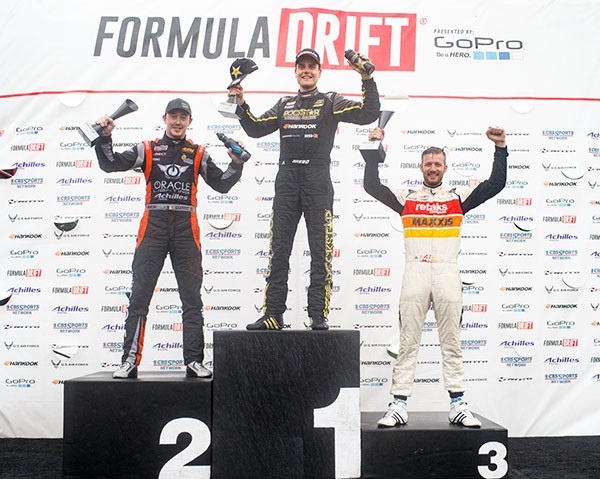 Long Beach, Calif. – June 28, 2015 – Formula DRIFT presented by GoPro returned to Wall Speedway in Wall Township, New Jersey for Round 4: The Gauntlet. Fredric Aasbo in the Rockstar Energy Drink / Hankook Scion tC takes the victory and moves into third place in the standings.
Round 4: The Gauntlet saw challenging conditions due to the inclement weather. The varying dry and wet conditions on the track through the event created an additional element that the drivers had to overcome in order to advance through the rounds of competition. The action was competitive with many close battles. 300,000 fans tuned in through the event weekend on the Driftstream.
"As we approach the halfway point of the season we are in the tightest race for the championship with only 7 points separating the top three drivers," said Jim Liaw, President of Formula DRIFT. "With only three events remaining in the season, the championship is still up for grabs. We expect the championship to come down to the wire in one of the most exciting seasons to date."
The semi-finals saw Ryan Tuerck in the Retaks / Maxxis / Nameless Performance Scion FR-S battle it out against Dean Kearney in the Oracle Lighting / Achilles Motorsports Dodge Viper. Kearney edged out Tuerck to advance to the Finals. Fredric Aasbo faced off against Masashi Yokoi and after a close battle, Aasbo took the victory to face Kearney. Consistency in the wet condition proved to be the deciding factor for Aasbo as he was able to take his second consecutive victory at Wall Speedway moving into third place in the chase for the championship only 7 points behind the leader. Tuerck with his third place finish rises to the top of the standings by a mere point over Aurimas Bakchis in second place.
"What an amazing win! We are back in the hunt for the championship and I couldn't be happier," said Fredric Aasbo, winner of Round 4: The Gauntlet. "Big thanks to Rockstar Energy Drink, Scion Racing, and of course Hankook Tire on their home turf. I think we were able to prove our extreme prowess in the rain."
The 2015 Formula DRIFT season will continue to Round 5: Throwdown on July 24-25, 2015 at Evergreen Speedway in Monroe, WA. For more information visit: www.formuladrift.com and find Formula DRIFT on Instagram, Facebook and Twitter. Tune into Formula DRIFT on CBS Sports and check your local listings for airtimes.
Round 4: The Gauntlet Event Results
1. Aasbo, Fredric Rockstar Energy Drink / Hankook Scion tC Winner
2. Kearney, Dean Oracle Lighting / Achilles Motorsports Dodge Viper 2nd Place
3. Tuerck, Ryan Ryan Tuerck Racing / Retaks / Maxxis Scion FR-S 3rd Place
4. Yokoi, Masashi D-Max Nissan S15 4th Place
5. Gushi, Ken GReddy Racing / Hankook Tire Scion Racing FR-S 5th Place
6. Denofa, Chelsea BC Racing Chelsea DeNofa Motorsports GT Radial BMW 6th Place
7. Bakchis, Aurimas Feal Suspension / ARK Performance / Nitto Nissan 240SX 7th Place
8. Wang, Forrest Get Nuts Lab Nissan S15 8th Place
9. Pawlak, Justin Roush Performance / Car Crafters Ford Mustang 9th Place
10. Goodin, Pat Enjuku Racing / Falken Tire Nissan S13 10th Place
11. Moen, Kenny Bridges Racing / Achilles / Gatebil Nissan S14 11th Place
12. Forsberg, Chris NOS Energy Drink / Hankook Tire Nissan 370Z 12th Place
13. Mordaunt, Pat DriftPaddock.com / Falken Tire Nissan 350Z 13th Place
14. Castro, Jhonnattan E3 / Hankook / Progreso Nissan 370Z 14th Place
15. Field, Matt CX Racing / Yokohama Nissan S14 15th Place
16. Saito, Daigo Achilles Radial Nissan GT-R 16th Place
2015 Formula DRIFT Championship Presented by GoPro Top 3 Standings After Four Rounds
1. Tuerck, Ryan Ryan Tuerck Racing / Retaks / Maxxis Scion FR-S 275.00 Points
2. Aurimas "Odi" Bakchis Feal Suspension / ARK Performance / Nitto Nissan 240SX 274.00 Points
3. Aasbo, Fredric Rockstar Energy Drink / Hankook Scion tC 268.00 Points
Manufacturers Championship Standings After Four Rounds
1. Scion 644.00 Points
2. Nissan 331.00 Points
3. Ford 290.00 Points
4. Chevrolet 215.00 Points
5. Dodge 152.00 Points
6. Mazda 143.00 Points
7. Infiniti 140.00 Points
8. Toyota 105.00 Points
9. BMW 104.00 Points
Tire Championship Standings After Four Rounds
1. Hankook 610.00 Points
2. Nitto 432.00 Points
3. Achilles 390.00 Points
4. Maxxis 360.00 Points
4. Yokohama 360.00 Points
6. Falken 351.00 Points
7. GT Radial 213.00 Points