Formula DRIFT Round 4: The Gauntlet Results;
Aurimas Bakchis Fights His Way to Victory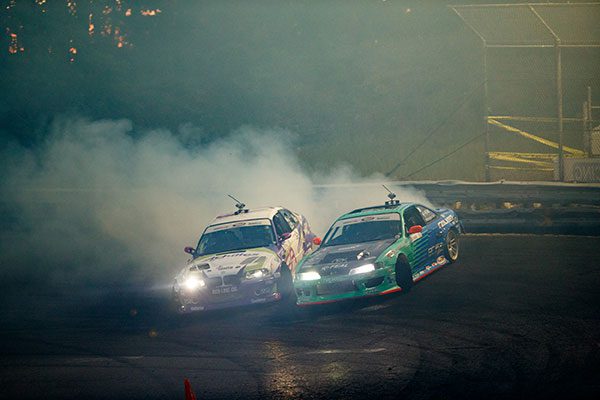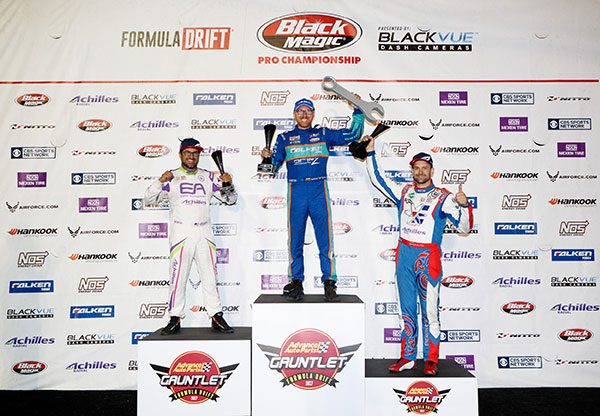 Long Beach, Calif. – June 3, 2017 – Formula DRIFT Black Magic Pro Championship presented by BlackVue Dash Cameras returned to Wall Speedway in New Jersey for the fourth event of the season. Aurimas "Odi" Bakchis in the Falken Tire / Drifz Wheels Nissan 240 battled his way to victory.
"As we hit the half way point of the season, there's still plenty of action left," said Jim Liaw, president and co-founder of Formula DRIFT. "These are the best drifters from around the world and the championship is still up for grabs."
The Advance Auto Parts Round 4: The Gauntlet showcased tough competition throughout the event weekend. Over 1 million viewers tuned into the Livestream to watch the exciting action.
The Final 4 pitted Michael Essa in the Achilles Tire / Essa Autosport BMW M3 against Kristaps Bluss in the HGK / Mast / Motul / Wisefab BMW E46 on one side of the bracket. The battle of the BMWs went to the 2013 champion, Essa as he took advantage of a mistake by his opponent. Bakchis was set to face off against Matt Coffman in the Nexen Tire / Coffman Racing Nissan 240, but after failing to repair his vehicle within the allotted 5 minutes, Coffman had to bow out giving Bakchis the win. In the final battle, Essa faced off against Bakchis, with the first run being a very competitive outing. The second battle ended in dramatic fashion as Essa's tire debeaded coming off the bank and Bakchis' motor gave out just as he crossed the finish line. Bluss rounded out the podium in third place for the second consecutive event.
"I feel amazing. It was a very hard battle for us the whole weekend," said Aurimas "Odi" Bakchi, winner of the Advance Auto Parts Round 4: The Gauntlet. "We had lots of challenges, but my crew pulled it together and allowed me to drive like an animal and kept my car somewhat together just enough as it literally blew up right at the finish line. The timing couldn't have been better and I couldn't be happier."
The action continues to Round 5: True North at Autodrome St-Eustache in Montreal, Canada on July 15-16. For more information visit, www.formulad.com and find Formula DRIFT on Instagram @formulad, Facebook www.facebook.com/formuladrift, Twitter @FormulaDrift, and Snapchat – formula_drift. Tune into Formula DRIFT on CBS Sports and check your local listings for airtimes.

Advance Auto Parts Round 4: The Gauntlet Event Results
1. Bakchis, Aurimas Falken Tire / Drifz Wheels Nissan 240 Winner
2. Essa, Michael Achilles Tire / Essa Autosport BMW M3 2nd Place
3. Bluss, Kristaps
HGK / Mast / Motul / Wisefab BMW E46 3rd Place
4. Coffman, Matt Nexen Tire / Coffman Racing Nissan 240 4th Place
5. Deane, James Worthouse Drift Team / Falken Tire Nissan Silvia 5th Place
6. Aasbo, Fredric Rockstar Energy / Nexen Tire Toyota Corolla iM 6th Place
7. Yoshihara, Dai Falken Tire / Turn 14 Distribution Subaru BRZ 7th Place
8. Jones, Jeff DOC Racing Nissan 240 8th Place
9. Denofa, Chelsea BC Racing / Nitto Tire Ford Mustang RTR 9th Place
10. Tuerck, Ryan Gumout / Nameless Performance / Hankook Toyota 86Falken 10th Place
11. Pawlak, Justin Roush Performance Ford Mustang 11th Place
12. Gittin, Vaughn Monster Energy / Nitto Tire Ford Mustang RTR
12th Place
13. Rintanen, Juha STR Racing Wheels / Nexen Tire Nissan Silvia 13th Place
14. Heilbrunn, Alex IMR / Nitto Tire BMW M3
14th Place
15. Hamilton, Nate Team Enjuku / BC Racing / Hankook Tire Nissan 240 15th Place
16. Nishida, Robbie Jerry Yang Racing Nissan GT-R 16th Place
2017 Formula DRIFT Black Magic Championship Presented by BlackVue Standings After 4 Events
1. Deane, James Worthouse Drift Team / Falken Tire Nissan 240 297.00 Points
2. Essa, Michael Achilles Tire / Essa Autosport BMW M3 241.00 Points
3. Aasbo, Fredric Rockstar Energy / Nexen Tire Toyota Corolla iM 230.00 Points
2017 Manufacturer Championship Standings After 4 Events
1. Toyota 441.00 Points
2. Ford 326.00 Points
3. BMW 241.00 Points
4. Dodge 204.00 Points
5. Nissan 155.00 Points
6. Mazda 86.00 Points
2017 Tire Championship Standings After 3 Events
1. Falken 590.00 Points
2. Achilles 526.00 Points
3. Nexen 483.00 Points
4. Hankook 398.00 Points
5. Nitto 373.00 Points