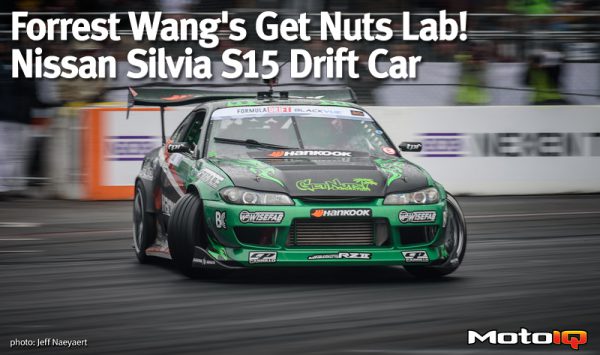 If you are a fan of drifting, then you know all about Forrest Wang, who is renowned for his spectacular high angle and smoky driving style. His car builds have a lot of style as well and we have been trying to catch up with him for a year to be able to capture one of his masterpieces in a story.
The basis of Forrest's competition is a Japanese Model Nissan Silvia S15.  The S15 was never imported into the USA due to some boneheads in Nissan USA's product planning department not thinking that it was a viable car for our Market.  If you have ever driven an S15 you would know what a great car it was.  In fact all S chassis cars had great potential that was neutered out of them when they were imported into the USA by questionable choices like the installation of truck engines and such, but that's a different rant for a different day.
The S15 is a great looking and handling car but it's 2 liter SR20DET engine has no where near enough power for todays world of pro drifting even when modified to the limit. This was all resolved when Forrest's Get Nuts Lab got there hands on the car to transform it into the potent machine shown here.
We have always been enamored with the craftsmanship of Get Nuts Labs builds.  The builds are not just well executed technically but show a great taste in esthetics, blending form and function seamlessly. You can see the seam welding of the chassis unibody mixed with the tube chassis elements reinforced with beautiful dimple die plates finished with Forrest's signature green paint.
The first order of business was to rip out the 2000cc SR20DET engine and replace it with a heavily modified Toyota 2JZ-GTE inline six cylinder.  The engine is no ordinary 2JZ. Displacing 3.4 liters up from the stock 3 liters it can produce more than 900 hp, easily equaling many of its V8 rivals.
The 2JZ's bottom end is fortified with a Brian Crower billet stroker crank and connecting rods.  CP pistons hold the considerable combustion pressure at bay. The crank and rods spin on Clevite tri metal bearings. The factory oil pump is maintained with Brian Crower billet gears.  The oil pump housing is ported on the suction side to reduce cavitation. Surprisingly the stock OEM Toyota head gasket is used. ARP fasteners are used exclusively throughout the engine.
An RMR billet 90mm throttle body feeds the big plenum intake manifold. Get Nuts Labs crew chief Garret Nikolich also knows how to pet the engine and talk to it nicely which is credited for a lot of its reliability.
The Brian Crower stuffed 2JZ is fed by a Garrett GTX4294R Turbocharger.  The turbo features advanced GTX aero for great efficiency and a ball bearing center section for long life and fast response.  A huge V-band 1.08 AR exhaust housing is used.  This turbo is capable of producing over 1000 hp on this engine although the team does not push it that hard in competition.
Boost pressure is controlled by a huge Tial 60mm external wastegate with an independent discharge pipe. Since drift cars are subject to brutal abuse and a ton of heat soak as they sit idling for long periods of time after a run while judges decide battle outcomes, the Turbo and downpipe are thermal wrapped to hold down temperatures in the engine bay.
Many parts and lines in the engine bay including the entire firewall are protected from heat by gold kapton insulating film, the same stuff used on spacecraft.  Forrest Wang is not just a highly skilled driver but a gifted fabricator as well and he fabricated the 4″ stainless tubing downpipe himself.