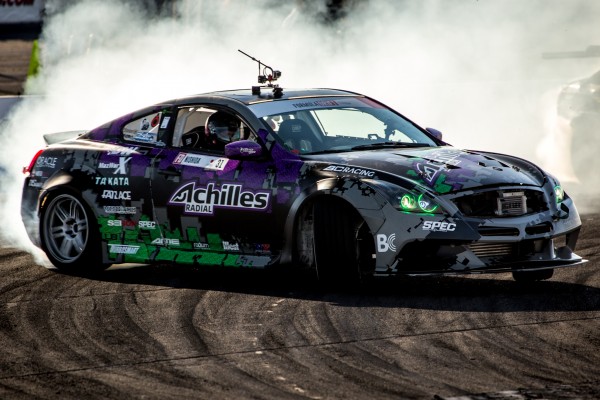 FOR IMMEDIATE RELEASE
2016 Achilles Radial Drift Driver Announcement
SANTA CLARITA, CALIF., March 24, 2016 – Achilles Radial will expand on existing motorsports programs in 2016, with Formula DRIFT remaining as the cornerstone of their global effort. Achilles Motorsports is dedicated to providing top quality product to racers from the grassroots to professional level. This commitment to the racing community is the focus of the marketing efforts for the brand in North America.
Formula DRIFT USA
Achilles Radial is proud to announce the roster of talented drivers that will compete on Achilles Radial 123S and ATR Sport 2 tires in Formula DRIFT USA during the 2015 season. Anchored by Formula DRIFT veteran Robbie Nishida, fan favorite Dean Kearney and 2013 Champion Michael Essa, the team includes returning drivers and new faces, both within the PRO and PRO2 ranks.
The drivers that will be competing on Achilles Radial tires for the 2016 season are listed below:
PRO Series
Robbie Nishida, Dean Kearney, Andrew Gray, Kristaps Bluss, Brody Goble, Marc Landreville, Michael Essa, Kenny Moen, Charles Ng, Juha Rintanen and Faruk Kugay
PRO2 Series
Joe Tardiff, Chris Filippi, Ethan Hunter, Dirk Stratton, Doug VanDenBrink, Riley Sexsmith, Sheng Nian, Austin Meeks, Rafello Ambivero, Donovan Brockaway and Aaron Day
You can see Team Achilles PRO compete at the 2016 Formula DRIFT season opener in Long Beach, California on April 8th and 9th and PRO2 at Formula DRIFT Atlanta on May 6th and 7th. For more information on Formula DRIFT, visit www.formulad.com.
European Drift
Achilles Radial will support several drift teams in Europe for the 2016 season. We are pleased to partner with Steven Donnelly / Team Diemax as well as the HGK Racing team as they compete in various drift events throughout Europe in 2016.
For more information on HGK Racing, please visit www.hgkracing.com.
For more information on Team Diemax, please visit www.facebook.com/stevendonnellybdc
USA RACER SUPPORT PROGRAM
Achilles Motorsports offers a racer support program to drivers in all Formula DRIFT sanctioned pro/am series in the US and Canada. Drivers who are interested in taking part in the racer support program should visit http://www.achillesmotorsportsllc.com/racer-support-program.html
The program offers discounted pricing to qualified drivers and contingency programs within many of the race series in the US.
Formula Drift Pro/Am Contingency Program
Drivers who actively take part in the AMS Racer Support Program and compete in an approved US and Canada Formula DRIFT licensing series are eligible for the following contingency payout for the 2016 season:
1st Place: $200.00 Achilles Bucks
2nd Place: $100.00 Achilles Bucks
3rd Place: $50.00 Achilles Bucks
Achilles bucks can be used to purchase tires and promotional items from Achilles Motorsports.
Drivers who take part in the AMS Racer Support Program and receive their Formula DRIFT PRO2 license will automatically have a place in the Achilles PRO2 program.
Please contact Cheralyn Hale, Director of Marketing, at [email protected] with any questions about the racer support program and to receive guidelines for the contingency program.
For more information about Achilles Radial, please visit www.achillestiresusa.com and like us on Facebook www.facebook.com/achillestire or follow us on Instagram @achillestire.