Formula DRIFT Round 5: True North Results;
Fredric Aasbo Takes the Win to Move Within 3 Points of the Championship Lead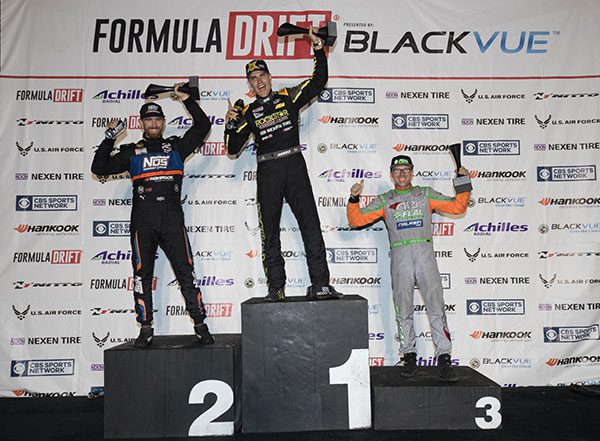 Long Beach, Calif. – July 16, 2016 – Formula DRIFT presented by BlackVue held their first international event as part of the Pro Championship in Canada at Autodrome St-Eustache. Fredric Aasbo in the Rockstar Energy / Nexen Tire Scion tC took the victory and moves within 3 points of the leader in the standings with only three events remaining in the 2016 season.
In one of the most action packed and competitive rounds of competition, Round 5: True North brought the top drifting talent in the world into Canada to a sold out crowd. The Livestream drew over 360,000 views.
"For our first international Pro Championship event we couldn't have asked for a better turnout," said Jim Liaw, President of Formula DRIFT. "We are proud to have brought international drifting stars such as Fredric Aasbo from Norway, Mike Whiddett from New Zealand, Dean Kearney from Ireland, Charles Ng from China, Robbie Nishida from Japan, and many more into Canada. The drivers drove their hearts out tonight and put on one amazing event."
The event culminated into a highly competitive Top 4 battle that saw four drivers all within striking distance of the championship. Odi Bakchis in the ARK Performance / Feal Suspension / Falken Tire Hyundai Genesis faced current champion, Fredric Aasbo. Bakchis had a bobble in his chase run that helped move the champion into the Finals. 2-time champion, Chris Forsberg in the NOS Energy / Hankook Tire Nissan 370Z met the 2010 champion, Vaughn Gittin in the Monster Energy / Nitto Tire Ford Mustang RTR in the semi-finals. Forsberg got his revenge from Round 4 and outdrove his opponent to make it to the finals and onto the podium for his fourth consecutive time this season. Aasbo and Forsberg put it all on the line in the Finals with a very close and competitive battle. Aasbo's consistency throughout the evening proved to be the deciding factor as he took advantage on a slight mistake from Forsberg to take the victory, his third podium this season, and moves within 3 points of the point leader, Gittin. Bakchis moves up to the fourth spot overall.
"Wow! What an amazing night!," said Fredric Aasbo, winner of Round 5: True North. "Some of the most diehard and knowledgeable drift fans are out here in Montreal. We were able to scrape through the battles. What an amazing win for the team."
Round 5: True North Event Results
1. Aasbo, Fredric Rockstar Energy Drink / Nexen Tire SR by Toyota tC Winner
2. Forsberg, Chris NOS Energy Drink / Hankook Tire Nissan 370Z 2nd Place
3. Bakchis, Aurimas Ark Performance / Feal Suspension / Falken Hyundai Genesis 3rd Place
4. Gittin, Vaughn Monster Energy / Nitto Tire Ford Mustang RTR 4th Place
5. Wang, Forrest Get Nuts Lab / Hankook Tire Nissan 240 5th Place
6. Tuerck, Ryan Gumout / Nameless Performance / Hankook Tire SR by Toyota FR-S 6th Place
7. Yoshihara, Dai Falken Tire / Turn 14 Subaru BRZ 7th Place
8. Coffman, Matt Coffman Racing Nissan 240 8th Place
9. Pawlak, Justin Roush Performance Ford Mustang 9th Place
10. DeNofa, Chelsea BC Racing / GT Radial BMW 10th Place
11. Hohnadell, Alec Enjuku / Get Nuts Lab / Nexen Tire Nissan 240 11th Place
12. Goodin, Pat ISR Performance / BC Racing / Falken Tire Nissan 240 12th Place
13. Stoneback, Geoff CFR / Hankook Tire Nissan 370Z 13th Place
14. Gushi, Ken GReddy Racing / Nexen Tire SR by Toyota 86 14th Place
15. Kearney, Dean Oracle Lighting Dodge Viper 15th Place
16. Moore, Cameron Cameron Moore Drift / Lexus SC300 16th Place
2016 Formula DRIFT Championship Presented by BlackVue Standings After 5 Events
1. Gittin, Vaughn Monster Energy / Nitto Tire Ford Mustang RTR 365.00 Points
2. Aasbo, Fredric Rockstar Energy Drink / Nexen Tire SR by Toyota tC 362.00 Points
3. Forsberg, Chris NOS Energy Drink / Hankook Tire Nissan 370Z 335.00 Points
2016 Manufacturer Championship Standings After 5 Events
1. SR by Toyota 617.00 Points
2. Ford 508.00 Points
3. Nissan 456.00 Points
4. BMW 351.00 Points
5. Mazda 208.00 Points
6. Chevrolet 169.00 Points
7. Dodge 153.00 Points
8. Infiniti 138.00 Points
9. Lexus 104.00 Points
2016 Tire Championship Standings After 5 Events
1. Nexen 676.00 Points
2. Falken 576.00 Points
3. Hankook 563.00 Points
4. Nitto 535.00 Points
5. Achilles 436.00 Points
7. GT Radial 284.00 Points