Formula DRIFT PRO 2 Round 2 Atlanta Results;
Travis Reeder is Victorious and Moves to the Top of the Standings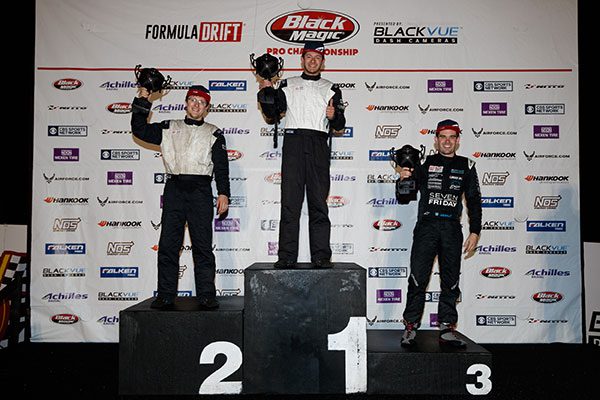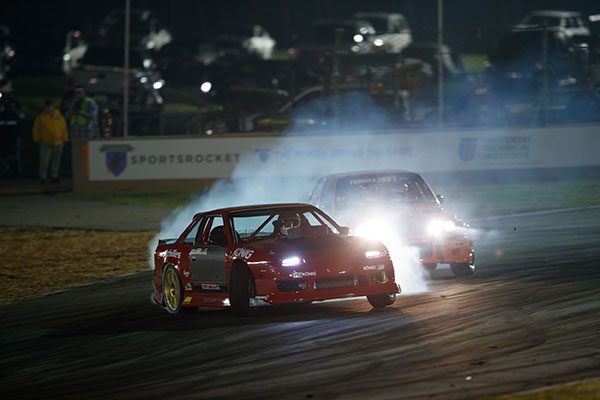 Long Beach, Calif. – May 12, 2017 – The Formula DRIFT PRO 2 season continued to Road Atlanta. Travis Reeder takes the win and moves to the top of the PRO 2 standings.
PRO 2 entered Atlanta, GA for the second event of the season. The future stars of the sport took to the famous Road Atlanta track and put on a show for the devoted fans.
"PRO 2 has grown and now has its own fan base," said Jim Liaw, President of Formula DRIFT. "This was proven tonight as fans stayed through the late hours at the track to watch the young talent compete."
The semi-finals pitted Matt Vankirk in the Fortune Auto / Achilles Nissan 240 with Brody Goble in the BG Motorsports Nissan 240. Vankirk outdrove his opponent to move into the Finals. On the other side of the bracket Randall Waters faced Reeder, Waters was deemed at fault after contact on his chase run giving Reeder the win to move him into the Finals. The finals was anti-climatic as Vankirk experienced mechanical issues on the first run forcing him out of the competition to give Reeder the victory and moving him into the top spot in the standings after two events.
"I'm overwhelmed. My team did awesome and I want to thank everyone that had a hand in my program this year and believing in me, " said Travis Reeder, winner of PRO 2: Atlanta. "I'm feeling really blessed right now and am going try to keep it consistent into the next round to keep the momentum going."
Formula DRIFT continues to Round 4: The Gauntlet at Wall Speedway on June 2-3, 2017. For more information visit, www.formulad.com and find Formula DRIFT on Instagram @formulad, Facebook www.facebook.com/formuladrift, Twitter @FormulaDrift, and Snapchat – formula_drift. Tune into Formula DRIFT on CBS Sports and check your local listings for airtimes.
Formula DRIFT PRO 2: Atlanta Results
1. Reeder, Travis
Winner
2. Vankirk, Matt
2nd Place
3. Goble, Brody
3rd Place
4. Waters, Randall
4th Place
5. Stratton, Dirk
5th Place
6. Meeks, Austin
6th Place
7. Rahimi, Hooman
7th Place
8. Robbins, Alec
8th Place
9. George, Danny
9th Place
10. Robinson, Josh
10th Place
11. Hateley, Andy
11th Place
12. Szilveszter, Gyorgy
12th Place
13. Beechum, Trenton
13th Place
14. Jaeger, Ola
14th Place
15. Chen, Spike
15th Place
16. Filippi, Chris
16th Place