Formula DRIFT Round 3: Road to the Championship Results;
James Deane Takes Back the Lead with the Event Victory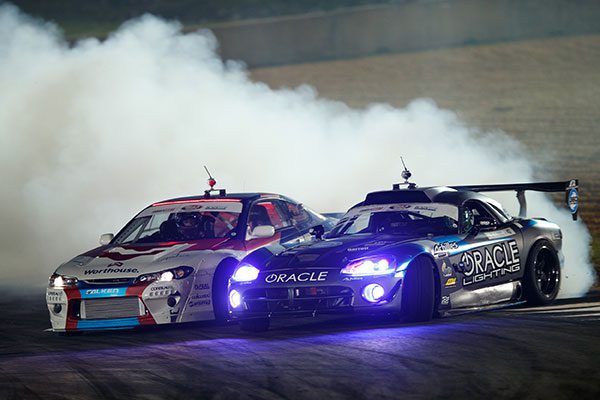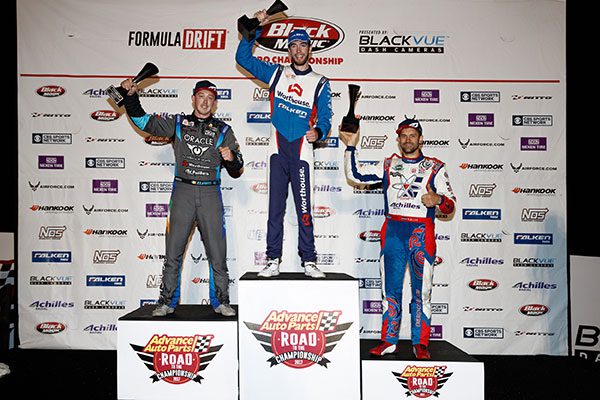 Long Beach, Calif. – May 14, 2017 – Formula DRIFT Black Magic Pro Championship presented by BlackVue Dash Cameras returned to Road Atlanta, home of the inaugural Formula DRIFT event 14 years ago. James Deane in the Worthouse Drift Team / Falken Tire Nissan 240 takes the victory to regain the lead in the chase for the championship.
"This event showcased the global talent within the Series," said Jim Liaw, president and co-founder of Formula DRIFT. "Each round has been highly competitive and with only three events remaining it will be exciting to see how it unfolds."
The Advance Auto Parts Round 3: Road to the Championship was a hard charging event and treated fans to exciting competition. An estimated 1 million viewers tuned into the Livestream through the event weekend.
It was an all European podium with Latvian driver, Kristaps Bluss in the HGK / Mast / Motul / Wisefab BMW E46 taking 3rd place after failing to repair his vehicle for a One More Time battle against Irishman, Dean Kearney in the Oracle Lighting Dodge Viper in the semi-finals. The Finals was a battle of the Irish with Kearney and Deane fighting for the win. The drivers put on a show for the fans with an incredibly tight battle, but Deane was able to inch past his opponent to take the win. With three events completed, James Deane has now taken two event wins to move back into the top of the standings.
"We got to have an all-Irish final and that was just mind-blowing," said James Deane, winner of the Advance Auto Parts Round 3: Road to the Championship. "The two of us just gave it 110%, no messing around, and that's how to have a battle. I'm super happy and thanks to everyone who made this possible."
The action continues to Round 4: The Gauntlet at Wall Speedway on June 2-3. For more information visit, www.formulad.com and find Formula DRIFT on Instagram @formulad, Facebook www.facebook.com/formuladrift, Twitter @FormulaDrift, and Snapchat – formula_drift. Tune into Formula DRIFT on CBS Sports and check your local listings for airtimes.
Advance Auto Parts Round 3: Road to the Championship Event Results
1. Deane, James
Worthouse Drift Team / Falken Tire Nissan 240
Winner
2. Kearney, Dean
Oracle Lighting Dodge Viper
2nd Place
3. Bluss, Kristaps
HGK / Mast / Motul / Wisefab BMW E46
3rd Place
4. Hohnadell, Alec
Urban Air / Hoonigan / Nexen Tire Nissan 240
4th Place
5. Gittin, Vaughn
Monster Energy / Nitto Tire Ford Mustang RTR
5th Place
6. Tuerck, Ryan
Gumout / Nameless Performance / Hankook Toyota 86
6th Place
7. Wiecek, Piotr
Worthouse Drift Team / Falken Tire Nissan 240
7th Place
8. Forsberg, Chris
NOS Energy Drink / Hankook Tire Nissan 370Z
8th Place
9. Essa, Michael
Achilles Tire / Essa Autosport BMW M3
9th Place
10. Field, Matt
Falken Tire / Vapetasia / ARK Performance Nissan 240
10th Place
11. Heilbrunn, Alex
IMR / Nitto Tire BMW M3
11th Place
12. Denofa, Chelsea
BC Racing / Nitto Tire Ford Mustang RTR
12th Place
13. Coffman, Matt
Nexen Tire / Coffman Racing Nissan 240
13th Place
14. Hamilton, Nate
Team Enjuku / BC Racing / Hankook Tire Nissan 240
14th Place
15. Jones, Jeff
DOC Racing Nissan 240
15th Place
16. Mohan, Kyle
Built 2 Apex / Mazdatrix / KMR 2016 MX-5
16th Place

2017 Formula DRIFT Black Magic Championship Presented by BlackVue Standings After 3 Events
1. Deane, James
Worthouse Drift Team / Falken Tire Nissan 240
245.00 Points
2. Kearney, Dean
Oracle Lighting Dodge Viper
186.00 Points
3. Aasbo, Fredric
Rockstar Energy / Nexen Tire Toyota Corolla iM
178.00 Points
2017 Manufacturer Championship Standings After 3 Events
1. Toyota
351.00 Points
2. Ford
250.00 Points
3. Dodge
186.00 Points
4. BMW
157.00 Points
5. Nissan
137.00 Points
6. Mazda
68.00 Points
2017 Tire Championship Standings After 3 Events
1. Falken
435.00 Points
2. Achilles
374.00 Points
3. Nexen
363.00 Points
4. Hankook
310.00 Points
5. Nitto
299.00 Points