Formula DRIFT PRO 2 Round 4 Texas Results;
Kevin Lawrence Does the Impossible to Win the Event and the Championship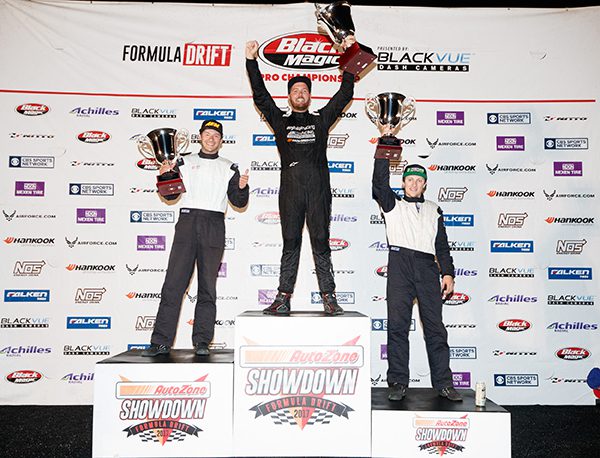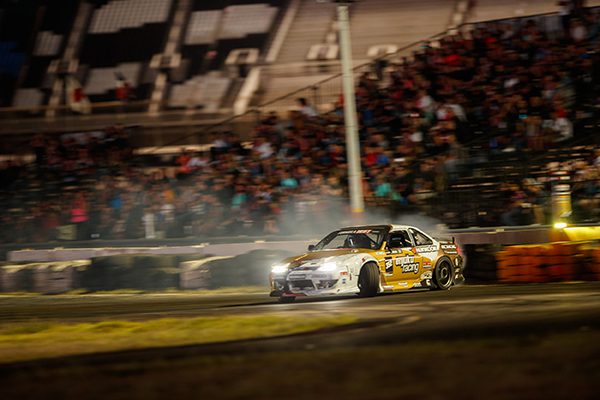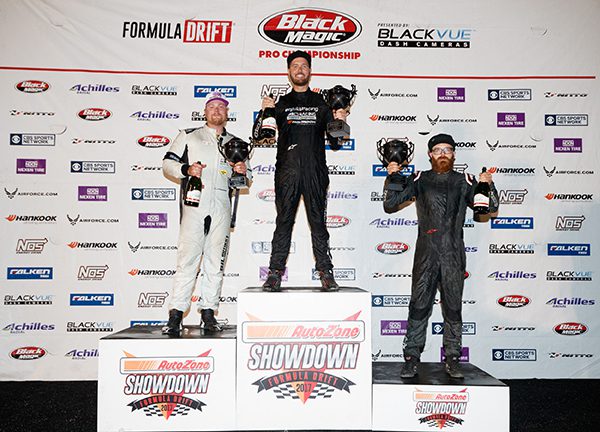 Long Beach, Calif. – September 8, 2017 – The Formula DRIFT PRO 2 season came to a dramatic conclusion at Texas Motor Speedway. Florida native Kevin Lawrence in the Enjuku Racing / BC Racing / Hankook Tire Nissan 240 defies the odds and wins the event and the PRO 2 Championship.
PRO 2 returned to Texas Motor Speedway for the final event of the season. Fans witnessed the biggest comeback in Formula DRIFT PRO 2 history as Kevin Lawrence entered the event in 5th place overall with an 81 point deficit to win the event and ultimately the championship.
"What a way to end the PRO 2 season," said Jim Liaw, President of Formula DRIFT. "In what was the largest comeback in PRO 2 history, Kevin Lawrence did the impossible, and ended the season in dramatic and exciting fashion."
The championship was up for grabs when the top 4 drivers failed to move past the Top 16 bracket giving a small mathematical chance to Lawrence. In the semi-finals, Norwegian driver, Ola Jaeger in the Japan Auto Toyota Supra faced Alec Robbins in the KoruWorks Nissan 350Z. In the second run of their battle, Robbins went off line to give the win and his first podium to Jaeger. In the second semi-final battle, Lawrence met Riley Sexsmith piloting a Subaru BRZ. Sexsmith made a major mistake by going off-course on the first run to give Lawrence the advantage and eventual win to move him into the Finals to meet Jaeger. Sexsmith finished the event in third place. In the Finals, both drivers made mistakes in the first battle in which the judges called a "One more time." In the second run of the battle, Jaeger fell dramatically behind creating a large gap that proved to be his downfall, which gave Lawrence the event victory and the championship by a mere 2 points. The PRO 2 championship finished with Travis Reeder in second place and Matt Vankirk in third place.
"It hasn't really set in yet and it's just amazing that I was able to battle to the first position and win the championship by 2 points. I never thought this would happen, " said Kevin Lawrence, winner of PRO 2: Texas and the 2017 PRO 2 champion. "I want to thank everyone on board from Enjuku Racing, Hankook Tire, BC Racing, Competition Clutch, Vibrant Performance, Konig wheels and everyone that has been part of the team over the years I really couldn't have done it without any of them."
Formula DRIFT continues to Round 8: Title Fight on October 13-14, 2017. For more information visit, www.formulad.com and find Formula DRIFT on Instagram @formulad, Facebook www.facebook.com/formuladrift, Twitter @FormulaDrift, and Snapchat – formula_drift. Tune into Formula DRIFT on CBS Sports and check your local listings for airtimes.
Formula DRIFT PRO 2: Texas Results
1. Lawrence, Kevin
Winner
2. Jaeger, Ola
2nd Place
3. Sexsmith, Riley
3rd Place
4. Robbins, Alec
4th Place
5. Hately, Andy
5th Place
6. Gyorgy, Szilveszter
6th Place
7. Meeks, Austin
7th Place
8. Waters, Randall
8th Place
9. Beechum, Trenton
9th Place
10. Reeder, Travis
10th Place
11. Vankirk, Matt
11th Place
12. Robinson, Josh
12th Place
13. George, Danny
13th Place
14. Schmidt, Brandon
14th Place
15. Kiriakopoulos, George
15th Place
16. Brockway, Donovan
16th Place
Formula DRIFT PRO 2 Championship Final Standings
1. Lawrence, Kevin
Champion
2. Reeder, Travis
2nd Place
3. Vankirk, Matt
3rd Place