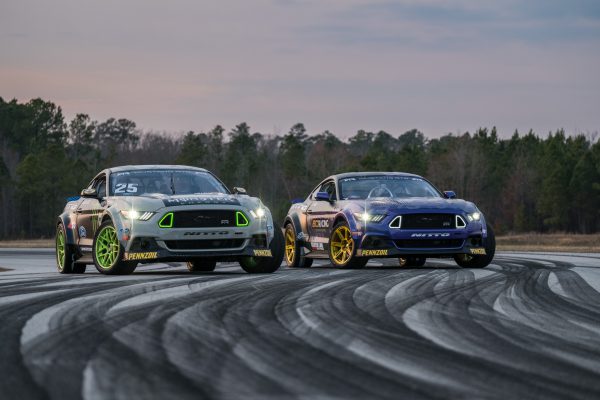 FOR IMMEDIATE RELEASE:::
CHARLOTTE, NORTH CAROLINA, MARCH 20, 2017 — Coming off a strong 2016 Formula Drift season, in which Vaughn Gittin Jr. finished third in the championship with two victories and four first place qualifiers, RTR Motorsports is pleased to announce a dual car campaign for the 2017 season. Chelsea DeNofa, winner of last year's Formula Drift Streets of Long Beach, will be joining the team alongside Vaughn in a brand new 2017 Ford Mustang RTR Spec 5-D. Vaughn's car features an updated look breaking away from a traditional theme, instead focusing on his personal style mixed with varying degrees of design: mixed paint, vinyl, gloss, satin, matte, and a few special tricks to achieve a livery that is both simple and complex.
 "2016 was an amazing year for myself and our team," said Vaughn. "We battled for the championship all year and had a lot of hard-fought battles, some great event wins, and a 3rd overall finish. This year we're coming back stronger than ever with a two car team with Chelsea [DeNofa] manning the wheel of the BC Racing Nitto Tire Mustang RTR Spec 5-D. He's an incredible driver, and a fellow Fun-Haver, who I've have had some serious battles with on the track. His aggressive driving style and never give up attitude makes him a perfect addition to the team. The entire team cannot wait to get to Long Beach for round one!"
 Chelsea is an ambitious and skilled wheelman who has excelled in several forms of road racing, stunt driving, and has had success in drifting across the globe, making him an obvious choice as a second team driver. Paired with the fact that Chelsea is an authentic, influential, and respected voice in the sport, the partnership was only natural for RTR Motorsports as it looks to expand with the 28-year-old veteran.
"Becoming a part of RTR Motorsports is not only an amazing feeling, but extremely rewarding," said Chelsea. "Racers set goals in their careers and one of mine was joining—what I believe to be—the best team in Formula Drift. It is a dream come true and I am ready to live it!"
Both the Monster Energy Nitto Tire Ford Mustang RTR Spec 5-D driven by Vaughn and BC Racing Nitto Tire Ford Mustang RTR Spec 5-D driven by Chelsea are powered by brand new Ford Performance/Roush Yates Engines RY45 motors, producing 2,000 combined horsepower with a 9,000-rpm redline. The RY45 builds on the continued relationship with Ford Performance and Roush Yates in developing competition based motors specifically for the RTR Motorsports Formula Drift program. A proprietary BC Racing coilover suspension system allows both Vaughn and Chelsea to perfectly tune the dynamics of their RTRs, with sticky Nitto NT05s putting all that power to the ground.
To see more of Vaughn and Chelsea in their Ford Mustang RTR Spec 5-Ds, be sure to catch them as they make their 2017 RTR Motorsports racing debut during the first round of the Formula Drift series in the Streets of Long Beach event on April 1st. Make sure to use the following hashtags: #BroStangs and #TeamRTR to follow both drivers during the season.
The street legal version of the RTR Spec 5-D, the Mustang RTR Spec 1 and Spec 2, are available now at select Ford Dealers and MustangRTR.com offering modern aggressive styling, track-proven suspension, and 50-state legal performance enhancements for the Ford Mustang.
For more information or to be added to the RTR Motorsports mailing list contact: [email protected]
 ABOUT RTR MOTORSPORTS: RTR Motorsports is the motorsport division of the Mustang RTR lifestyle brand. RTR Motorsports engineers and develops competition vehicles for professional motorsports all over the world in a variety of different racing series. RTR Motorsports builds, campaigns, and is the official race team for the Monster Energy Nitto Tire Ford Mustang RTR Spec 5-D driven by Vaughn Gittin Jr. and BC Racing Coilovers Nitto Tire Ford Mustang RTR Spec 5-D driven by Chelsea DeNofa. RTR Motorsports was founded and is owned by World Champion Vaughn Gittin Jr.