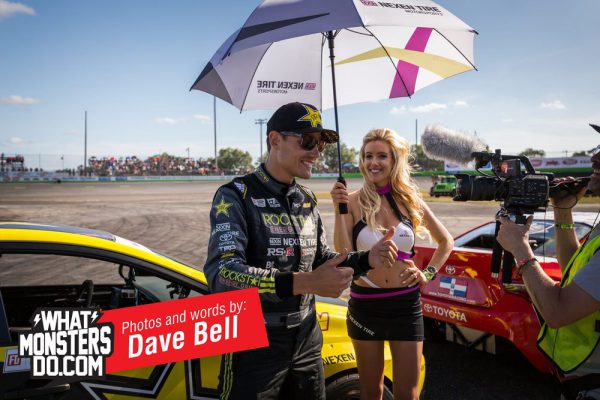 The path towards the 2017 Formula Drift Pro Championship continued on the banks at Orlando Speed World (OSW) in Orlando, FL after a very interesting opening round in Long Beach. This is the 3rd year the series has run in Orlando where competition keeps getting more tense for the best runs against the wall; it keeps getting hotter too, even after this year was moved up to April. The differences between Long Beach and Orlando are stark, flat streets versus the high banked oval of OSW. An extremely rough and even bouncy transition section in the middle of the track continues to shake drivers up, lifting nearly all 4 tires off the ground in some situations as drivers try to gauge how much throttle to give and not thrash into the lead driver, all while trying to keep close proximity into the final turn.
The OSW layout continues to be somewhat basic even, but before you know it, OSW's high banked wall will suck you in or the hard bank-to-track transition will wreck havoc on a driver's car. There were many questions to be answered like how would James Deane fair on the very different Oval track? Would Alex Heilbrunn continue to show the leaps and bounds of growth that we've seen? OSW would prove to also be quite interesting and continue to shake up the Championship standings, still very early in the 2017 season.

Pro qualifying gave us a look at who would later have the most success during competition with Dai Yoshihara (95), Fredric Aasbo (93), Ryan Tuerck (93), James Deane (92), and Michael Essa (91) rounding out the Top 5 qualifiers. Qualifying scores do not always tell the complete story of the day however with Vaughn Gittin Jr. qualifying all the way back in 22nd and later nearly taking it all the way, deep in Top 16 competition. But were Gittin Jr. and other teams just playing it safe all along? After qualifying, Round 2 had a whopping 5 bye-runs, which Formula Drift chose to not even make the drivers complete their normal 1-run dance. Definitely the first of a few fan-favored moves to ensure cars continue to move on to Top 16 without the risk of mechanical issues or a silly error during a non-tandem lap around OSW.