Driver leads championship as series heads for Wall, NJ
WALL, New Jersey (May 30, 2018) – Formula Drift championship leader Fredric Aasbo is in the hunt for a second win of the season in the Rockstar Energy Drink / Nexen Tire Toyota Corolla Hatchback as the series heads to New Jersey this weekend for Round 4.
"The last time I won at Wall Speedway was in 2015, on the way to winning the Formula Drift championship title," said Aasbo. "It's an unforgiving track that is really tough on the cars, but we've figured out a setup that has worked really well in the past. I'm looking forward to unleashing the new car there."
Aasbo has won twice at Wall Speedway, bringing home the victory in 2014 and 2015. He enters the event this year as the only driver to finish on the podium at every stop so far.
The compact nature of the Wall track focuses the competition into close quarters, where mistakes can be costly. Drivers are rewarded for staying close to the guardrail on the steeply banked track, known as "The Gauntlet." Maintaining drift from the backing through the transition to the tight-radius finishing corner requires a perfect blend of speed and control.
The forecast this weekend shows a mix of sun and rain, playing to the driver's strengths in all conditions. "Growing up in Norway, I learned how to drive in any kind of weather," said Aasbo. "Wet weather certainly adds to the challenge, but if it comes, I hope it might also give us an edge."
Focusing on fundamentals has proven an effective strategy for the Papadakis Racing team.
"Wall is one of those tracks where there are as many as 10 drivers in the field who could win, so we'll keep doing what works," said team owner Stephan Papadakis. "We'll be looking for a strong qualifying performance and to carry the momentum throughout the competition."
Competition starts this Friday with qualifying at 3:15 p.m. and runs through Saturday, with Top 32 tandem at 1 p.m. Fans of Formula Drift can watch live stream coverage of the series online, or catch the broadcast coverage on the CBS Sports Network.
Drifting is a high-skill, high-powered motorsport with an emphasis on car control. In the Formula Drift series, drivers compete in knockout heats on a closed course, sliding sideways in trials judged on speed and style. With origins in Japan, it is one of the fastest growing forms of motorsport in the world.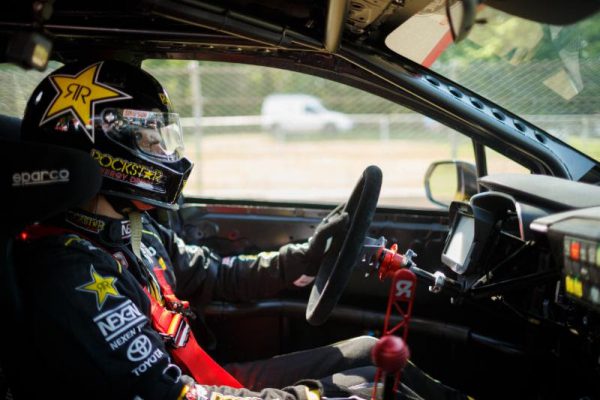 Fredric Aasbo sets his sights on another 2018 win at Wall, NJ, June 1-2.
(Photo: Larry Chen / Toyota Racing)