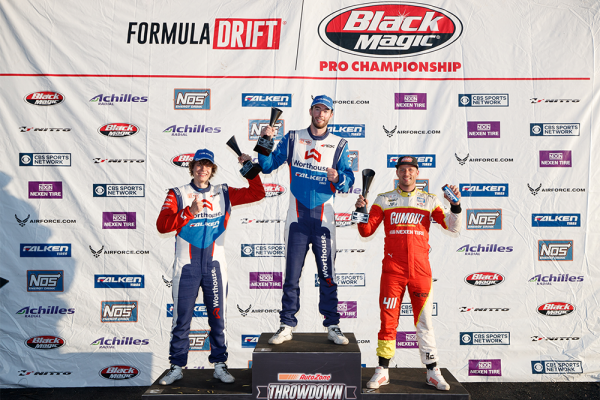 Teammates Piotr Wiecek takes 3rd place; Justin Pawlak, 4th
MONROE, WA (July 21, 2018) – Team Falken's James Deane continued his winning ways by earning his second victory in a row in the 2018 Black Magic Formula Drift Pro Championship at Evergreen Speedway, increasing his lead in the Driver's Championship with three events remaining. Teammate Piotr Wiecek took third place, solidifying his position at third overall, while Justin Pawlak placed fourth at Evergreen, putting him fifth in the tight overall points battle.
"After what seemed like our 'summer break,' Team Falken came back roaring, with James Deane repeating at Evergreen and taking his second win this season," said Steve Wong, Falken's Supervisor, Passenger Car Motorsports & Events. "James continues to run strong, scoring points in his defense of the Formula Drift Driver's Championship."
It was Falken's fourth series of podium finishes this season out of five rounds. "Falken's AZENIS RT615K+ tires are performing well," added Wong, "and our team of drivers are more determined than ever to run to the finals."
Thirty-two drivers entered Evergreen Speedway, known as the "House of Drift of the North," with 30 qualifying. Wiecek qualified first, followed by Pawlak in 3rd, Deane in 4th and additional Falken teammates Aurimas "Odi" Bakchis in 6th; Daijiro "Dai" Yoshihara in 10th; Matt Field, 12th; Ken Gushi, 13th; and Jeff Jones in 17th.
All eight Team Falken drivers advanced to the Top 16, with four continuing on to the Top 8. From there, teammates Deane and Field faced off, with Deane taking the win, while both Wiecek and Pawlak advanced.
Before a capacity crowd, Deane squared off against teammate Wiecek, while Ryan Tuerck eliminated Pawlak. Deane returned the favor by beating Tuerck in the Final.
"Seattle [Evergreen] was another tough round," Deane noted, adding "the level is for sure stepping up this year."
Describing his move through the rounds, Deane stated, "my absolute favorite battle this weekend was with teammate Matt Field. He's very aggressive and I knew he was on my door throughout the bank, but I took a huge chance and it paid off and we ended up where we needed to be and pulled off a sweet run."
Deane continued: "Wiecek was crazy fast; always a fun time with him. He dropped a couple of wheels and gave me an advantage, and so then I led, but he was pushing me around the whole bank. It was crazy as a driver to feel like I had extra power with him pushing me through the corner. Crazy driving, but I managed to get the win. And then into the final with Tuerck, it came down to technicalities. It was a really close battle. We pushed as hard as we could; didn't make so many mistakes and I think that's what got it for us.
"At the end, we've managed to extend our lead in the championship and it feels great," Deane finished. "We had a little bit of luck, but we'll take it where we can get it, because in the sport of drifting, you never know when it may turn."
"James is now 85 points ahead of second place" Wong enthused, "and Wiecek is now 120 points behind. It's still a close race. "We'll continue this strong momentum as we head to St. Louis for Round 6. For now, Falken has a solid lead in the Tire Cup championship."
The Top 10 standings for Formula Drift include Pawlak, 5th; Field, 8th; Bakchis, 9th; and Yoshihara, 10th, for a total of six Team Falken drivers.
Team Falken will travel south to St. Louis, MO for Round 6 when Formula D visits Gateway Motorsports Park, located across the state line in Madison, IL, August 10-11.