HAWTHORNE, California (August 7, 2018) — Papadakis Racing is offering a glimpse under the hood of their 1,000 horsepower Rockstar Energy Drink / Nexen Tire Toyota Corolla Hatchback. A new video showing their 2018 competition build dropped Tuesday morning as the team prepares for a Formula Drift stop in St. Louis with driver Fredric Aasbo this Friday and Saturday.
The latest video to hit the Papadakis Racing YouTube channel documents the extensive four-month Formula Drift build as the team transformed a stock, front-wheel drive Toyota Corolla hatchback into a championship ready rear-wheel drive, 1,000 horsepower competition machine.
WATCH AND SHARE THE VIDEO: https://youtu.be/a4xmry2sn8M
Featured in the video are team owner and noted innovator Stephan Papadakis, champion driver Fredric Aasbo, team technicians "Shaldo" (Shawn Hillier and Aldo Villagran), Georgheinz Rios, designer Jon Sibal and Chris Woodward from TRD.
The video was produced by Attain Media, with video contribution from DC Chavez.
Aasbo is currently second in the series championship. The Formula Drift series travels to Gateway Motorsports Park this weekend for the first time for a competition dubbed "The Crossroads." Competition opens Friday with Pro qualifying starting midday followed by Pro2 competition. The on-track action resumes Saturday at 11 a.m. and runs through 8 p.m.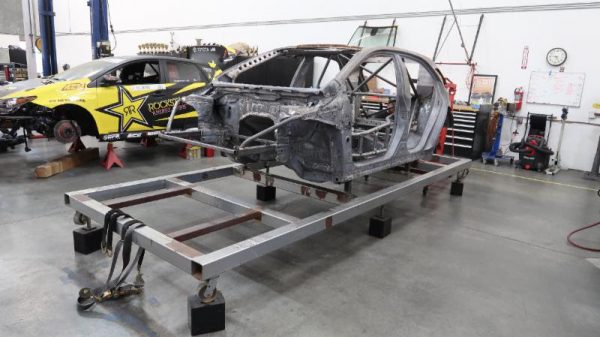 The Rockstar Energy Drink / Nexen Tire Toyota Corolla Hatchback
under development at Papadakis Racing, beside the 2018 team vehicle.