Fredric Aasbo takes Formula Drift points lead
WALL, New Jersey (June 10, 2019) – Fredric Aasbo and the Rockstar Energy Drink / Nexen Tire Toyota Corolla Hatchback scored second place at Wall Stadium Speedway this weekend. The result vaults Aasbo into the championship lead as the Formula Drift season moves into its second half.
This weekend's finish was hard-fought for the Papadakis Racing team, with the New Jersey track delivering its usual dose of chaos. Aasbo fought through multiple one-more-time re-runs and plenty of car-to-car contact on the way to the podium.
"We call this track 'The Gauntlet' because the trackside guardrails can do some serious damage and drivers need to be confident they can stay on their line," said team owner Stephan Papadakis. "We made some aggressive setup decisions that paid off for us this weekend."
After qualifying in the No. 2 position, Aasbo faced an unusual opening-round match against Travis Reeder and his electric Camaro. The vehicle makes little noise and delivers power on a different curve from other cars in the series, which Aasbo says brings an added challenge on track.
In the Top 16, Aasbo battled past Kazuya Taguchi. He was set to meet Piotr Wiecek in the Great 8, but advanced without a fight when his rival's team was unable to bring a car to the line due to damage sustained in a previous round.
The Final 4 saw a gladiatorial match between Aasbo and 2010 series champion Vaughn Gittin Jr. The competition went into a one-more-time re-run and saw multiple incidents of car-to-car contact before Gittin struck the wall and handed the round to Aasbo — setting up an all-Toyota Final.
As the sun went down in New Jersey, Aasbo met Toyota teammate Ryan Tuerck for the last head-to-head battle of the evening. The two drivers are closely matched. When they faced each other in the Final a month ago at Round 3, it was Aasbo who took the win. This time, it was Tuerck's turn. After a tight competition that included a one-more-time re-run, judges awarded second-place to Aasbo.
"It was a fantastic battle to close the night and we couldn't be happier that we were able to bring Toyota a one-two finish again here in New Jersey this weekend," said Aasbo.
The result was enough to move Aasbo into the championship lead and, as the season enters its second half, the driver sits atop the points with 295, three points ahead of Aurimas "Odi" Bakchis. Tuerck is third, another 53 points back. Toyota leads the Auto Cup for manufacturers, while Nexen sits second in the Tire Cup.
But with four rounds still to go in the championship, Aasbo said he's keeping his focus narrow. "I'm not thinking about the points right now," he said. "We're halfway through the year and there's a lot of work still to do. My job is to win one battle at a time."
Next, the team travels to Monroe, Washington, for Round 5 of the Formula Drift championship at Evergreen Speedway July 19 and 20. Before then, Aasbo will be in Northern Europe June 14 to 27 on the 10-city Toyota Roadshow tour where he will sign autographs and perform drifting demonstrations in his competition prepared Rockstar Energy Drink / Icom Toyota 86-X.
Drifting is a high-skill, high-powered motorsport with an emphasis on car control. In the Formula Drift series, drivers compete in knockout heats on a closed course, sliding sideways in trials judged on speed and style. With origins in Japan, it is one of the fastest growing forms of motorsport in the world.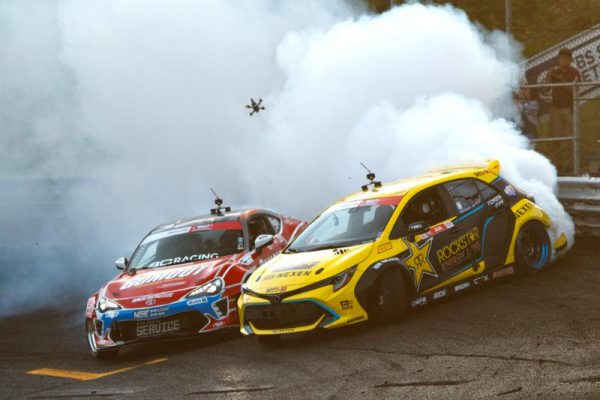 Fredric Aasbo and Ryan Tuerck battle in an all-Toyota New Jersey Final. Aasbo finished on the podium, in second. (Photo: Larry Chen / Toyota Racing)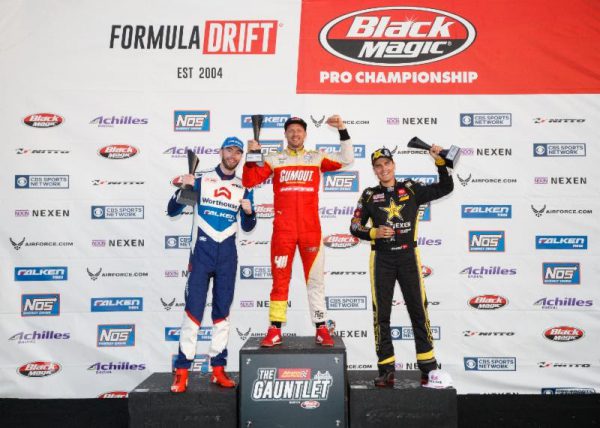 (From L to R) Two-time defending champion James Deane (3rd), Ryan Tuerck (1st) and Fredric Aasbo (2nd). (Photo: Larry Chen / Toyota Racing)