Written by Joey Redmond
10. Adam LZ Goes Top Qualifier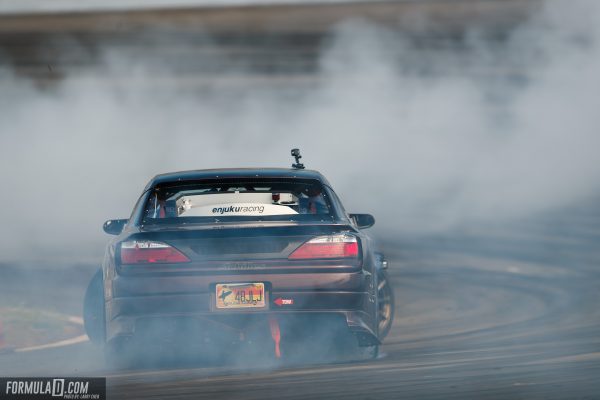 Adam LZ rolls out his S15 Silvia to the new layout at World Wide Technology Raceway and brings home top qualifier in Pro 2. It is quite a big statement of intent and talent after all the pressures and doubt thrust onto him to score a 94 with a 90 backup. The limited amount of track data and practice made this track a challenge for the Pro drivers all weekend as well as the Pro 2 field. If you check out his Youtube Vlog from the weekend the qualifying lap was even more chaotic as they figured out he had a blown head gasket just before he had to make a qualifying pass.
9. Alec Robbins Wins Pro 2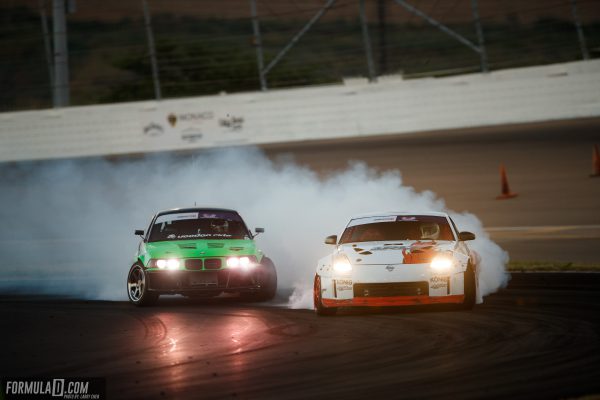 The former MDU Pro Am champion drove his 350z with precision this weekend and took home a big victory! He finished last year in 3rd place at World Wide Technology Raceway and finished the Pro 2 season in 9th last season. With this victory, it is statistically possible to win the championship being 41 points behind leader Trenton Beechum going into Texas Motor Speedway next month.
8. Kazuya Taguchi Falls Short but Looks Promising in Silvia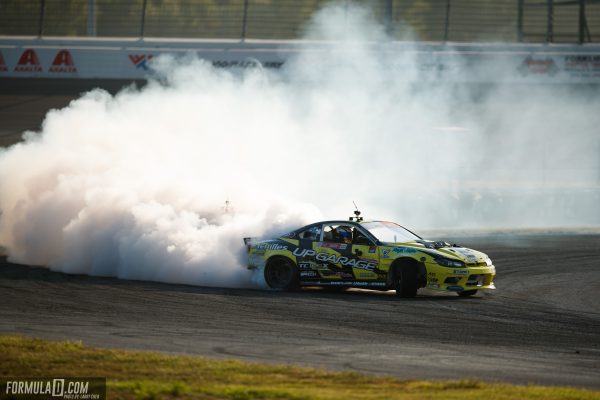 Kazuya Taguchi was looking unstoppable in his Silvia this weekend. In fact, he pushed Piotr Wiecek hard in Top 16. The judges were split with Andy Yen picking Taguchi for the victory in this battle. That is huge praise against the Worthouse crew who are unstoppable in this second half of the season so far. Taguchi had podium form if the bracket looked a bit different for him.
7. Fans Cheated by the 5-Minute Clock
While the story of the weekend will be Matt Coffman dropping his car with seconds to go and running over the competition clock the fans lost out on two battles due to the quick ticking five minute clock. Chris Forsberg just missed his second runs with Vaughn Gittin Jr. by thirty seconds and Matt Field also struggled with a broken axle to fix within his given time. Both drivers hopped in the mix to try and fix their cars but fell short. The Field incident double stings as he was hit and then eliminated by not being able to fix his axle. While nobody wants the race day to go on forever it would be nice to figure out a way some teams can continue to wrench on the car if they aren't delaying the next battle.
6. Ryan Tuerck Speaks Out About Track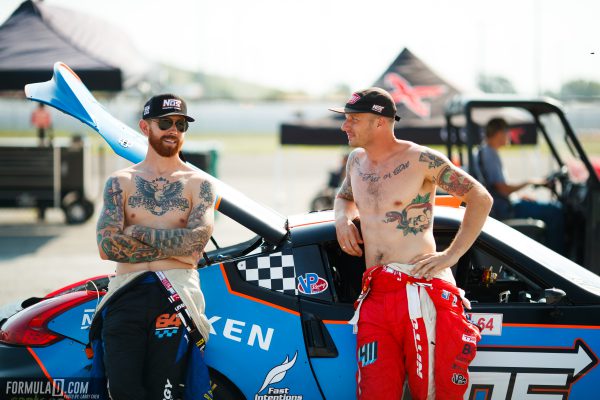 Ryan Tuerck took his time while being interviewed to layout what he thought about the new track. He really summed up some great thoughts and perspective I think the fans should take in.
"This track is super difficult. Me and Dai had a clean battle as far as no contact but it was not the best way to win. Dai had a little bit of a slow down and I basically had to stop so I didn't come in contact with him around inner clip two. This track causes these contact issues because you are coming very fast into these inside clipping points where you are jumping on the binders trying to make up ground. You are coming through a big smoke screen so a lot of the time you cannot even tell what is happening in front of you if you are not in the right position (in chase). You are coming into a turn blind and you just chuck the car on muscle memory and hope that it comes out the other side at the right speed, angle and line. It just creates a massive scenario where it can just go wrong. Typically when you cannot see what's happening in front of you only a few times out of ten you are going to make it…. maybe, or just hit the guy in front of you. This is why we have seen a lot of contact here."
5. Rookie of the Year Race at a Stale Mate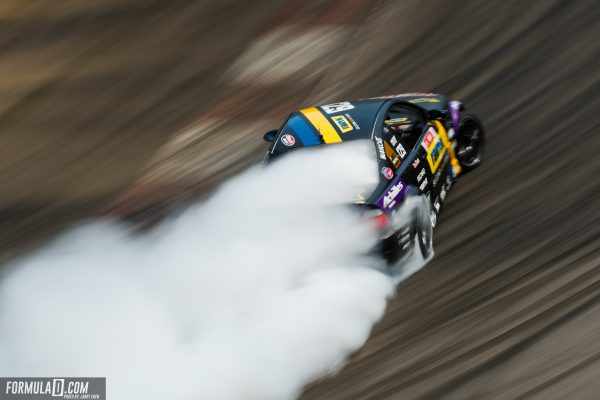 Travis Reeder and Dylan Hughes both went out in the Top 32 putting the Rookie of the Year race at a stale mate with two rounds left. It appears Reeder has retired the E-Camaro for the rest of this season to throw down in his 240sx as they build 2.0 of the electric drift car for 2020 Formula Drift. Dylan Hughes went out in an all BMW battle to Michael Essa in the Top 32 this time around. Either way, the Rookie of the Year race is way up in the air with two rounds left.
4. Did the great oil spill of 2019 impact the Inner Clip 2 Nightmares?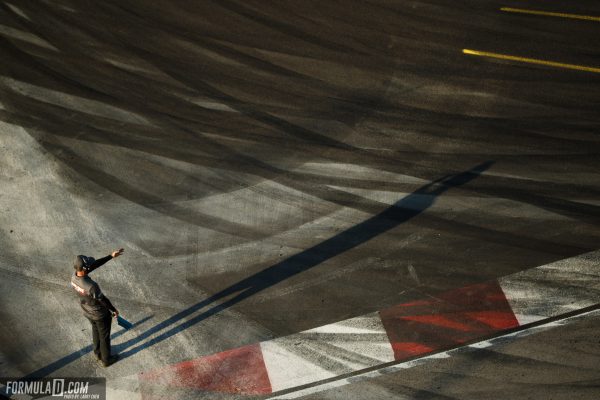 Lots of drivers were struggling with a new and difficult course but it was made way more challenging when Ken Gushi dumped oil all over the track due to a vehicle malfunction. It seemed the track struggled to get back to a clean form and created more issues at inner clip two through the Top 32 battles if not into the Top 16. It was a combination of unfortunate events that possibly really shook up the championship chase for some drivers. That is racing though, many teams can prosper under the easiest of conditions but to prove championship caliber you need to overcome adversity at every turn. I will be curious to see if the Formula Drift staff doesn't implement some tweaks or changes to this new track layout for the 2020 season return to St. Louis.
3. Odi Bakchis Wild Chase but Doesn't Win Still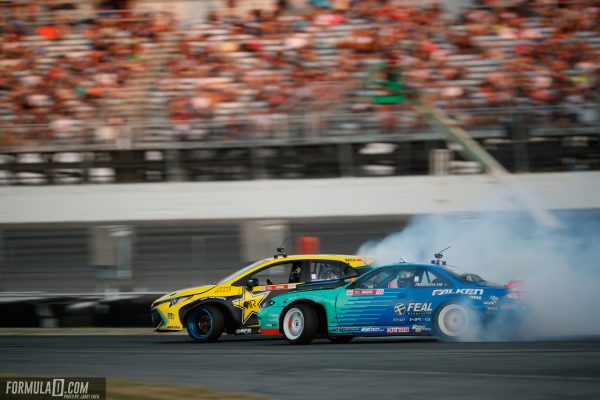 WOW! That chase battle against Fredric Aasbo showed big commitment from Odi but it didn't help him become victorious over Fredric. It was the only time this year that I recall watching a chase driver initiate before the lead driver in a tandem battle. It looked wild and it's must see viewing in case you missed the run. It was such a channel of Team Burst style drifting that many people love to watch. It really just shows you how far Odi Bakchis has come with his drifting over the past seasons. Here Odi Bakchis is being touted for throwing down the most stylish and aggressive move of the weekend when his old drifting style lacked almost anything that was aggressive or interesting. Props to Odi and if he keeps charging and growing at this level he will soon become a champion.
2. Another Deane Win Signals he wants a Third Championship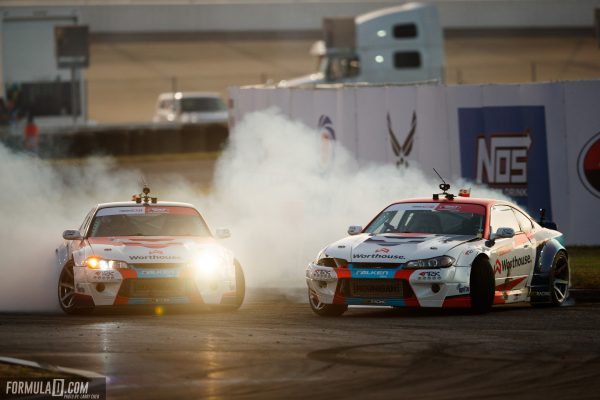 It's kind of crazy to put James Deane's domination of Formula Drift into perspective. The only three-time Formula Drift champion in the series history is Chris Forsberg. He managed to win three championships over the course of 13 competitive seasons. James Deane is close to completing the same feat in 3 full competitive seasons. If no one can figure out how to beat Deane in tandem he will quickly be putting his name on top of all the records books. He is now the sixth most all time winning Formula Drift driver tied with series legends Rhys Mille and Tanner Foust. James Deane is coming for you Fredric Aasbo and has to make up one point over two rounds. The only other guy who seemingly could stop him is his teammate Piotr Więcek.
1. Fredric Aasbo can hold off the 3Peat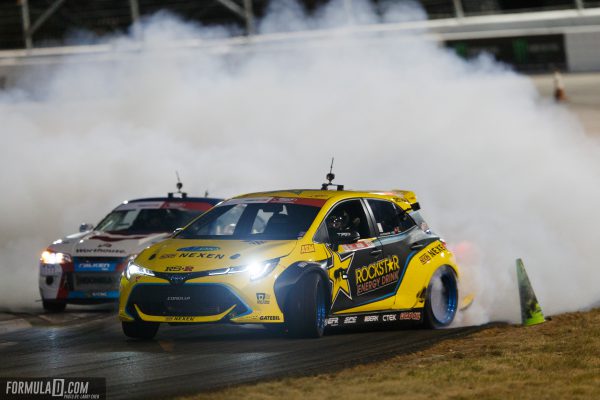 It is starting to be déjà vu of the 2018 Formula Drift season as the rounds tick off for this year. Going into Texas Motor Speedway Round 7 next month we see that James Deane is just ONE point behind the points leader Fredric Aasbo. Last year, the back-to-back championships of James Deane were put in jeopardy by Aasbo alone, but he fell just a few points short. Either way, this season is looking to become another domination of the European drifter which has become a reoccurring theme in the series more recent history.