With two events remaining in 2020, Formula Drift driver working to hold points lead
CARSON, California (September 12, 2019) — Fredric Aasbo and the Rockstar Energy Drink / Nexen Tire Toyota Corolla Hatchback are prepared for a fierce fight this weekend at Texas Motor Speedway as the Formula Drift series heads to the Lone Star State for Round 7.
Last month in St. Louis, the driver emerged with a one-point championship lead after finishing on the podium in second to two-time defending champion James Deane. With its series of tight corners linked by short straightaways, the all-new track configuration at World Wide Technology Raceway favored technical competitors and the weekend came down to a close final battle between the longtime rivals.
Aasbo has finished runner-up in series points to Deane for the past two seasons, last year missing the driver's title by only four points. "What's the saying about always being the bridesmaid? I'm more motivated than ever to win that championship title again this season," said Aasbo, the 2015 series champion.
The driver has so far earned a win and two second-place results in a competitive season that has seen five different winners in six rounds. He scored third last year at the Dallas round.
Competing in the home state for partner Toyota's USA headquarters, Aasbo and the Toyota team are in a position to lock up another Formula Drift Auto Cup for manufacturers this weekend. Toyota currently holds a 208 point lead over second-place Ford. If Toyota is able to hang onto a 192 point lead after Texas, the title will be mathematically secure.
Aasbo returns to the United States to compete this weekend after wrapping his first Top Gear shoot. The driver is one of the three hosts for the show's reboot in his home country of Norway. The Papadakis Racing team has also had a busy week, on Tuesday dropping Part 2 of a four-part YouTube series showcasing a 1,000 horsepower build of the all-new 2020 Toyota GR Supra engine (watch here: https://youtu.be/E0K2aoEwgV8).
Drifting is a high-skill, high-powered motorsport with an emphasis on car control. In the Formula Drift series, drivers compete in knockout heats on a closed course, sliding sideways in trials judged on speed and style. With origins in Japan, the sport's growing popularity has meant that livestream and content views for Formula Drift have topped 5.7 million or more for each round.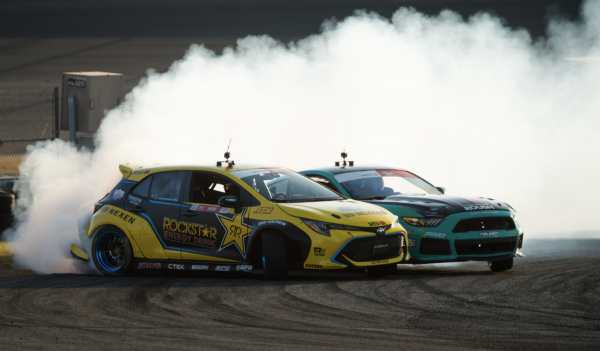 Fredric Aasbo is in first place in the 2019 Formula Drift championship heading into Round 7 this Friday and Saturday at Texas Motor Speedway. (Photo: Toyota Racing)