Last year's event winner in championship hunt heading into Round 6
MADISON, Illinois (August 6, 2019) — Fredric Aasbo and the Rockstar Energy Drink / Nexen Tire Toyota Corolla Hatchback are heading to Gateway Motorsports Park this coming weekend, prepared to take on a fierce field of challengers for the championship lead.
The series returns to the venue this year after a 2018 debut in St. Louis that saw Aasbo run a perfect weekend, scoring both the top qualifying slot and the event win. Despite the familiar venue, the course configuration is all new this year and teams will face a learning curve. Papadakis Racing owner Stephan Papadakis says he hopes his team's experience will give them an edge.
"We like new tracks and typically we've been able to do well when we're facing unfamiliar configurations," said Papadakis. "Fredric spends so much time driving different cars around the world that he has learned to adapt really fast, and we've developed a system together that allows us to get to a good gearing and car setup quickly."
Aasbo holds a slim lead in the Formula Drift championship points after a challenging event last month in Seattle, where a host of upsets sidelined three of the championship's contenders in the event's Round of 16. With a maximum of 106 points on the line this weekend, the team hopes to extend the gap to second place.
"We're leading the championship, which is great," said Papadakis. "But it doesn't change our strategy for the weekend, which is to get out there and try to win."
Toyota is at the top of the Auto Cup ranking for manufacturers, while Nexen sits second in the Tire Cup.
Aasbo has had a busy stretch since Seattle, taking a few days to paddle surf in Hawaii and then heading to Japan for the 86 Style festival, where he drove a V-8 powered GT86 to a win with the support of suspension partner RS-R. Before returning to the United States to compete in St. Louis this week, he made a stop at the Ebisu Circuit, known as a drift culture hub in Japan, for some recreational time behind the wheel.
As we're heading into the final events of the Formula Drift season, all the seat time and practice I've had across the world this year gives me confidence. The team truly proved what they're made of in Seattle, and now it's up to me to give it everything I've got all the way to the finish line.
Formula Drift enjoys a dedicated and engaged audience with sell-out crowds all season long. Last year, grandstands at the new St. Louis event were packed by early Saturday, with fans clamoring to get close to the action from the first moment cars hit the track.
Forecasters are calling for rain on the weekend, which could add an additional element of unpredictability to the competition. Formula Drift runs rain or shine. The competition starts Friday at noon with qualifying, and resumes Saturday with tandem action starting at 1:45 p.m. for the Round of 32.
Drifting is a high-skill, high-powered motorsport with an emphasis on car control. In the Formula Drift series, drivers compete in knockout heats on a closed course, sliding sideways in trials judged on speed and style. With origins in Japan, the sport is growing popularity with livestream and content views for Formula Drift now topping 5.7 million or more for each round.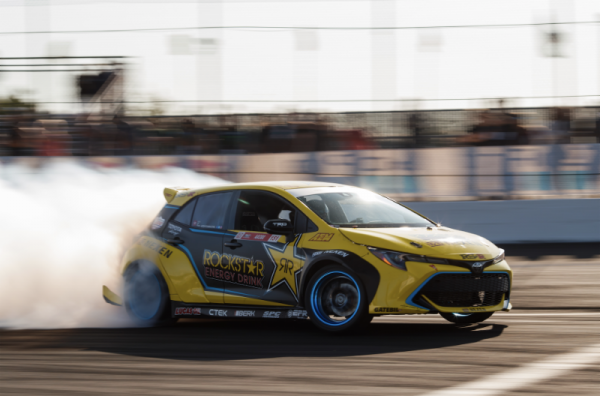 Fredric Aasbo hopes to extend Formula Drift championship lead in St. Louis.
(Photo: Toyota Racing)