Written by Joey Redmond
10. Odi Bakchis Falls Early Again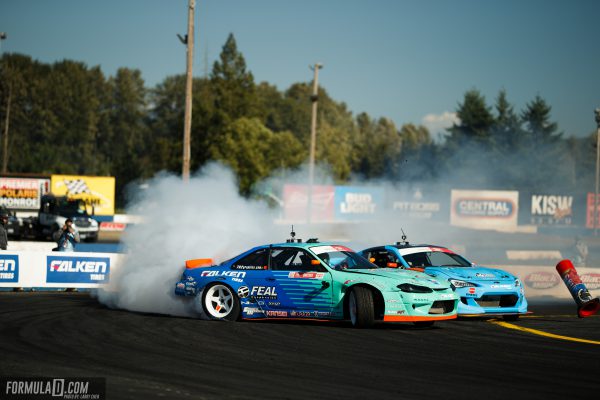 Odi reported he had some serious drivetrain issues across the weekend. He even won his Top 32 battle with a Band-Aid on his drivetrain problem. His team dug into the problem during the break after Top 32. Odi Bakchis 240sx seemingly held together mechanically but his mental mistake of coming too close off the bank gave Dai Yoshihara a wide-open window to beat him easily. Odi Bakchis went out in the Top 16 where the point's leader Fredic Aasbo also lost. This means his championship point deficit remains two points but several drivers gained serious ground behind him with three events to go.
9. Falken Continues Domination of Evergreen Speedway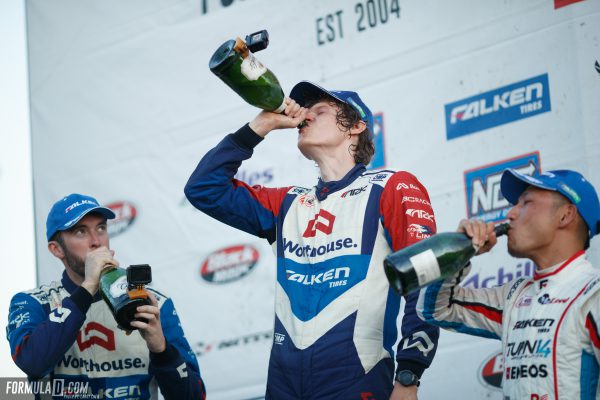 A Falken Tire driver has won every Evergreen Speedway event since 2015 when Fredric Aasbo won at this track. In 2016 Odi Bakchis took home the victory in his Hyundai Genesis followed by domination from Worthhouse. The Falken Tire compound must have some capabilities that just mesh with this big banking and high speed Pacific Northwest course. Falken marked their fourth victory at this track in a row with a podium sweep thanks to Dai Yoshiara completing the sweep in his Subaru BRZ.
8. Justin Pawlak Missed a Possible Victory with Mechanical Failure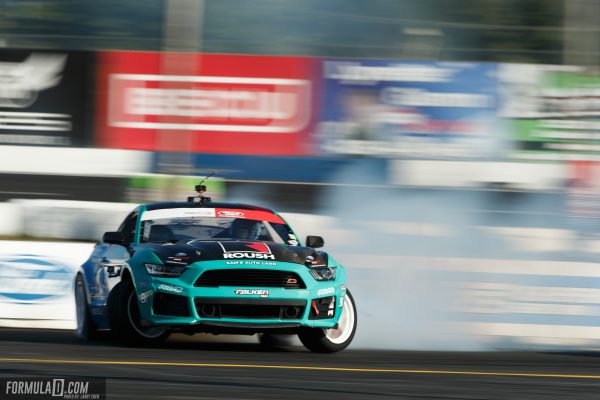 Justin Pawlak was looking great in his Ford Mustang all over the track over this past race weekend. He looked like he would be unstoppable until his car broke in the lead run against James Deane. It was a tough way for him to step out of a weekend where he was easily an odds-on favorite for a podium finish.
7. Can Fredric Aasbo Let off the Gas?
The Top 16 incident with James Deane has to go down as one of the wildest accidents in Formula Drift history. Well past the finish line Deane came down on the bank and squeezed Fredric Aasbo off the track where they he touched tires and Aasbo jumped off the curbing of the track. Both cars received serious damage but it was quite a conflict considering they still had to finish their Top 16 battle. Aasbo came out and took blame quickly in his interview stating he should yield as the follow driver.
The whole incident looked odd as you watched it go down but I think I would have opted for a no fault incident and allowed both drivers ample time to fix their cars instead of assigning fault to Aasbo. Either way, they both returned to the track and Deane won in the end. It could have been a far more controversial event if Aasbo wasn't so willing to put blame on himself.
6. Vaughn Gittin Jr. Vs. Ken Gushi – The New Rivalry!?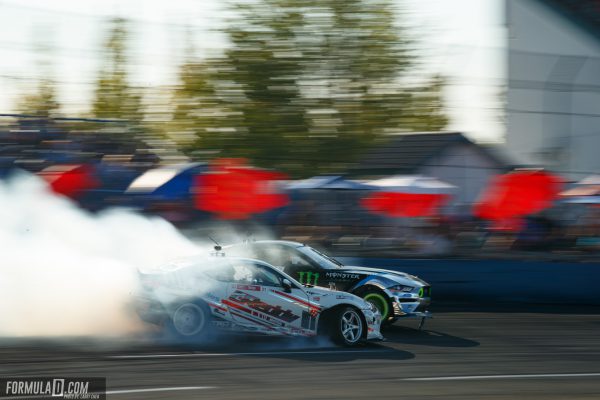 Last time these two-battled, Ken Gushi provided some hot takes on Facebook. And after losing to Ken Gushi this go around, Vaughn has returned the favor. Vaughn hopped onto his Instagram to voice the reason he stalled up was that he saw Ken Gushi coming from behind him and was going to make direct contact with his Mustang's driver side door. This is a case where I would hate to be a Formula Drift judge for this battle. If you put yourself in a judging mindset you can only really judge what happened in front of your eyes. When you watch the run it just appears two independent incidents that occurred on the track. That is even what Jarod DeAnda called doing live commentary.
Vaughn states he protested the run but it seems to be a situation that would fall under a call that isn't able to be protested since it was a judgment call on the judges and not an event that was missed (such as two tires off course or brake checking in a non slow down zone). The more you watch the run it's hard to see the perspective from Vaughn Gittin Jr. but I am also not sitting in his Mustang mid drift. In the end, he should really hold his line and take the hit from Gushi in the future as that would eliminate the need for the judges to have to make so many broad interpretations of what is going on at track and car level between the two drivers. Either way, this is turning into a rivalry where both drivers are quite vocal about how they feel the tandem battles shook out for them. I just hope they can do battle in St. Louis next month at Gateway Motorsports Park!
5. The Electric Chevy Camaro Goes Missing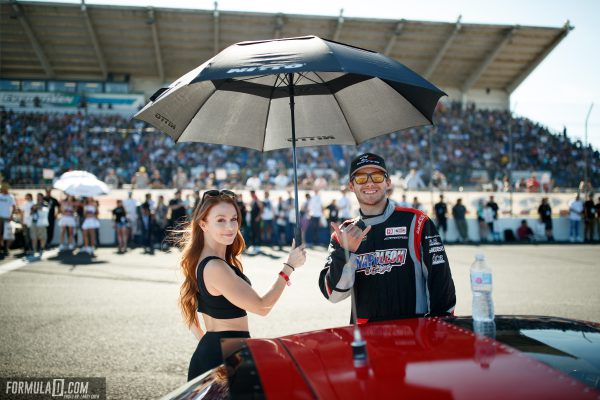 Travis Reeder was grabbed for an interview saying the team has learned a lot but they are now working on an E-Camaro 2.0 to build. Does this mean the Camaro is retired for the 2019 season and its all 240sx for the rest of 2019? It is interesting they opted to park the Camaro at the track Reeder is the most familiar with on the Formula Drift circuit. Perhaps the high speeds were a factor or issue for the cars performance? Either way, Travis Reeder needs to watch his back in the Rookie Race as Dylan Hughes is right behind him after his big weekend.
4. Dylan Hughes Proves Himself on the Big Stage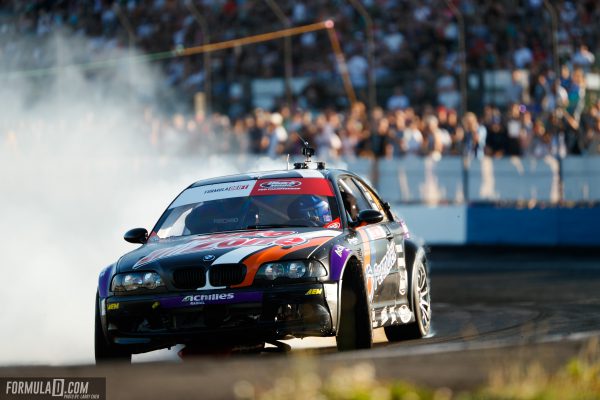 Dylan Hughes has spent most of his rookie season looking upset at a broken BMW. His great driving talent was clearly on display in the past for Pro 2 and he really was in need of a solid performance for his own confidence and the Rookie of the Year race with Travis Reeder. He really put it together at his former home track of Evergreen Speedway and showed dominance at this higher speed course. The highlight of the weekend was his battle against Ryan Tuerck in the Top 16 where he squeaked out a victory. His sits just 14 points behind Travis Reeder for Rookie of the Year with three events to go. Right now Dylan Hughes failure to qualify at Long Beach is keeping him out of the ROTY front-runner spot.
3. Did Chelsea DeNofa Over Commit or was it a Park?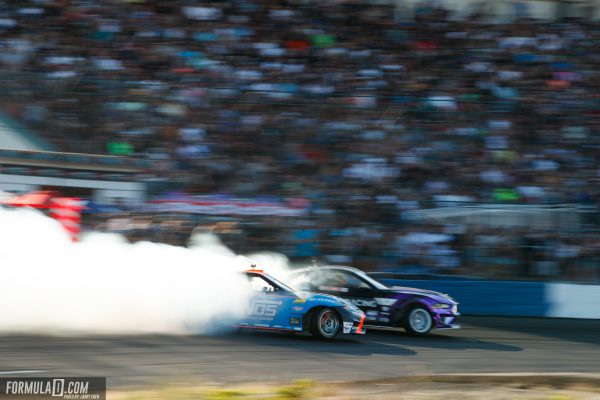 Chelsea DeNofa didn't mince words on how he felt his One More Time battle with Chris Forsberg went in the Top 16. While Chelsea is notorious for being the best chase driver in the series he does tend to over commit at times which has resulted in him not winning a championship to this date. He was eliminated after making contact with Chris Forsberg in the chase just towards the finish line and had some serious hot takes on Instagram Live after the race. It's inconclusive for me after watching the replay way too many times but Chelsea does dive very shallow into that turn, kind of boxing himself in of places he can put the car. This is what he had to say on Instagram:
"I gave Chris some space, closed in on some spots, got right where I needed to be going across the inner clip and for some reason he just didn't ever really get on the gas. He floated out wide (and) I was sitting there being patient trying to give him room and I literally could not go any slower than we were going and as soon as bumped him he picked up the gas and went…. You guys can make your own decision on what happened with that. I think he played some games."
2. Championship Chase is Now Wide Open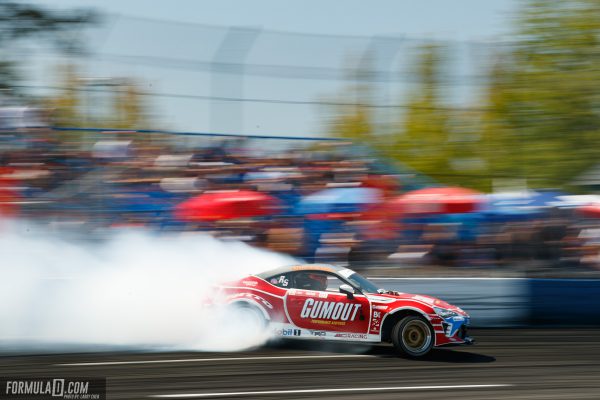 Generally the Championship Chase continues to gap the field as the season goes on but Formula Drift Seattle was so wild it really opened up the championship a bit. Odi Bakchis and Fredric Aasbo took a huge hit to their championship hopes by both losing in the Top 16 and earning a very small amount of points. The Worthhouse boys felt the championship doors open wide and went at it finishing the event in a respectable first and second place. Analyzing the points totals I would say it's a six-driver race going into St. Louis next month with Ryan Tuerck barely hanging in there 53 points back.
1. Piotr Back in Form Breaks His Great 8 Losing Streak
Somehow Piotr Wiecek had lost in the Great 8 at every event this season leading up to Evergreen Speedway. He looked unstoppable in his 2JZ powered Nissan S15 Silvia over the weekend and completed a perfect event by qualifying first and winning the event. He wound up battling his Worthouse teammate in the finals. Pitor beat his teammate James Deane in the OMT battle with an insane chase battle. He took home the victory in this Falken Tire podium sweep that puts him just 16 points behind Fredric Aasbo for the 2019 Formula Drift championship!