IRWINDALE, CA – Entering the "House of Drift" for Round 8's Title Fight to the 2019 Black Magic Formula Drift Championship, Team Falken Driver and Defending Formula Drift Champion James Deane had one job to do and that was to become the first Formula D driver to win three championships in a row, and that was what he did, through his third place finish at Irwindale Speedway Saturday, October 19, 2019.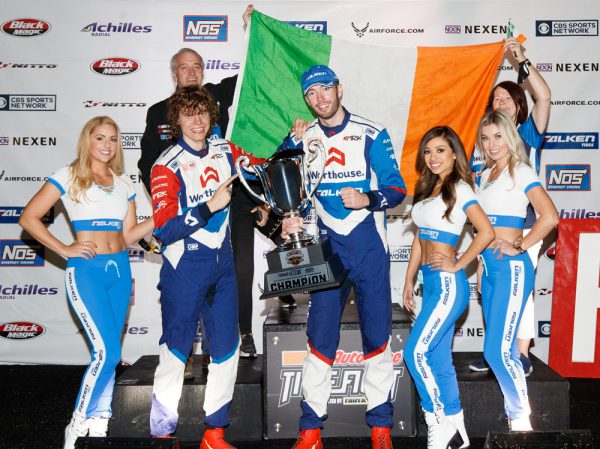 In so, Falken Tires has now – through its team drivers – earned five Driver Championships in the last decade and won the Tire Manufacturer Cup for the fourth year in a row.
"Total team performance and just incredible domination by James Deane since his arrival in Formula D," declared Steve Wong, Falken's Supervisor, Passenger Car Motorsports and Events. "What a tremendous achievement to be the first driver for a three-peat, something that no one has ever done, and even consecutive championships are not easy to do with the incredible competition every driver faces in Formula Drift.
"Everyone at Falken is so proud of what he's done," Wong added. "And it's also important to recognize Aurimas 'Odi' Bakchis for his fourth place at Irwindale, which placed him firmly in third overall in the Driver's Championship, while fellow teammate Piotr Wiecek took fourth in total points. Congratulations to these three men and our entire team on a great 2019 season."
Knowing that he had to at least finish among the top three to maintain his lead in the championship, Deane – as well as his teammates – faced plenty of pushback from the competition. Justin Pawlak was the highest qualifier among Team Falken, earned 5th, followed by Deane in 6th, Wiecek in 7th, Bakchis in 8th, Daijiro "Dai" Yoshihara in 16th and Matt Field in 17th.
Five Team Falken drivers advanced to the Top 16 as Dai defeated Field in the Top 32. Dai, Odi, Piotr and James moved to the Top 8, with Deane having to perform two OMTs (one-more-times) to earn his victory. Bakchis and Deane moved to the Top 4 where both went down to the two finalists, Deane having lost to eventual Irwindale winner Ken Gushi.
Nevertheless, when the Driver's Championship was presented to Deane, he was as humble as ever: "It's hard to even put into words what this means to me," he started. "Coming from Ireland, when I was growing up, I was a huge fan of drifting; just watching it. Then when I was fortunate to start in grassroots Irish drifting, my ultimate dream was just to get a podium.
"Little did I know that 13 years later, I'd be standing here in the U.S.of A. at my favorite track in the world, in front of incredible people who have supported me, my family and friends and everyone coming over from Europe, not to mention the many thousands of fans online, it's hard to say how unbelievable this is. It feels good."
Deane continued: "Thank you to everyone who supports me and believed in me year after year, and to Falken. You know, I try to push as hard as possible and put on the best show possible, and after I'm done running the walls, I'm sitting in the car with a big smile on my face. Of course, I do this to put smiles on everyone else's face, too. I'm just the luckiest guy in the world to have this opportunity to be driving for this amazing team and living this dream."
The 2019 season complete, Deane finishes in first, Bakchis, 3rd; Wiecek, 4th; Dai, 9th; Pawlak, 12th; and Field, 14th.